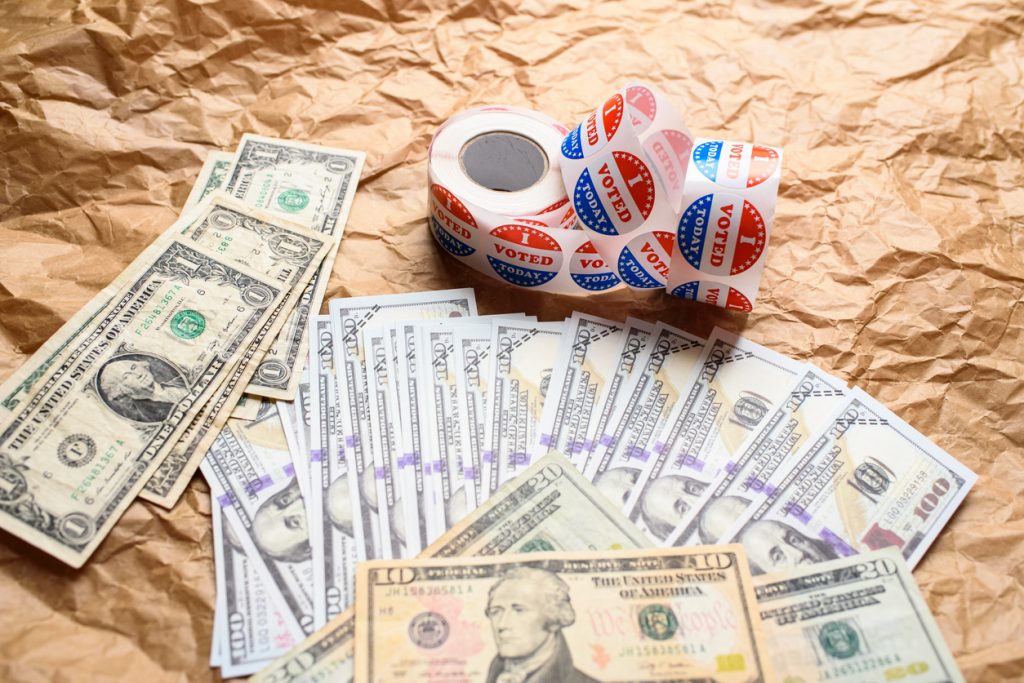 In the 2020 elections, the COVID-19 pandemic caused budgetary shortfalls at the state and county level nationwide.  Because of those shortfalls, state, county, and municipal election officials in various regions applied for and received grant funding from non-profit organizations for the 2020 elections.  The Center for Tech and Civic Life (funded in part by charitable contributions from Facebook CEO Mark Zuckerberg and Priscilla Chan) provided grant funding to local election offices via COVID-19 response grants.  With about $350 million to spend, the Center received grant applications from 2,500 local election jurisdictions.  Grants ranged from the high end of $19 million for New York City to $5,000 for local municipalities.  In the wake of the 2020 election, some have pointed to that private funding as a cause for concern.
However, these and similar donations led to pushback from Republican legislators in various state capitals. Amid the 2022 primary election season (Texas already had its primary), various states around the country are looking to pass legislation banning private election funding. 
---
Alabama
On April 13, Governor Kay Ivey signed House Bill 194, banning private election funding.  Under the law, no state or local public official in charge of elections, or their employees, may solicit, accept, or use any donation in the form of money, grants, property, or personal services from an individual or nongovernmental entity for funding election-related expenses or voter education, voter outreach, or voter registration.
Further, under the bill, donations of items for the "preservation or protection of the public health" during a state public health emergency to be used by voters or election officials may be accepted by the governor's office for distribution to each judge of probate.  However, there must be written notice of such a donation published on the governor's website.  Additionally, the donation must be put in a press release to a media outlet in each county 10–21 days before distributing such items.  The notice must include the full name, address, and phone number of the donor and a list of items and their monetary value.
---
Oklahoma
The Oklahoma State House passed HB 3046 on March 9 by 79–18.  The legislation—known as the Prohibit Private Funding in Elections Act—would prohibit any government or election official from soliciting, taking, or accepting anything of value to conduct state or local elections.  Instead, all elections must be conducted with public funding.
Under the bill, a first violation is a misdemeanor punishable by a fine of up to $5,000. A second violation would be a misdemeanor punishable by a fine of up to $10,000. A third or any subsequent violation would be a felony punishable by a $50,000 fine and/or imprisonment from 2-5 years.
---
Pennsylvania
Lawmakers in the Keystone State introduced two pieces of legislation banning private election funding. 
House Bill 2044 passed the House in December 2021, and the Senate State Government Committee advanced the legislation on April 11.  The legislation prohibits county boards of election and the Secretary of the Commonwealth from accepting any private donation or contribution for the administration of elections.  The legislation would specifically remove the ability of the Commonwealth or counties to receive private donations or contributions to operate elections, employ staff, or select and equip a polling place or for use in voter education or outreach.
Senate Bill 982 passed the Senate on April 13 by 37–12 and was referred to the House.  Similarly, the Senate bill requires that election expenses be funded by federal, state, or local revenues derived from public revenue.  It prohibits the state and local governments from soliciting, applying for, entering contracts with, or receiving gifts, donations, grants, or funding from a nongovernmental entity for election expenses.  A violation would be a second-degree felony, which could carry a term of imprisonment of up to ten years.
---
South Dakota
In late March, Governor Kristi Noem signed legislation banning private election funding.  Senate Bill 122 prohibits private election costs except for gifts of a nominal and intrinsic value.  Under the bill, the governing body of jurisdiction shall pay the costs relating to an election.  Specifically, the bill prohibits the state or any political subdivision from accepting any funds, grants, or gifts for election costs from any source other than the governing body of a political subdivision, the state, or the federal government.  The only exception is for gifts of a nominal and intrinsic value, which is to be defined by the State Board of Elections.
---
Federal Election Legislation
Democrats in the U.S. House and Senate have taken a decidedly different approach to the issues of election funding, proposing to provide additional public funding rather than blocking private grants.  One piece of legislation is H.R. 1, the For the People Act, which the House passed in March 2021.  The bill would authorize $500 million for the Election Assistance Commission (EAC) to provide grants to states to implement online and automatic voter registration requirements.  It would also authorize $1 billion in funding, and $175 million every even-numbered fiscal year from fiscal 2022 through 2028, for the EAC to make grants to states to update their voting systems and adopt best practices for ballot design, instructions, and testing.
States could use grants to install new paper-ballot voting machines and enhance cybersecurity. Voting machine vendors would have to be owned by U.S. citizens or permanent residents, disclose their use of foreign parts, and comply with cybersecurity requirements.
The measure also would authorize:
$20 million in fiscal 2021 for EAC grants to states to conduct post-election audits to verify the accuracy of vote tallies without conducting a full recount.
$20 million from fiscal 2021 through 2029 for the Homeland Security Department (DHS) to establish a competitive grant program to research election infrastructure improvements in cybersecurity and other areas.
However, 18 Congressional Republicans have cosponsored H.R. 7117, introduced in March 2022, which would prohibit a State from receiving or using funds or donations from private entities to administer an election for Federal office.
---