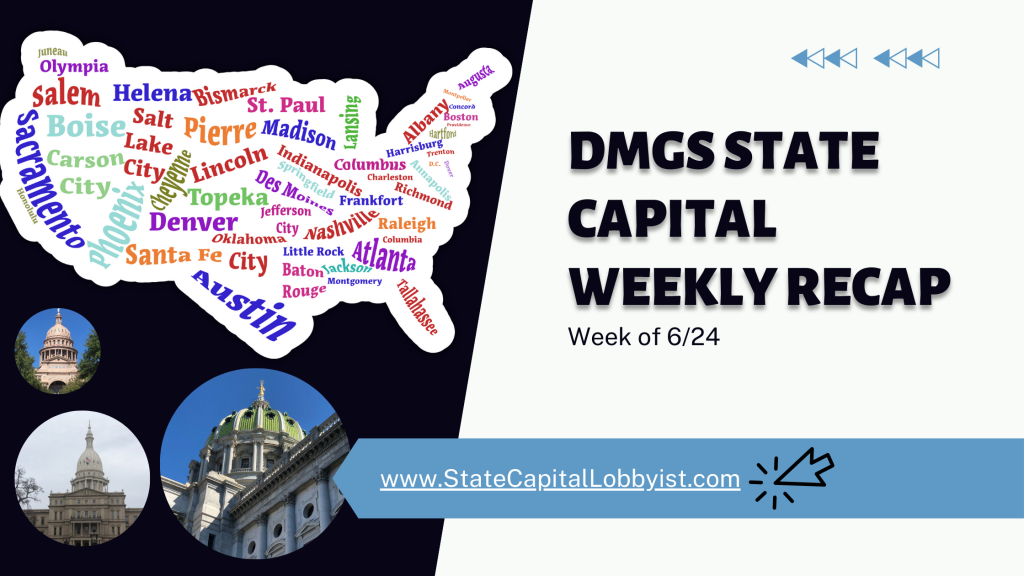 Lawmakers in states around the country kept busy this week on a range of issues including abortion, minimum wage, state budgets, firearms, and more. Notably, Alabama held its primary runoff elections this week, Indiana Governor Eric Holcomb called for a special session, and Hawaii's governor signed the first-in-the-nation $18 minimum wage bill into law.
---
Alabama
Katie Britt has secured the GOP nomination for an Alabama U.S. Senate seat, besting U.S. Rep. Mo Brooks in a runoff election this week. The Senate seat is open due to incumbent Sen. Richard Shelby (R) retiring.
Learn more here.
---
Arizona
Arizona lawmakers started hearings this week on the state budget.
Learn more here.
---
California
Top lawmakers in the legislature announced this week an Assembly select committee that will consider what measures the state can enact to reduce gas prices as well as investigate price gouging.
Learn more here.
---
Colorado
Colorado taxpayers were initially expected to see a $400 refund this summer, but that number has increased to $750 due to an unexpected surge in income tax collections.
Learn more here.
---
Georgia
Georgia's gubernatorial candidates, Gov. Brian Kemp (R) and Stacey Abrams (D), are sparring over teacher pay increases in the Peach State.
Learn more here.
---
Hawaii
Hawaii Gov. David Ige (D) signed legislation enacting the nation's first statewide $18 minimum wage law. The bill calls for Hawaii to raise its' minimum wage gradually from $10.10 per hour, first to $12 on 10/01/22 and then in increments until it reaches $18 on 01/01/28.
Learn more here.
---
Illinois
Illinois lawmakers want to revise their state's energy policies following a warning of possible blackouts and rising energy prices this summer.
Learn more here.
---
Indiana
Gov. Eric Holcomb (R) this week called for a special session to begin on July 6th. Holcomb wants lawmakers to send $1 billion back to Hoosiers in order to combat inflation, but lawmakers could also address abortion during their special session.
Learn more here.
---
Kansas
The Kansas Supreme Court ruled this week that the state's new congressional and legislative district maps are constitutional.
Learn more here.
---
Louisiana
Governor John Bel Edwards (D) signed legislation that will toughen an abortion ban that is ready to be implemented in the event that the U.S. Supreme Court overturns Roe v. Wade.
Learn more here.
---
Massachusetts
This week, Gov. Charlie Baker (R) signed legislation that makes mail-in voting a permanent option in Massachusetts.
Learn more here.
---
Michigan
State lawmakers are working to introduce a package of bills that would rein in the governor's emergency powers and include legislative oversight.
Learn more here.
---
New Hampshire
Governor Chris Sununu (R) outlined several proposals this week to provide relief to residents facing increased electric bills.
Learn more here.
---
New Jersey
New Jersey state lawmakers this week advanced a package of legislation aimed at tightening the state's strict firearm laws.
Learn more here.
---
North Carolina
Lawmakers in North Carolina introduced a bill that its sponsors say will "de-weaponize medical debt."
Learn more here.
---
Oregon
As soon as this week, certain low-income workers in Oregon will receive $600 one-time stimulus payments.
Learn more here.
---
Pennsylvania
The Pennsylvania House State Government committee advanced legislation this week that would move PA's presidential primary election day to the third Tuesday of March. Under existing law, PA's presidential primary takes place on the fourth Tuesday of April.
Learn more here.
---
South Carolina
Gov. Henry McMaster this week signed legislation that provides both tax refunds this year and an income tax rate cut for the future.
Learn more here.
---
South Dakota
The South Dakota state Senate voted to remove Attorney General Jason Ravnsborg from office and permanently bar him from holding any public office, stemming from a 2020 car crash in which he struck and killed a pedestrian.
Learn more here.
---
Tennessee
State lawmakers in Tennessee have created a resolution to end all forms of slavery.
Learn more here.
---
Virginia
Governor Glenn Youngkin (R) signed the state's budget into law. The budget includes $4 billion in tax cuts, eliminates the grocery tax, increases the standard deduction, and has the largest tax rebate in Virginia's history.
Learn more here.
---
Wisconsin
Governor Tony Evers (D) called lawmakers to the Capitol for a special session to address legalizing abortion, but the GOP controlled legislature adjourned only seconds after gaveling into the special session.
Learn more here.
---
This Week's DMGS Posts
---
Capital and Capitol Happenings: New Positions, Promotions, and More
Tristan Breaux: new Director of Government Affairs, Tyson Foods
Mike Hatchett: new Manager, US State Government & Community Relations (West), TC Energy
Kyle Holder: new Commissioner, Union County Utilities Authority
Hanna Williams: new Executive Assistant II, Public Policy, Amazon
Erik Rison: new Senior Regional Manager, State Government Relations, WestRock Company
---
Happy Birthdays This Week
Emily Hoffman: Government Affairs Associate, SoftBank Group International
Will DuBos: Director of Government Affairs, Louisiana Restaurant Association
John Lynch: Workforce Advisor, TRANSFR Inc.
Erin Kanter: Director of Advocacy & Government Relations, Pennsylvania Bankers Association
Bryan Lowe: Regional Director, State and Local Government Relations, Walgreens
Bernard Parker: Director, Government Relations, Detroit Regional Chamber
Dave Kralle: Director of Government & Community Affairs, Aqua
Email future suggestions to rjstevens@dmgs.com.
---