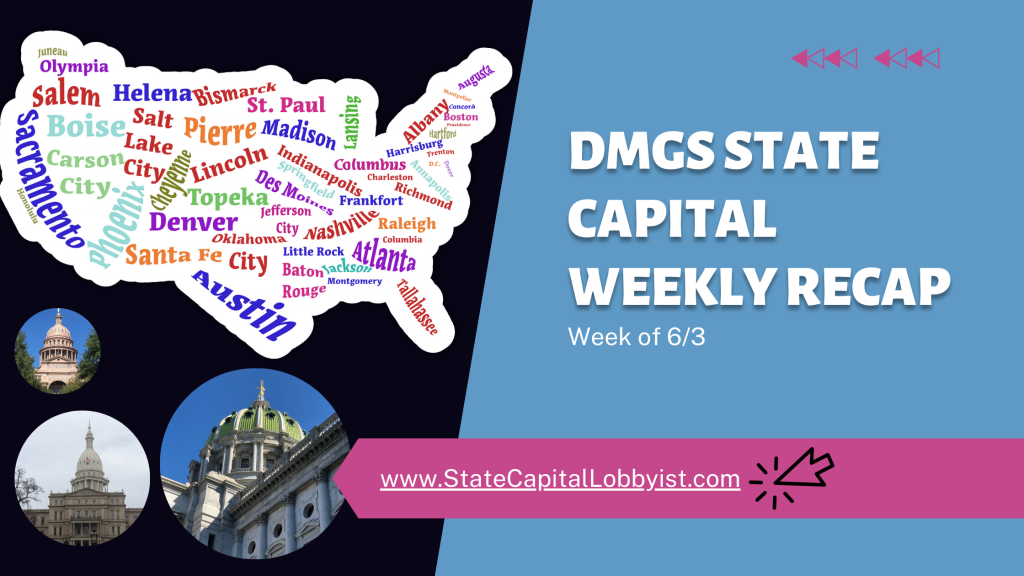 This week, a focus in state capitals around the country remained on introducing, and in some cases advancing, various gun bills. Some states, such as New York, passed legislation to restrict gun use and sales, while others such as Ohio passed legislation to authorize arming school teachers. Additionally, a task force in California issued an extensive report on reparations, Colorado passed year round Daylight Saving Time legislation, and North Carolina could soon allow Happy Hours.
---
California
This week, a task force on #reparations in #California released an extensive 500 page report detailing the state's role in 170 years of discrimination toward Black Americans. The report includes recommendations to right those wrongs through systemic policy shifts and "comprehensive" financial compensation.
Learn more here.
---
Colorado
Gov. Jared Polis this week signed "Daylight Saving Time Year Round" legislation into law. The bill would keep Colorado locked in daylight saving time, which it is in now, only if a federal law is enacted to allow states the option and at least four other states in the Mountain Time Zone also opt for year-round daylight saving time.
Learn more here.
---
Delaware
Governor John Carney and democratic leadership in the legislature this week announced a commitment to advance multiple gun safety bills before the General Assembly adjourns at the end of June. The package of bills include banning assault weapon sales, limiting high-capacity magazines, raising the age from 18 to 21 to purchase firearms, and more.
Learn more here.
---
Florida
Some state lawmakers are hoping Governor Ron DeSantis will change his mind about allowing any open carry gun laws in Florida following the recent school shooting at a Texas elementary school.
Learn more here.
---
Indiana
In Indiana, state lawmakers and cyclists are pushing for safety changes after another bicyclist was hit and killed this week.
Learn more here.
---
New York
New York lawmakers this week passed a package of gun bills, including ones to raise the minimum age to buy a semiautomatic rifle to 21, ban most civilians from purchasing bullet-resistant body vests and revise the state's "red flag" laws.
Learn more here.
---
New Hampshire
With Gov. Chris Sununu already vowing to veto a controversial parental rights bill, Republicans in the State House couldn't get enough support to pass the bill this week.
Learn more here.
---
North Carolina
North Carolina is one of just eight states that don't currently allow happy-hour drink specials, but one bill would allow cities and counties to decide whether to allow happy-hour drink sales.
Learn more here.
---
Ohio
GOP state lawmakers approved legislation this week that empowers local boards of education to allow teachers to carry a gun in the classroom. Governor Mike DeWine has indicated his support of the bill.
Learn more here.
---
Pennsylvania
A Pennsylvania State House committee met earlier this week to consider repealing an outdated and unenforced law banning football and baseball games on Sundays.
Learn more here.
---
Tennessee
Tennessee Gov. Bill Lee has approved a new campaign finance and ethics face-lift, against opposition from some of Tennessee's influential advocacy groups who were against the bill.
Learn more here.
---
Texas
This week, Gov. Greg Abbott issued a disaster declaration in the town of Uvalde in an attempt to expedite the response to last week's deadly shooting at an elementary school.
Learn more here.
---
Vermont
A lot of change will soon be coming to the Vermont Statehouse, with an unusually large number of state lawmakers either not seeking re-election or running for higher office.
Learn more here.
---
Virginia
Governor Glenn Youngkin signed five bills earlier this week that he says deliver on his commitment to enacting "common-sense solutions to make government work better for Virginians" and provide solutions for the Commonwealth's business community.
Learn more here.
---
This Week's DMGS Posts
---
Capital and Capitol Happenings: New Positions, Promotions, and More
Samantha Stohlman: new Legislative Aide, Wisconsin Senate Majority Leader LeMahieu
Sam Loesche: new Head of Policy and Public Affairs, Waabi
Shawn Gamble: new Government Relations Officer, Visions Federal Credit Union
---
Happy Birthdays This Week
Robbie Wills: President, Arkansas General Aviation Association
Alexandra Kozak: Pennsylvania Field Manager, Theodore Roosevelt Conservation Partnership
Peter Horkan: Vice President of Government Affairs, SmileDirectClub
Sean Slone: Senior Policy Analyst, The Council of State Governments
Timothy Graham: Director of Government Relations & Coalitions, Kansas National Education Association
Email future suggestions to rjstevens@dmgs.com.
---