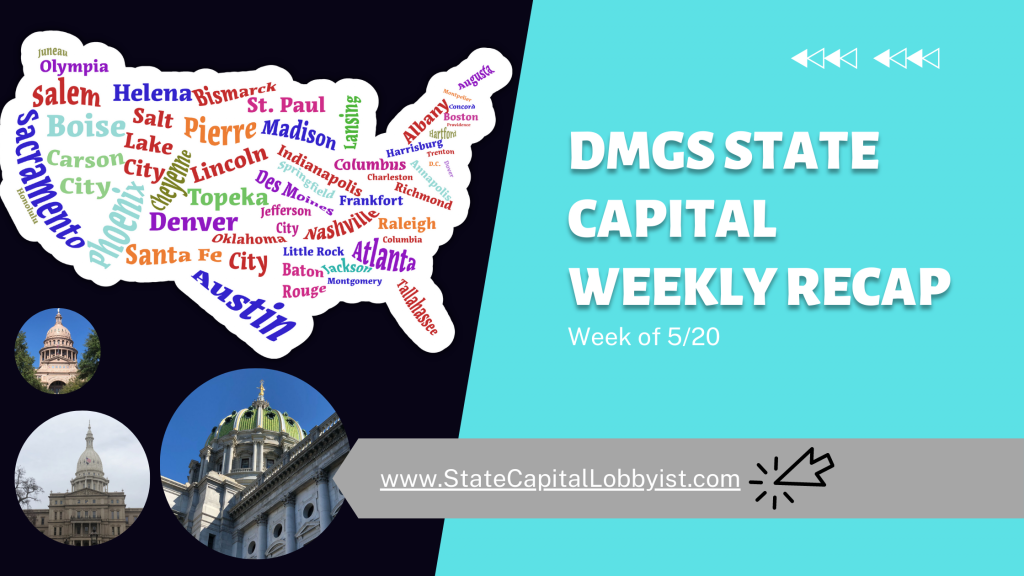 This week various primary elections dominated headlines, including in Pennsylvania, where numerous incumbent state lawmakers lost their primaries. In other news, Colorado could soon see paid leave for their lawmakers, the State of Florida could assume control of the special district that oversees Disney World, Michigan lawmakers are working on tax cuts, and Nevada's state of emergency is over.
---
Alaska
Wednesday marked the last regular day of the Alaska Legislature when a compromise state budget containing as much as $3,850 in Permanent Fund dividends and energy payments for each eligible Alaskan headed for final approval.
Learn more here.
---
Colorado
Legislation passed by the Colorado Legislature gives state lawmakers 12 weeks of paid parental leave and another four weeks for complications related to pregnancy or childbirth. This comes a few years after voters approved a measure granting state residents paid parental leave. 
Learn more here.
---
Florida
The Florida government could assume control of the special district that oversees Walt Disney World, Gov. Ron DeSantis (R) said Monday
Learn more here.
---
Michigan
Michigan lawmakers unveiled a new plan this week that includes a sizable personal income tax cut.
Learn more here.
---
Minnesota
With an upcoming deadline to take action on spending and policy bills, Minnesota lawmakers still have not made public plans for how the state planned to send out $4 billion in new tax cuts and credits and $4 billion to schools, long-term care providers, health care programs, police recruitment efforts and more.
Learn more here.
---
Nevada
Gov. Steve Sisolak announced the end of Nevada's state of emergency, meeting a deadline he set earlier this month.
Learn more here.
---
New Mexico
Top GOP House lawmakers notified legislative leaders this week that their staff will no longer abide by a policy banning firearms inside the Capitol.
Learn more here.
---
New York
New York state lawmakers and NYC leaders reached an agreement this week to have speed cameras in New York City operating 24/7.
Learn more here.
---
North Carolina
North Carolina state lawmakers returned to Raleigh this week for its traditional budget-adjustment work session.
Learn more here.
---
Ohio
The Ohio Supreme Court upheld a 2019 state law setting financial disincentives for local governments in Ohio to use speed cameras.
Learn more here.
---
Oklahoma
Oklahoma state lawmakers announced they would be having a special session throughout the summer to decide how federal funds from the American Rescue Plan will be spent across the state after delays have held up the money for nearly a year.
Learn more here.
---
Oregon
Surging tax revenues in Oregon are predicted to deliver a record kicker rebate of $3 billion to taxpayers in 2024.
Learn more here.
---
Pennsylvania
Much attention on the PA primary election results focused on the gubernatorial and US Senate contests. However, several veteran state lawmakers of both parties were ousted by primary opponents Tuesday.
Learn more here.
---
Virginia
According to a new assessment from the Virginia Superintendent of Public Instruction, Virginia's K-12 school performance is backsliding due to reduced expectations for students and schools and a lack of transparency, resulting in widening achievement gaps.
Learn more here.
---
This Week's DMGS Posts
---
Capital and Capitol Happenings: Staff on the Move, Promotions, and More
Paul Dement: new Senior Director of Government and Community Relations, Monmouth University
Talar Alexanian: new Senior Government Affairs Manager
Grace Kelly: new Senior Advisor for Intergovernmental Affairs, US Department of Commerce, NTIA
Dylan Waguespack: new Chief Policy Officer, True Colors United
Jeff Waldock: new Chief of Staff, Texas House of Representatives
Jess Kirchner: new Policy Analyst, Children and Families, National Governors Association
---
Happy Birthdays This Week
David Taylor: President & CEO, Pennsylvania Manufacturers' Association
Megan Herring Mauro: Manager of Government Affairs, Texas Association of Business
Rob Moutrie: Policy Advocate, California Chamber of Commerce
Bill White: Director of External Relations and Strategic Partnerships, Ohio Chamber of Commerce
Jessica Jennings: Legislative Director, National Association of Counties
Email future suggestions to rjstevens@dmgs.com.
---