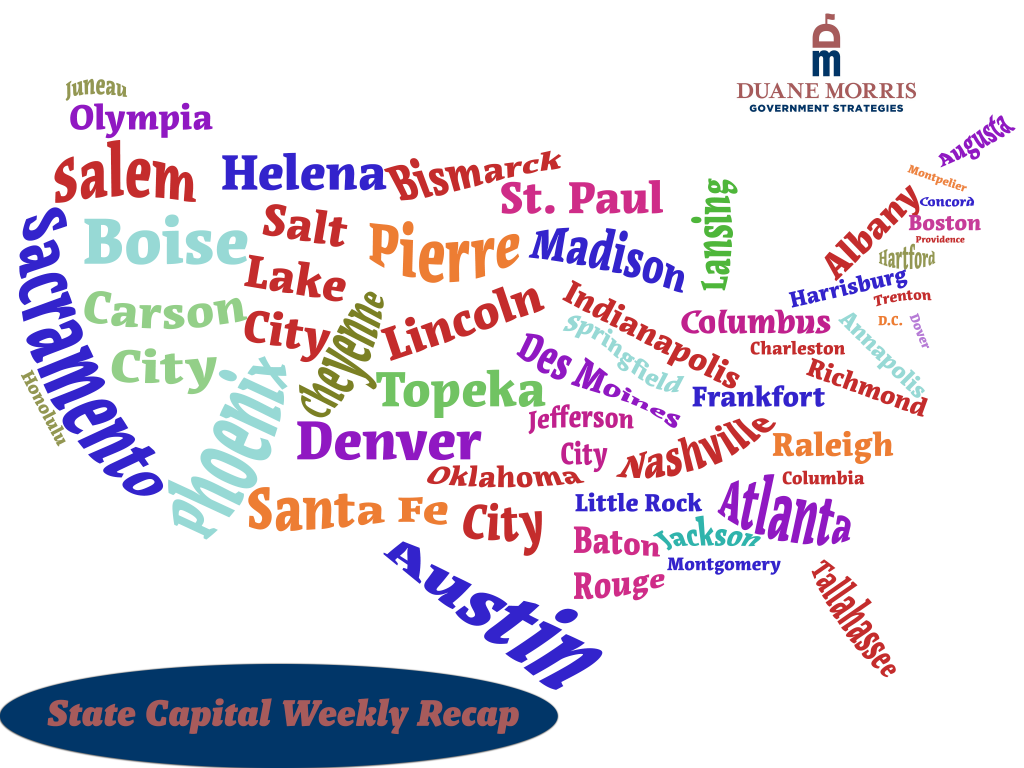 In this week's State Capital Recap, lawmakers around the country addressed various issues including guaranteed income, medical and recreational marijuana, critical race theory, to-go cocktails, and more.
---
California
California lawmakers scheduled a vote Thursday on a bill to help pay for guaranteed income programs, the first state-funded program of its kind in the U.S.
You can read more here.
---
Connecticut
The Connecticut House and Senate passed their own resolutions in a special session this week extending Governor Ned Lamont's emergency COVID-19 declarations.
You can read more here.
---
Louisiana
After Governor John Bel Edwards vetoed nearly 30 bills, lawmakers are considering a historic veto session.
You can read more here.
---
Mississippi
The Mississippi Speaker Pro Tempore, Jason White, indicated this week that a special session may happen in August this year to address medical marijuana.
You can read more here.
---
Nebraska
Speaker Mike Hilgers announced state lawmakers will return to Lincoln in September for a special session.
You can read more here.
---
New York
A public ethics oversight hearing in New York, originally scheduled for Monday, was postponed last-minute over questions of whether the meeting would comply with open meeting laws in the state.
You can read more here.
---
North Carolina
North Carolina State Senate Leader Phil Berger, a Republican, said the Senate will advance a measure which bans the promotion of critical race theory in K-12 public schools.
You can read more here.
---
Pennsylvania
Pennsylvania lawmakers may be in summer recess now after passing the state budget, but there are a few issues to watch when they come back in the fall. Such issues include election reform, federal stimulus dollars, cocktails to-go, lobbying reform, and marijuana legalization.
You can read more here.
---
Tennessee
A Tennessee state lawmaker introduced a bill to put both recreational and medical marijuana on the ballot next year (2022).
You can read more here.
---
Texas
After more than 50 state House Democrats left the state of Texas for the Nation's Capital to prevent a quorum on voting reform legislation, remaining lawmakers voted overwhelmingly to send law enforcement after the Democrats who left the state.
You can read more here.
---
Utah
Lawmakers in Utah are reportedly considering creating more bar licenses in the state. Bar licenses are highly coveted – the Legislature allocates one license per 10,200 people. However, one lawmaker indicated "to-go" cocktails are a "no-go."
You can read more here.
---
Wisconsin
Governor Tony Evers announced this week a $130 million investment of federal funds into grant programs with a goal of addressing workforce challenges that has only gotten worse since the beginning of the COVID-19 pandemic.
You can read more here.
---
While cryptocurrency is noted for using blockchain technology, other evolving uses include online voting, medical records, insurance policies, property and real estate records, copyrights and licenses, and supply chain tracking.
In 2021, at least seventeen states have now introduced blockchain legislation.
---