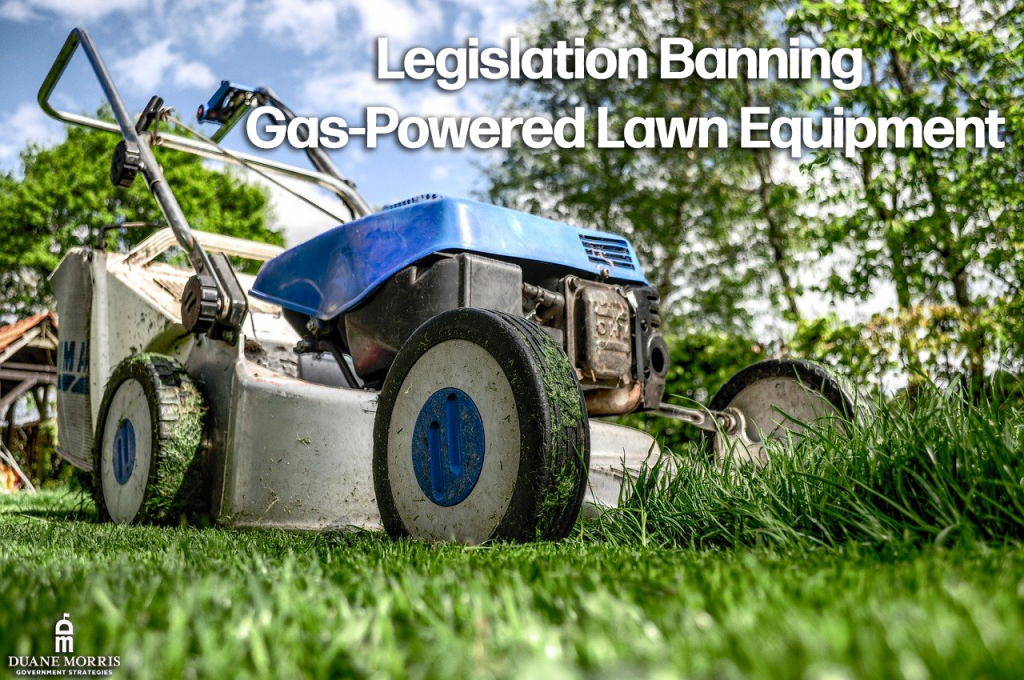 As states continue to address the need to reduce carbon dioxide and other air pollution, California made the news recently when Governor Gavin Newsom signed legislation that will eventually ban the sale of gas-powered lawnmowers, leaf blowers, and chainsaws. While many localities around the country have taken similar action in recent years, California enacting such a ban at the state level is among the most significant such air pollution control measures.

Other states across the country may look to take a page out of California's book by passing legislation banning gas-powered lawn equipment. Lawmakers in New York and Oregon have introduced similar legislation, and a lawmaker in Illinois has introduced a resolution encouraging alternatives to gas-powered leaf blowers.
---

California: Newly Passed Legislation Banning Gas-Powered Lawn Equipment

AB 1346 was introduced in February of 2021 and was signed by Governor Newsom in October. The bill will require the California Air Resources Board (CARB), by July 1, 2022, to adopt "cost-effective and technologically feasible regulations to prohibit engine exhaust and evaporative emissions from new small off-road engines." The regulations established by CARB would apply to engines produced on or after January 1, 2024, or as soon as CARB determines is feasible, whichever is later.

The legislation further notes Governor Newsom's Executive Order from September of 2020 that directs CARB to implement strategies to achieve 100% zero emissions from off-road equipment in California by 2035.

The bill does note that CARB must fund commercial rebates or similar incentives. To that point, the bill's author said recently that the state has set aside $30 million to help professional landscapers and gardeners make the transition from gas-powered equipment. However, the National Association of Landscape Professionals indicated that the new law could impact roughly 50,000 small businesses.
---

Illinois: Resolution Urging Alternatives

Lawmakers in Illinois introduced SR0306 this year, which encourages people to look into alternatives for gas-powered leaf blowers to reduce the negative impacts they have on the environment and health of individuals.

While the resolution acknowledges that gardeners and landscapers prefer using gas-powered leaf blowers for their efficiency, there are noise concerns, as well as emissions concerns.
---

New York: Legislation Banning Gas-Powered Lawn Equipment

Two pieces of legislation banning gas-powered lawn equipment have been introduced in New York this year. S1113 and A5375 would ban gas-powered leaf and lawn blowers for any purpose between May 1 and September 30. Violations shall result in a civil fine not to exceed $100.

Neither piece of legislation has advanced past their respective committees at this point. If passed, the legislation would go into effect 30 days after becoming law.

There are at least 19 localities in New York that already have similar bans in place.
---

Oregon: Two-Cycle Gasoline Powered Leaf Blower Ban

Lawmakers in Oregon introduced House Bill 3023 earlier this year. The bill, which did not advance in the 2021 legislative session, would ban the sale or use of two-cycle gasoline-powered leaf blowers in counties with more than 400,000 residents.

Violations of the new law would be punishable by fines no greater than $500.
---

Vermont: Burlington Passes Gas-Powered Leaf Blower Ban

In April of 2021, the Burlington City Council passed a phase-in ban of gas-powered leaf blowers. Specifically, the new ordinance bans the use of leaf blowers between Memorial Day and Labor Day unless they are electric or battery-powered and the noise level does not exceed 65 dBA. The ordinance also specifies that only one leaf blower may be used at a time in any lot less than 5,000 square feet.

In terms of a timeline, city departments were required to abide by the ordinance on August 1, 2021. Other effective dates include:
September 6, 2021, for businesses that use leaf blowers in their business (i.e., landscaping or gardening) and provide service to ten properties or more or property owners with ten or more properties within the city
December 31, 2021, for businesses that use leaf blowers in their business (i.e., landscaping or gardening) and provide service to fewer than ten properties or property owners with between one and nine properties within the city
May 31, 2022, for any other person or entity within the city
---