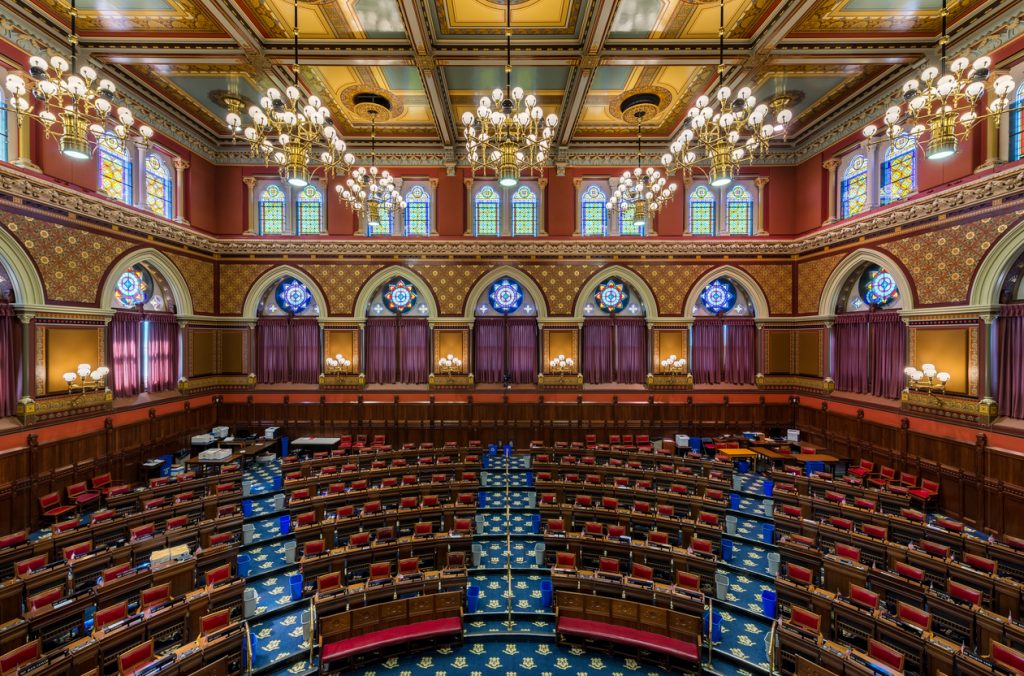 Following the leaked Supreme Court draft opinion on overturning Roe v. Wade, states may soon be able to increase regulation of abortion and have been passing myriad abortion legislation. At issue before the U.S. Supreme Court, Dobbs v. Jackson Women's Health Organization involves arguments over a Mississippi law that would ban most abortions after 15 weeks of pregnancy.
In the wake of the confirmations of Justices Gorsuch, Kavanaugh, and Barrett to the Supreme Court, many socially conservative states have passed a myriad of legislation to restrict or ban access to abortion. Conversely, more liberal states have reacted to the appointments and the draft decision by considering and passing legislation to codify the right to an abortion delineated by Roe.
---
Connecticut: First-of-its-Kind Abortion Protection Legislation
Governor Ned Lamont (D) signed HB 5414 into law in early May, in what his office called a first-in-the-nation law to protect medical providers and patients seeking abortion care in Connecticut who may be traveling from other states who have banned abortions. The bill also reiterates existing state law, which states physicians may perform any type of abortion but prohibits abortion after the fetus's "viability of the fetus except when needed to preserve the pregnant patient's life or health."
Effective July 1, 2022, the legislation authorizes APRNs, nurse midwives, and PAs to perform certain types of abortions.
---
Indiana: Coerced Abortion Legislation
In March, Governor Eric Holcomb (R) signed HB 1217 into law. The legislation compels physicians to tell a pregnant woman seeking an abortion that a coerced abortion is illegal. The bill further mandates that medical personnel who believe an abortion is coerced must offer the pregnant woman information on certain services, a telephone, and an alternative exit from a health care facility.
Under the bill, someone who knowingly or intentionally coerces a pregnant woman into having an abortion would be guilty of a Level 6 felony. The bill also mandates that medical personnel report suspicions of a coerced abortion to law enforcement, who must, in turn, respond and initiate an investigation upon receipt of a report on coerced abortion.
---
Oklahoma: Heartbeat Act Signed
Governor Kevin Stitt (R) signed SB 1503, the Oklahoma Heartbeat Act, into law at the beginning of May. Under the bill, an abortion may not be performed or induced on a pregnant woman if a physician has determined the unborn child has a detectable fetal heartbeat. The legislation defines a "fetal heartbeat" as cardiac activity or the steady and repetitive rhythmic contraction of the fetal heart within the gestational sac.
---
New Jersey: Right to Abortion Legislation
At the beginning of 2022, Governor Phil Murphy (D) signed S49, which codifies the right to abortion into state law. The bill explicitly guarantees every individual in New Jersey the fundamental right to reproductive autonomy, which includes the right to contraception, the right to terminate a pregnancy, and the right to carry a pregnancy to term. The bill also allows all qualified health care professionals to provide pregnancy termination services in New Jersey. Further, New Jersey must advance comprehensive insurance coverage for reproductive care under the bill.
---
Tennessee: Abortion-Inducing Drug Risk Protocol Act
Governor Bill Lee (R) signed HB 2416 in early May. The bill enacts the Tennessee Abortion-Inducing Drug Risk Protocol Act. The legislation would require a person seeking access to abortion-inducing drugs to obtain them from a qualified physician. The bill also bans abortion-inducing drugs on elementary, secondary, or postsecondary school grounds.
The legislation further stipulates that a manufacturer, supplier, pharmacy, physician, qualified physician, or other person may not provide abortion-inducing drugs via a courier, delivery, or mail service. A qualified physician who provides an abortion-inducing drug must examine the patient in person and schedule a follow-up visit for the patient between seven and 14 days after administering the abortion-inducing drug. The penalty for someone who intentionally, knowingly, or recklessly violates the new law is a class E felony, a fine up to $50,000, and an imprisonment term not exceeding 20 years.
HB 2416 takes effect on January 1, 2023.
---