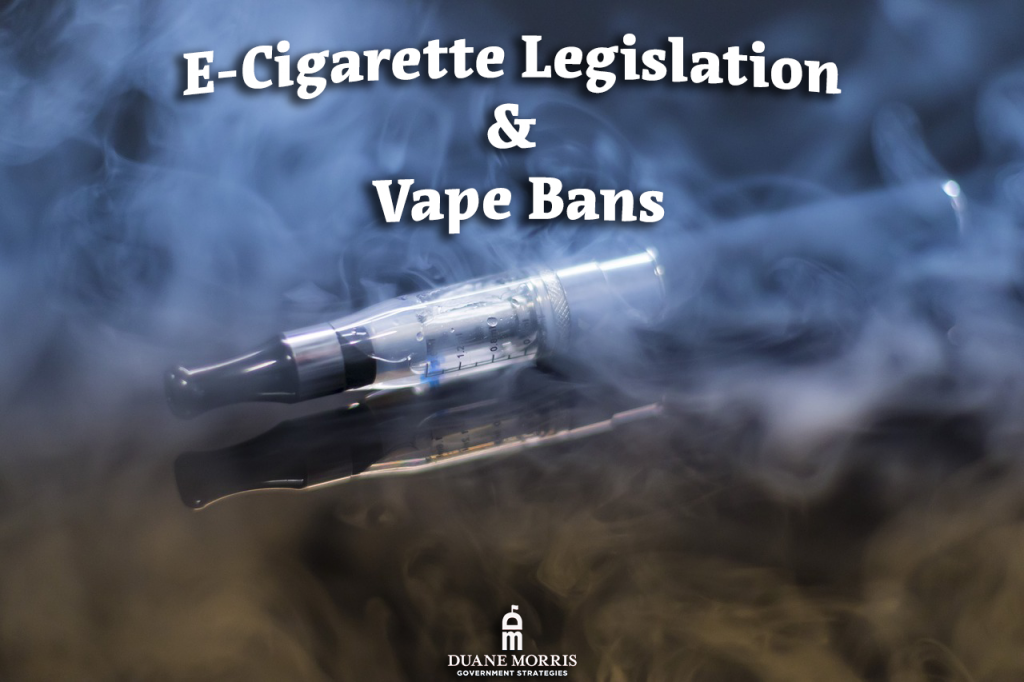 Recent years have seen a rise in the use of electronic cigarettes, or e-cigarettes, for vaping. E-cigarettes come in many different shapes and sizes. They produce an aerosol by heating a liquid that typically includes nicotine, flavors, and other chemicals to make the aerosol. With the rise in the use of e-cigarettes, particularly by youth, lawmakers have introduced various pieces of e-cigarette legislation, including different vape bans.
According to the CDC, e-cigarettes also have other names, such as e-cigs, e-hookahs, mods, vape pens, vapes, tank systems, and electronic nicotine delivery systems.
---
Florida E-Cigarette Legislation
SB 1080, which raises Florida's legal age to both vape and smoke tobacco, was signed by Governor Ron DeSantis on May 7. Raising the age brings Florida in line with federal law. The goal of the e-cigarette legislation was to prevent minors from using e-cigarettes. However, various groups urged DeSantis to veto the bill, citing the bill's language that would prevent local regulations related to the marketing and selling of vape and tobacco products.
The bill prohibits smoking and vaping by anyone under the age of 21 on or near school property, as existing law applies to those under 18. The bill also requires age identification before the sale or delivery of any tobacco products to someone who appears under the age of 30. SB 1080 goes into effect on October 1, 2021.
Governor DeSantis vetoed a related measure, SB 810, in the last legislative session in September of 2020. The bill would have amended state law to raise the legal age to buy tobacco to 21. In Governor DeSantis' veto transmittal letter of SB 810, he argued that the bill effectively bans tobacco-free vaping flavors as a reduced-alternative to cigarettes. The governor further expressed his belief that the bill would have led to more people smoking cigarettes and others going to the black market.
---
Maine Flavored Vape Ban Legislation
LD 1550, a flavored vape ban legislation, was introduced by Maine lawmakers earlier this year. The bill would ban both the sale and distribution of flavored tobacco products, including electronic smoking devices and flavored cigars.
Specifically, the bill states that a tobacco retailer may not sell, distribute, or offer to sell or distribute any flavored tobacco product. Retailers who violate the provisions outlined in LD 1550 would be subject to a civil violation and could receive a fine of $1,000. Additional violations would result in a $5,000 fine.
The legislation defines "flavored tobacco product" as any tobacco product that imparts a taste or smell (other than the taste or smell of tobacco) that an ordinary consumer can distinguish either before or while consuming the product. Included in this is any taste or smell relating to fruit, menthol, mint, wintergreen, chocolate, cocoa, vanilla, honey, or any candy, dessert, beverage, herb, or spice.
---
Rhode Island Vapor Products Regulatory & Licensure Act
House Bill 5548, the Rhode Island Vapor Products Regulatory and Licensure Act of 2021, was introduced by state lawmakers in February 2021. The bill would give the Department of Health the authority to regulate the manufacturing, distribution, and retail sale of vapor products within the state. HB 5548 would prohibit manufacturers, distributors, and retailers from selling, offering for sale, or distributing any e-liquid or vapor product with labeling or packaging that minors may find attractive. "Attractive" labels or packaging are defined as those including the following:
Terms such as candy, candies, kandy, kandeez, bubble gum, cotton candy, gummy bear, cupcake, soda pop, lollipop, and depicts images of juice boxes, soft drinks, cereal, candy, or desserts, or any spelling variants;
Depicts images of juice boxes, soft drinks, cereal, candy, or desserts;
Depicts images of cartoons, toys, superheroes, children, and any other likeness to images, characters, or phrases such as "unicorn" that have been marketed to minors;
Imitates or mimics trademark or trade dress of food products such as candy, cookies, cereal, juice boxes, or soft drinks that have mainly been marketed to minors;
Depicts images or references to video games, movies, videos, or animated TV shows that have appeal to minors;
Depicts the actual consumption of e-liquids or vapor products, including by minors;
Makes any health, medicinal, or therapeutic claims about e-liquids or vapor products; and
Promotes the overconsumption of either e-liquids or vapor products.
The bill would also regulate the advertising and marketing of e-liquids and vapor products. Under the bill, all ads and marketing efforts would be required to accurately and legibly identify who is responsible for its content. Such advertising would only be permitted where at least 85% of the audience is reasonably expected to be over 21 years old. Further, no advertising or marketing would be allowed within 1,000 feet of a daycare, schools K-12, playgrounds, or youth centers.
---
South Carolina E-Cigarette Legislation
In early April, the South Carolina House of Representatives passed H 3681, which is currently awaiting consideration in the South Carolina Senate. The bill would prohibit political subdivisions in the state from enacting any laws, ordinances, or rules related to ingredients, flavors, or licensing related to the sale of certain products. Products include cigarettes, electronic smoking devices, e-liquid, vapor products, tobacco products, alternative nicotine products, or any other product with nicotine and can be ingested by chewing, smoking, absorbing, dissolving, inhaling, or by any means.
Further, any laws, ordinances, or rules passed by political subdivisions before December 31, 2020, are exempt from the preemption mentioned above. H 3681 also states that the bill does not interfere with a political subdivision's ability and authority to determine its own public use policies for any of the products above.
---
Vermont E-Cigarette Retail Vape Ban Legislation
Vermont lawmakers introduced S. 24 to ban the retail sale of flavored cigarettes, e-cigarettes, and e-liquids. Under the bill, if a tobacco retailer or their agent/employee violates the ban, the retailer would be subject to a civil penalty of up to $100 for a first-time offense and up to $500 for any further offense committed.
S. 24 would also direct the state's Attorney General to report by December 1, 2021, whether and to what extent the state may legally restrict advertising and regulate the content of labels for e-cigarettes and other vaping-related products in Vermont. The report would be issued to the House Committees on Commerce and Economic Development and Human Services and the Senate Committees on Economic Development, Housing and General Affairs, and Health and Welfare.
The vape ban legislation notes that the state spends $348 million every year to treat tobacco-related illnesses and that youth tobacco use is increasing due to e-cigarettes. According to the bill, 7% of high school students in Vermont smoke, but if e-cigarette use is included, that figure rises to 28%. Further, the proportion of high school students using e-cigarettes increased from 12% – 26% between 2017 and 2019.
---
Lobbying Tips
Don't forget to check out our lobbying tips and guides!
---