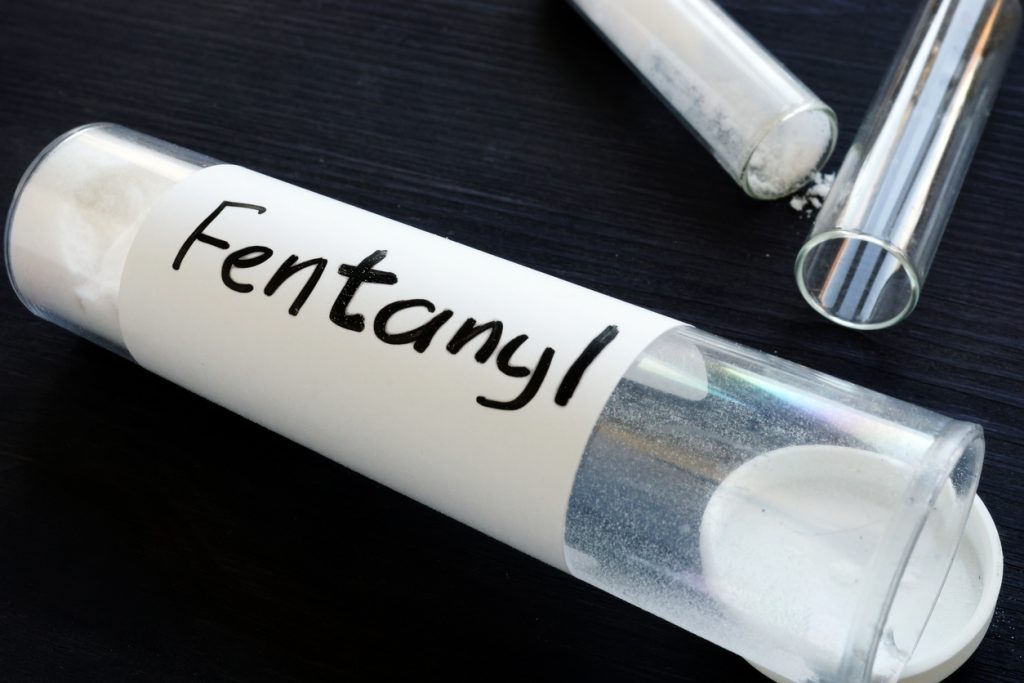 Fentanyl test strips are essentially a drug testing technology, initially developed for urinalysis, but can be effective at detecting fentanyl and fentanyl-analogs in samples of drugs. Lawmakers around the country are looking to decriminalize the use of fentanyl test strips to combat the rise in fentanyl-related deaths.
Fentanyl is a synthetic opioid used to treat severe pain and is 50–100 times more potent than morphine. However, illegally made fentanyl, sold through illegal drug markets, has led to increased fentanyl overdoses and deaths in the United States. According to the Centers for Disease Control and Prevention (CDC), over 56,000 deaths in 2020 involved synthetic opioids (other than methadone) in the United States. This represents more deaths than any other type of opioid, and synthetic opioid-involved death rates increased by over 56% between 2019 and 2020.
The U.S. Drug Enforcement Administration (DEA) released a memo in April 2022 to local, state, and federal law enforcement partners outlining a nationwide spike in fentanyl-related mass-overdose events, many of which involved victims who ingested other drugs that they did not know contained fentanyl. The memo also noted the CDC's estimates that in a twelve-month period concluding in October 2021, more than 105,000 individuals in the United States died of drug overdoses; more than 66% of those were related to fentanyl and other synthetic opioids.
---
Delaware
Governor John Carney signed Senate Bill 76 in June 2021 related to fentanyl test strips. The law allows the distribution of such test strips to determine the presence of fentanyl or fentanyl-related substances. Communities may receive these test strips and opioid overdose reversal medications as a harm reduction strategy in the opioid crisis. The law, introduced in March 2022, passed the Senate and House nearly unanimously.
The law notes that in 2018, fentanyl was involved in 72% of overdose deaths in Delaware, a 14% increase from 2017.
---
Louisiana
Governor John Bel Edwards signed HB 212 in May 2022 after the General Assembly passed the bill. The legislation, known as "Gabby's Law", states that "drug paraphernalia" shall not include rapid fentanyl test strips or any testing equipment or devices used solely to determine whether a substance contains fentanyl or its analogs. Additionally, Governor John Bel Edwards signed SB 315 in June. The legislation, also known as "Millie's Law," increases penalties for those who deal with fentanyl-laced drugs to a 5 to 40-year prison term and a fine of up to $50,000. This legislation also passed near unanimously.
---
Ohio
An Ohio state lawmaker introduced a bill in October 2021 to decriminalize fentanyl drug testing strips. HB 456 was referred to the House Criminal Justice Committee but has not yet received any votes as of July 2022. Under current Ohio law, possession of the strips could result in being charged with a fourth-degree misdemeanor, including up to 30 days in jail and a fine of up to $250.
---
Pennsylvania
The Pennsylvania House of Representatives unanimously approved HB 1393 in June 2022 to decriminalize fentanyl test strips. The bill amends the Controlled Substance, Drug, Device and Cosmetic Act of 1972 by changing the definition of "drug paraphernalia" to exclude testing products used to determine whether a controlled substance contains chemicals, toxic substances, or hazardous compounds in quantities that may cause physical harm or death. The bill further defines "testing products" to include fentanyl test strips.
The bill was referred to the Senate Judiciary Committee in June 2022 and was awaiting further consideration as of July 2022.
---
Wisconsin
Governor Tony Evers approved SB 600 in March 2022, decriminalizing the use of fentanyl test strips. State law previously defined "drug paraphernalia" to include testing equipment used, designed for use, or primarily intended to identify or analyze the strength, effectiveness, or purity of controlled substances or controlled substance analogs. The legislation, introduced in October 2021 and approved by Evers, exempts fentanyl testing strips from that definition.
---