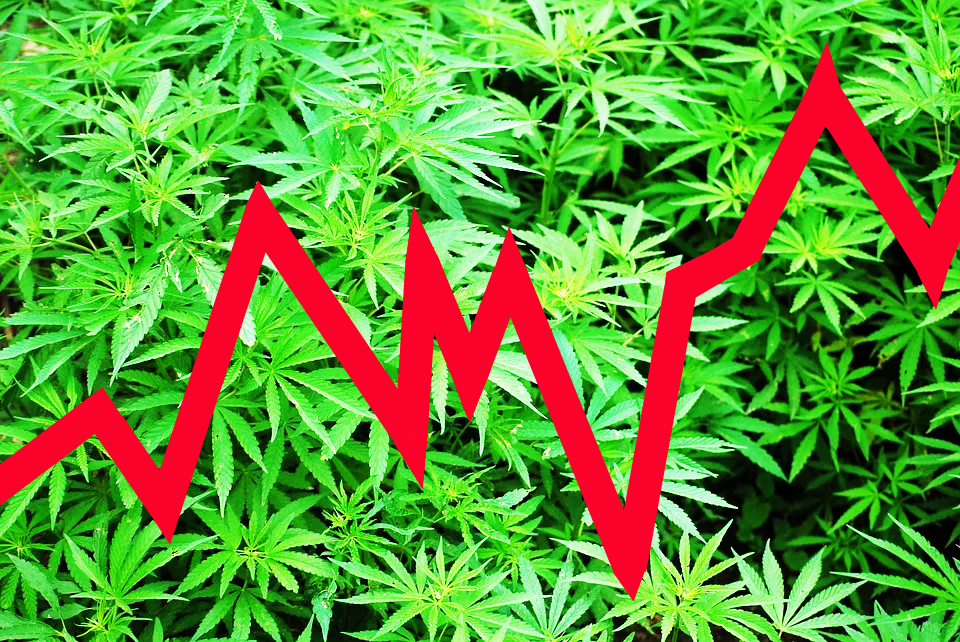 As COVID-19 continues to wreak havoc on states and their economies, lawmakers are contemplating how to handle decreasing state revenue and budget deficits. DMGS previously covered budget deficits caused by COVID-19 in numerous states. Now that more time has passed and more states have passed their respective budgets, some have called for legalizing recreational marijuana to fill their state's budget deficit. How much revenue could states generate by legalizing recreational marijuana? Could that help offset some, or all, of a state's budget deficit caused by COVID-19? How much revenue has been generated by states who have already legalized recreational marijuana?
Where States Have Legalized Marijuana
The Tax Foundation reported that markets had taken time to become capable of delivering sizable returns in states that have already legalized marijuana, and revenues should be long-term projects instead of hoping for short-term revenue increases. Pew Trusts further reported that revenue from "sin taxes" is volatile and hard to predict as consumption or participation can change drastically. However, Pew also reported that marijuana tax revenues ($361 million) in Washington accounted for a larger share of revenue than either liquor ($314 million) or cigarettes ($357 million) in FY 2018. Alaska also saw marijuana revenues increase from $2 million to $11 million in just one year.
In California, Politico reported that advocates for legalization initially projected $1 billion in annual revenues. However, in FY 2018-19, the first full year since recreational sales started, not even a third of that projection was raised. Further, Massachusetts projected to bring in $63 million in revenue in its first year of sales but did not get half of that total. Politico also reported exceptions, including Colorado, which was spot-on in its revenue estimates, and Nevada, which surpassed its projections by 40%.
New Jersey
New Jersey Governor Phil Murphy believes that legalizing marijuana could help boost the Garden State's economy as it deals with the effects of COVID-19. Murphy argues legalizing marijuana is "an incredibly smart thing to do" as it would create jobs and raise tax revenues.
How much revenue would the state raise by legalizing and taxing marijuana? A report released in 2016 by the New Jersey Policy Perspective and New Jersey United for Marijuana Reform found that legalizing, taxing, and regulating marijuana for adults over the age of 21 would add $300 million in sales tax revenues for the state. The $300 million annual revenue stream would be generated solely from a 25% tax on marijuana sold to adults. The report further argues that there are other economic benefits to factor in that are not included in this estimate: job creation, additional income, and business tax revenue, tax revenue from the sale of marijuana-related accessories, property and agricultural taxes, new research and development, and enhanced economic activity resulting in fewer people wrapped up in the criminal justice system.
The report estimates that 4% of the New Jersey population uses marijuana monthly, consuming 2.5 million ounces per year. New Jersians spend an estimated $869 million on marijuana illegally, but legalizing and regulating the sale of marijuana could result in $1.2 billion in sales per year. This revenue includes estimates of consumers in New York and Pennsylvania crossing the border to purchase marijuana, as neither state has legalized marijuana either.
Could the $300 million help fill New Jersey's budget deficit? Governor Murphy recently signed a bill authorizing the state to borrow $9.9 billion to address the state's fiscal problems caused by COVID-19. The Treasury Department previously estimated that the FY 2020 budget revenues would fall $2.757 billion, or 7%, below original projections. The Treasury Department also estimated that FY 2021 budget revenues would fall $7.346 billion, or 17.8%, lower than the Governor's Budget Message.
Where does the New Jersey Legislature stand on legalizing marijuana? The Assembly passed A1897, a decriminalization bill, in mid-June. The bill, currently in the Senate, would reduce penalties for possessing and distributing smaller quantities of marijuana. Specifically, possession of fewer than two ounces of marijuana or less than five grams of hashish would result in a $50 civil fine. The bill would not legalize the sale of marijuana, only decriminalize it.
Further, lawmakers chose to pose legalizing marijuana to the voters of New Jersey. The question will appear on November's ballot as a constitutional amendment. Could the measure pass? A recent poll conducted by Monmouth University shows that 61% of respondents would vote for the November ballot measure, with only 34% opposed. Additionally, the poll showed 62% of voters believe legalizing marijuana would help the state's economy, with 69% of Democrats, 61% of Independents, and 55% of Republicans agreeing. If the measure passes in November, lawmakers would have to pass enabling legislation and work out the details to launch the legalized marijuana industry in New Jersey.
Pennsylvania
Pennsylvania could stand to gain $581 million in annual tax revenue by legalizing, regulating, and taxing marijuana, according to a 2018 report by Auditor General Eugene DePasquale.
The report notes that Pennsylvania could lose out on revenue and customers to other states, as marijuana is either legal or could be legal soon in nearby states. In Philadelphia, 42 million tourists generated $634 million in tax revenue. According to the Auditor General's report, revenue is being left on the table because the city decriminalized marijuana, but it is not being regulated, sold, or taxed. The report further projects a $1.66 billion marijuana industry in Pennsylvania, surpassing both Colorado and Washington. The $1.66 billion figure does not include any economic impact from job creation, business creation, or the decrease of criminal justice costs.
Where does the Keystone State stand on legalizing marijuana? Pennsylvania finally legalized medical marijuana in 2016. In late 2019, medical marijuana sales increased by 500% to $524 million, resulting in $6.45 million in tax revenue. Philadelphia and Pittsburgh both decriminalized possession of up to one ounce of marijuana, resulting in possession arrests decreasing 50% in Pittsburgh the first year it was decriminalized, and decreasing 75% in Philadelphia in 2017.
Governor Tom Wolf has called on lawmakers to address legalizing marijuana for adults. Lieutenant Governor John Fetterman has also been on the record of supporting legalizing marijuana, saying that Pennsylvania could help fill the $3.2 billion deficit caused by COVID-19 through legal marijuana sales. Fetterman previously embarked on a 67 county listening tour on legalizing marijuana, resulting in a report concluding that 65-70% of attendees approve of adult-use cannabis legalization. Some Republican lawmakers have also signaled an openness to legalizing marijuana in the state.
Numerous bills have been introduced by lawmakers in both chambers to address the issue of marijuana. Senate Bill 350 would end Pennsylvania's prohibition on marijuana and provide a framework for legalizing, selling, regulating, consuming, and taxing cannabis. The bill would:
Allow marijuana consumption by those 21 years or older;
Allow people to grow up to six cannabis plants in their homes for personal use;
Automatically expunge previous criminal convictions for cannabis-related offenses and commute sentences resulting from such convictions;
Allow "micro-growers" to grow cannabis in their homes and sell the cannabis to processors and dispensaries;
Provide for an uncapped number of state permits that have low barriers to entry for home-growers, micro-growers, growers, processors, dispensaries, deliverers, and public consumption lounges, which would be the only public places in which cannabis consumption would be allowed;
Require growers to comply with regulations that become more stringent as a grower's production increases;
Create a statewide cannabis business incubator that provides free training to Pennsylvanians who want to learn how to start and run a cannabis business;
Provide state grants and low-interest capital loans to Pennsylvanians who have been harmed by prohibition, who complete the incubator's training program, and who win a competitive application process;
Require dispensaries to recycle used vape pens and incentivize all permittees to meet stringent environmental standards;
Allow Pennsylvania's colleges and universities and their students to grow and process cannabis as part of classes intended to instruct students both the science and business of cannabis;
Preserve Act 16's medical marijuana protocol, giving current permittees no statutory advantages or disadvantages should they decide to enter the adult-use cannabis marketplace; and
Direct the bulk of the state's resulting tax revenue to public education via the new fair funding formula, allowing individual school districts to decide how much of their portion to invest in their students and how much of their portion to give back to taxpayers in the form of property tax relief.
The bill is currently in the Senate Agriculture and Rural Affairs Committee, which has not yet voted on the bill. Another bill, Senate Bill 527, would take a similar approach as New Jersey. The bill would place a referendum on the ballot related to the legalization of marijuana for personal use by adults. Unlike New Jersey, this referendum would be nonbinding, only allowing citizens of Pennsylvania to express their opinion on the issue and allow lawmakers to use that information as they debate how to proceed. The bill is currently in the Senate State Government Committee, which has not scheduled it for a vote.
Would a question on legalizing marijuana receive the support of Pennsylvania voters? A poll in October 2019 showed that 58% of voters support legalization. However, the same poll indicated that 58% of respondents would be somewhat or much less likely to support the legalization of marijuana if it was sold by the state-owned liquor stores instead of by private companies. House Bill 1899 would do just that—legalize adult-use cannabis through the current state-owned liquor store system.
Florida
How much revenue could the Sunshine State generate by legalizing marijuana? The existing medical marijuana industry is projected to top $1.9 billion in five years. Some economists estimate that a legal recreational marijuana market could result in $2 billion in sales with sales tax revenues of $128 million.
Lawmakers passed a $93.2 billion budget in March. Governor Ron DeSantis signed the budget in late June, which included vetoing more than $1 billion in spending. This decision was a result of a $1.46 billion deficit following COVID-19 damaging the state's tourist-centric economy.
Lawmakers propose two bills to address legalizing recreational marijuana for adult use in the most recent Florida legislative session. House Bill 1389 and Senate Bill 1860 would have legalized recreational marijuana for adult use, but both bills died at the end of this year's legislative session.
Meanwhile, efforts to put a proposal on the 2022 ballot in Florida are underway, albeit with some resistance from the state Attorney General, lawmakers, and the Florida Chamber of Commerce.
Texas
The combination of COVID-19 and low oil prices are currently driving down state government revenues in Texas. State Comptroller Glenn Hegar recently announced that Texas' current two-year budget is facing an $11.5 billion deficit, with a $4.6 billion loss this year alone. How much money could Texas see from legalizing marijuana? At a 15% tax rate, Texas could generate $453 million annually.
The movement to legalize marijuana is picking up steam in Texas during the pandemic. Texas for Responsible Marijuana Policy's director said lawmakers on both sides of the aisle are discussing the topic, and there could be a renewed focus in the next legislative session as lawmakers look for ways to help mitigate losses caused by COVID-19. There have been calls for Governor Greg Abbott to call a special session on legalizing and regulating marijuana for adult use. The Houston Young Republicans further called on Governor Abbott to temporarily permit and tax the voluntary sale of recreational cannabis products for consumers older than 21 years of age as well as temporarily permitting third-party food delivery services to deliver these cannabis products directly to consumers.
How do Texans feel about the issue? A 2018 poll showed more than half of the state's voters believe the state should legalize marijuana. The poll showed that 53% of voters would legalize cannabis in either small amounts or any amount, while 31% would legalize only for medical purposes. Only 16% believed that marijuana should remain illegal.
Last year, the state House passed House Bill 63, which would have lowered possession of one ounce or less from a Class B to a Class C misdemeanor, and those found to possess two ounces or less would be a Class B misdemeanor, punishable by a fine of up to $2,000 or jail time (or both). The bill died in the Senate. Meanwhile, State Representative Roland Gutierrez has pushed for legalizing marijuana, arguing it could create more than 5,000 jobs in Texas and generate $3.6 billion in state revenue every two years. Gutierrez circulated a letter to fellow lawmakers in late 2019, announcing the "REAL Cannabis Legalization Act" ahead of the 2021 legislative session. The bill would only allow Texas-grown cannabis to be sold in state-licensed shops, creating a new agricultural market in the state.
Future of Recreational Marijuana
COVID-19 has ravaged state budgets across the country. As states navigate how to deal with producing revenue, legalizing marijuana has emerged as an option. While simply legalizing and taxing marijuana will not fill these COVID-19 budget deficits, it could be part of the solution if lawmakers can find agreement.