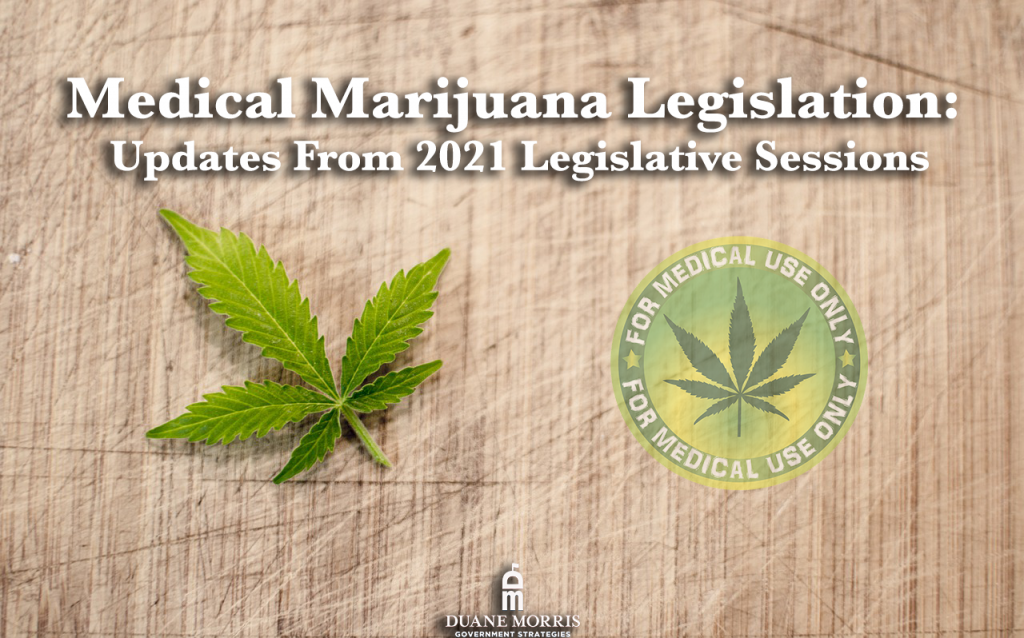 In February, DMGS covered states that could advance medical marijuana legislation in 2021. DMGS also covered ballot referendums in the November elections where voters in five states approved legalizing recreational or medical marijuana. With Mississippi and South Dakota voters approving medical marijuana legalization via ballot referendum last fall, 36 states have now legalized medical marijuana. However, some states have already taken some action this year to join that list in legalizing medical marijuana.
---
Alabama: Medical Marijuana Bill on Governor's Desk
The Alabama legislature passed SB 46 on May 6 and was delivered to Governor Kay Ivey's desk for her consideration. The bill would legalize medical marijuana in Alabama and establish the Alabama Medical Cannabis Commission. If the legislation earns the governor's signature, the Commission must:
Establish and administer a patient registry system;
Adopt rules for issuing physician certifications for patients to use medical marijuana;
Issue medical marijuana cards to qualified patients and caregivers;
License facilities that process, transport, test, or dispense medical marijuana;
Establish license fees between $10,000 and $50,000 for an annual license; and
License up to five integrated facilities, no more than twelve independent cultivators, no more than four independent processors, no more than four independent dispensaries, state-wide testing laboratories, and secure transporters
Under the bill, the Commission may charge up to $65 for a medical marijuana card. Qualifying medical conditions to receive a card include:
Autism Spectrum Disorder
cancer-related cachexia
nausea or vomiting
weight loss
chronic pain
Crohn's Disease
depression
epilepsy or a condition causing seizures
HIV/AIDS-related nausea or weight loss
panic disorder
Parkinson's disease
persistent nausea except under certain conditions
PTSD

Sickle Cell Anemia
spasticity associated with a motor neuron disease, such as ALS
spasticity associated with Multiple Sclerosis or a spinal cord injury
a terminal illness
Tourette's Syndrome
a condition causing chronic or intractable pain that conventional therapeutic intervention and opiate therapy is either contradicted or has proved to be ineffective
SB 46 would also create the Medical Cannabis Commission Fund, into which the state would deposit all state tax proceeds, license fees, civil penalties, and other fees or charges. After October 1, 2025, any money in the Fund over actual expenses from the previous fiscal year would be distributed, less 10%, as follows: 60% to the general fund and 30% to the Medical Cannabis Research Fund.
Governor Ivey has indicated that her staff is still studying the legislation.
---
Kansas: Medical Marijuana Legislation Advances
The Kansas House passed a medical marijuana legalization bill, SB 158, in early May. Medical marijuana, under the bill, would be available in the form of oils, tinctures, plant material, edibles, patches, or any other form approved by the Secretary of Revenue. The bill would further prohibit the smoking, combustion, or vaporization of medical marijuana and the dispensing of medical marijuana from a vending machine or through e-commerce.
SB 158 also specifies that plant material is not allowed to have more than 35% THC in its final dispensed form, and extracts cannot have a THC content of more than 70% in their final dispensed form.
Kansas' medical marijuana legalization bill defines a qualifying medical condition as:
AIDS
Alzheimer's
ALS
cancer
CTE
Crohn's disease
epilepsy or another seizure disorder
Fibromyalgia
Glaucoma
Hepatitis C
IBS
Lupus
MS
Parkinson's
GIV
PTSD
Sickle cell anemia
spinal cord disease or injury
Tourette's syndrome
TBI
ulcerative colitis
chronic and severe or intractable pain
any other disease or condition adopted by the Secretary of Health and Environment if recommended by the Medical Marijuana Advisory Committee
---
Kentucky: Stalled Medical Marijuana Legislation
While the Kentucky House of Representatives approved a bill last year to legalize medical marijuana, no such efforts advanced in the 2021 legislative session, which concluded in March. However, lawmakers introduced several pieces of legislation.
House Concurrent Resolution 5 would have called for the expediting of research regarding the safety and efficacy of the use of medical marijuana.
House Bill 136 would have legalized medical marijuana and changed the Kentucky Department of Alcoholic Beverage Control to also cover Cannabis Control, with a division of medical cannabis.
House Bill 326 would have created the Kentucky Center for Cannabis Research to advance the study of cannabis and cannabis derivatives for the treatment under certain medical conditions and diseases as indicated and recommended by the Center's advisory board.
House Bill 467 would have legalized, regulated, and taxed cannabis. Under the bill, the state would use a tracking system to monitor cannabis and cannabis products grown, manufactured, produced, or sold, from seed to consumer.
Senate Bill 92 also would have legalized medical marijuana.
---
Louisiana: Smokeable Medical Marijuana Legalization
The Louisiana House of Representatives passed HB 391 in early May, which now awaits consideration in the State Senate. Current Louisiana state law allows physicians to recommend marijuana for therapeutic use for patients clinically diagnosed as suffering from certain debilitating medical conditions. Current law also prohibits physicians from recommending medical marijuana in inhalation form or raw or crude marijuana.
HB 391 would repeal the prohibition on physicians recommending medical cannabis in inhalation form and raw or crude form. The bill would also prohibit pharmacies (As authorized under current state law) from dispensing more than 2.5 ounces of raw or crude marijuana every 14 days to any individual patient or dispensing raw or crude marijuana to anyone under the age of 21 without a written order from a physician specifically recommending marijuana in a raw or crude form for that individual.
---
North Carolina: Compassionate Care Act
North Carolina lawmakers introduced Senate Bill 711 in April, known as the North Carolina Compassionate Care Act. The bill would legalize medical marijuana for those suffering certain debilitating medical conditions.
A debilitating medical condition under SB 711 includes:
Cancer
Epilepsy
Glaucoma
positive status for human immunodeficiency virus (HIV)
acquired immune deficiency syndrome (AIDS)
amyotrophic lateral sclerosis (ALS)
Crohn's disease
Parkinson's disease
multiple sclerosis
other debilitating medical conditions comparable or in the same class
---
Texas: Medical Marijuana Legislation Expansion
The Texas House of Representatives passed HB 1535 in late April. The bill, which is awaiting the Texas Senate's consideration, would expand the state's medical marijuana program. Specifically, the bill would amend Texas's Occupations Code to increase from one-half of one percent to five percent the maximum percent by weight of THC allowable in cannabis for that cannabis to be considered low-THC for purposes of prescribing low-THC cannabis to certain patients for compassionate use. A physician would be qualified under the bill to prescribe low-THC cannabis for the treatment of a patient with a medical condition approved by executive commissioner rule for treatment in an approved research program under the bill's provisions relating to compassionate-use research and reporting if they are certified by a compassionate-use institutional review board and is licensed under the Medical Practice Act.
HB 1535 would also expand the medical conditions that patients may be prescribed low-THC cannabis to include a condition that causes acute or chronic pain for which a physician would otherwise prescribe an opioid, PTSD for a patient who is a veteran, a medical condition approved for a research program and for which the patient is receiving treatment under that program, or a debilitating medical condition designated by the Texas Department of State Health Services.
---