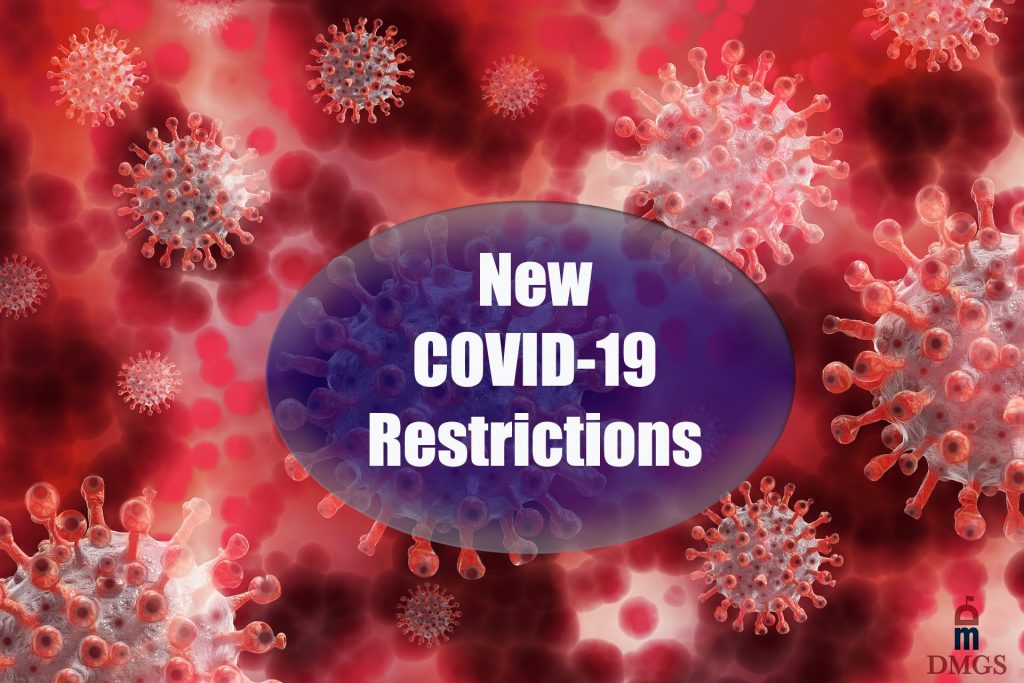 UPDATED: 11/24
Nearly 11 million people have been diagnosed with COVID-19 in the United States this year, with over 247,000 deaths. As COVID-19 cases surge heading into the winter season, many states are considering or already implementing new restrictions to help curb the spread of the coronavirus. Northeastern states' governors held an emergency (virtual) summit to discuss coordinating policies to address surging COVID cases. The call included New York Governor Andrew Cuomo, New Jersey Governor Phil Murphy, Pennsylvania Governor Tom Wolf, Connecticut Governor Ned Lamont, and Delaware Governor John Carney.
Midwestern states' governors held their own virtual press conference to encourage those in the Midwest to stay safe during the holidays as coronavirus cases in the region are dramatically increasing. Those who participated in the virtual press conference were Minnesota Governor Tim Walz, Illinois Governor J.B. Pritzker, Kentucky Governor Andy Beshear and Michigan Governor Gretchen Whitmer. Ohio Governor Mike DeWine and Indiana Governor Eric Holcomb did not participate in the press conference but have joined the other governors in encouraging residents to wear masks, practice social distancing, and other mitigation efforts heading into the holiday season.
With Thanksgiving and other holidays quickly approaching, how are these governors, and others across the country, acting to mitigate the spread of COVID-19?
---
New Jersey
Last Thursday, Governor Phil Murphy signed an executive order permitting municipalities and counties to impose additional restrictions related to the hours of operation of non-essential retail businesses, food and beverage businesses, and recreation and entertainment businesses after 8 PM. The order took effect at once, prohibiting municipalities and counties from imposing restrictions that prevent restaurants from conducting pick-up or delivery.
On Monday, Murphy announced further restrictions. Effective Tuesday, indoor gatherings are now limited to a maximum of ten people. Effective November 23, outdoor gatherings are limited to a maximum of 150 people. This is down from a maximum of 25 people for indoor gatherings and a reduction of 70% for outdoor gatherings. Murphy further announced particular indoor gatherings could continue under the current rules, limited to 25% room capacity and up to 150 people. This applies to religious services/celebrations, political events, weddings, funerals/memorial services, and performances. Further, indoor sports can exceed the 10-person maximum limit, but only for essential game personnel. No spectators are allowed.
---
Michigan
Sunday evening, Gov. Gretchen Whitmer announced new COVID-19 restrictions as cases, hospitalizations, and deaths spike across Michigan. The new restrictions are part of a "three week pause" targeting indoor social gatherings and other group activities. The order takes effect November 18 and, unlike Gov. Whitmer's spring order, is not a "blanket" stay at home order.
Under the new order, bars and restaurants will be open for outdoor dining, carryout, and delivery only. Indoor dining will not be allowed. Further, gyms will remain open for individual exercise, while casinos, movie theaters, and group exercise classes will be closed.
On the education front, the new order ends in-person classes for colleges and high schools and allows them to continue with remote learning. As the state sees fewer outbreaks with elementary and middle schools, coupled with young children needing in-person instruction the most, K-8 schooling can continue in-person as long as it can be done with substantial mitigation, including wearing face masks.
Additionally, sports at the college and professional levels may continue without spectators, but all other organized sports must cease.
---
Pennsylvania
Governor Tom Wolf and Secretary of Health Dr. Rachel Levine announced four new COVID-19 mitigation efforts on November 17.
Dr. Levine issued an order requiring visitors from another state to have a negative COVID-19 test within 72 hours prior to entering Pennsylvania. If a person cannot get a test or decides not to, they must quarantine for 14 days upon arrival in Pennsylvania. Further, the order states that Pennsylvania residents visiting other states must have a negative COVID-19 test within 72 hours prior to their return to Pennsylvania, or quarantine for 14 days upon their return. The order is effective Friday, November 20, and does not apply to those who commute to another state for work or medical treatment.
Dr. Levine also issued an order strengthening the state's initial facemask order. The order, effective November 18, requires the following:
Masks are required to be worn indoors and outdoors while away from one's home.
When outdoors, a mask must be worn if you are not able to remain physically distant (at least 6 feet away) from someone not in your household the entire time you are outdoors.
When indoors, masks will now be required even if you are physically distant from members not in your household. This means that even if you are able to be 6 feet apart, you will need to wear a mask while inside if with people other than members of your household.
This order applies to every indoor facility, including homes, retail establishments, gyms, doctors' offices, public transportation, and anywhere food is prepared, packaged or served.
A memo was issued by Dr. Levine to acute care hospitals outlining expectations to care for Pennsylvanians who are in need of care during the COVID-19 pandemic. In the memo, Secretary Levine notes her exception that hospitals will work together through their emergency preparedness health care coalitions in order to share resources and balance patient loads. The memo also notes that while it is not the Department of Health's (or the Wolf Administration's) intention to prohibit all elective procedures, hospitals should be proactive in moving up scheduled procedures now so they do not need to be cancelled or postponed at the last minute if a facility experiences a sudden surge in COVID-19 cases.
The Department of Health (DOH) and Department of Education (DOE) further issued recommendations to colleges and universities to develop and implement a testing strategy. According to the recommendations, institutions of higher education (IHE) should prioritize the following when developing a testing strategy:
Communicate through a health equity lens that resonates with all students, faculty and staff in the IHE community to address health disparities, including racial, ethnic, minorities, and other disparate populations.
Protect vulnerable students with underlying health conditions.
Protect faculty and staff, especially those with underlying health conditions.
Limit transmission to families (visits home and family visits to campus) and the public, especially older populations.
Consider levels of community transmission of COVID-19 where the IHE is located and where students and staff live.
DOH and DOE's recommendations also include a communication plan to be developed and implemented to keep students, faculty, staff, and local communities safe and up-to-date with new information. A communication plan should include:
Testing strategy overview and testing locations on and off campus.
Contact information for IHE Health Center or designated IHE staff in charge of plan operations.
Designated information on locations for isolation and quarantine, if applicable.
Overview of isolation and quarantine process, including what to expect for students during those times (both residential and off-campus).
On November 23, Governor Wolf and Secretary Levine announced additional targeted mitigation measures heading into the holiday season, including a stay at home advisory. Pre-K-12 public schools in counties that have been in the "substantial transmission" level for at least two consecutive weeks are required to commit to safety measures and if they don't, they must move to full remote-learning. Tele-work is now mandatory unless impossible, and online sale and curbside pickup for all shopping is encouraged.
Further, all indoor and outdoor gatherings will see crowd sizes reduced. Maximum occupancy for indoor gatherings is 10% for 0-2,000 people or 5% for over 10,000 people. No indoor events are allowed with more than 500 people. Maximum occupancy for outdoor events is 15% for 0-2,000 people or 10% for gatherings between 2,001-10,000 people. For outdoor events over 10,000 people, gatherings are limited to 5% of maximum occupancy up to 2,500 people.
Preparing for potential Thanksgiving gatherings, Pennsylvania is now requiring the retail food services industry (bars, restaurants, and private catered events) must end alcohol sales for on-site consumption at 5:00 PM on November 25 only, the day before Thanksgiving.
According to the Governor's office, persons who fail to comply with an order may be fined between $25 and $300 dollars. Enforcement agencies include the Pennsylvania State Police, local law enforcement, personnel from the departments of Agriculture and State, and the PA Liquor Control Board.
---
California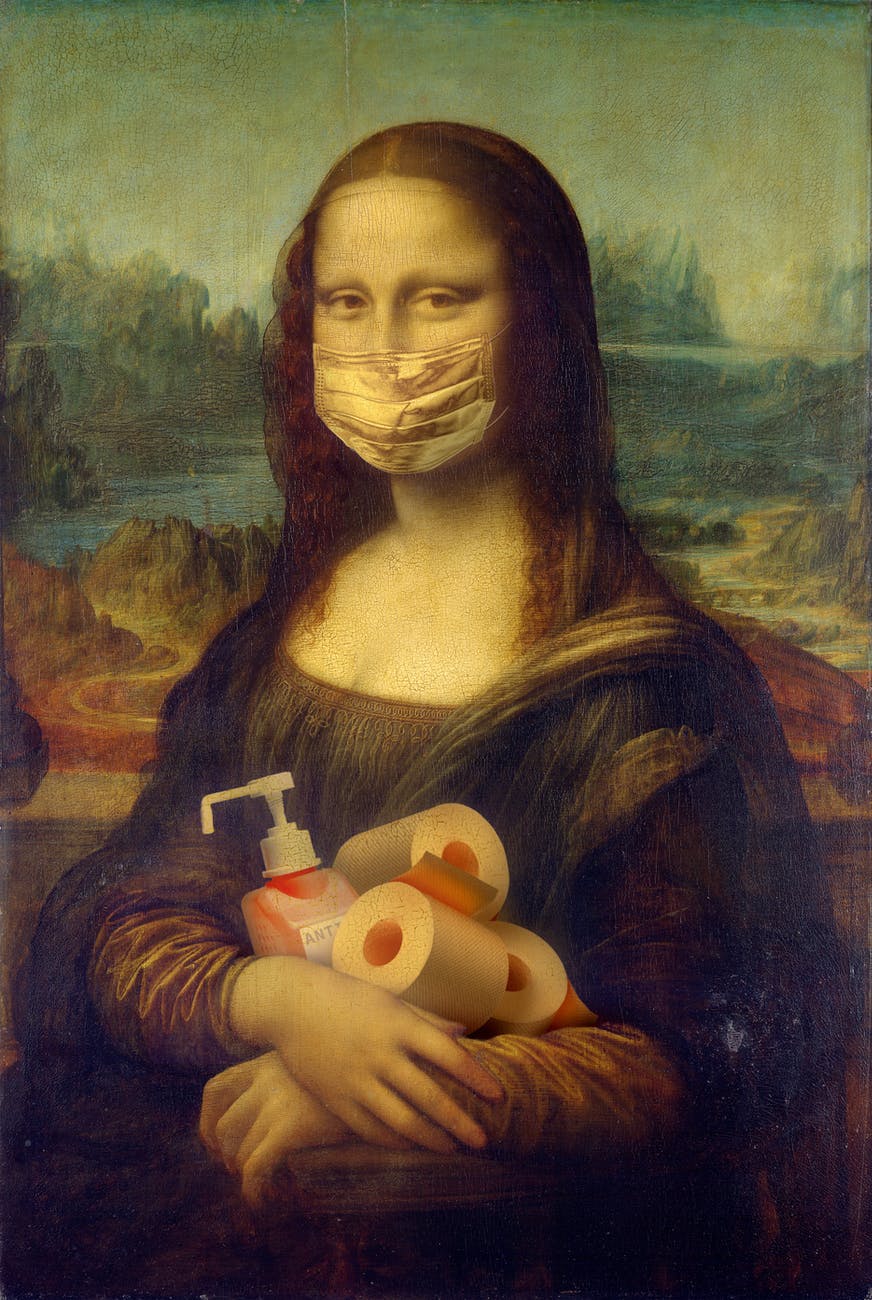 In California, Governor Gavin Newsom announced new restrictions on November 16. 28 counties, home to 94.1% of the state's population, are moving back into the most restrictive Tier 1 (Purple/Widespread). California's Blueprint for a Safer Economy outlines criteria for loosening and tightening restrictions on certain activities. Under the most restrictive Tier 1, the following restrictions apply:
Amusement parks are closed.
Aquariums can open outdoors only with modifications.
Auto repair shops, banks, and credit unions can open with modifications.
Bars, distilleries, and breweries, where no meals are provided, are closed.
Bookstores and libraries can open with modifications, including a 25% max capacity.
Childcare can open with modifications.
Churches, mosques, places of worship, and cultural ceremonies can open outdoors only with modifications.
Concert venues, festivals, and convention centers are closed.
Grocery stores can open with modifications, including a 50% max capacity.
Gyms and fitness centers can open outdoors only with modifications.
Higher education institutions are closed for indoor lectures and student gatherings.
Non-essential businesses can work remotely.
Professional sports can open with modifications, including no live audiences.
Restaurants can only offer dine-in outdoors but can offer take-out and delivery.
Retailers can open with modifications, including a max capacity of 25%.
More guidelines can be viewed here.
The state is also strengthening guidance for the use of face coverings, mandating face coverings at all times when outside of the home, albeit with some exceptions. Under the new guidance, face coverings do not have to be worn under specific settings:
Persons in a car alone or solely with members of their own household.
Persons who are working in an office or a room alone.
Persons who are actively eating or drinking if able to maintain a distance of at least six feet away from persons who are not members of the same household or residence.
Persons who are outdoors and keeping at least 6 feet of social distancing from others not in their household. Such persons must always have a face covering with them and must put it on if they are within 6 feet of others who are not in their household.
Persons who are obtaining a service involving the nose or face for which temporary removal of the face-covering is necessary to perform the service.
Workers who must wear respiratory protection.
Persons who are exempted explicitly from wearing face coverings by other CDPH guidance.
Further, the following individuals are always exempt from wearing a face-covering :
Persons younger than two years old. These young children cannot wear face-coverings because of the risk of suffocation.
Persons with a medical condition, mental health condition, or disability that prevents wearing a face covering. This includes persons with a medical condition for whom wearing a face-covering could obstruct breathing or who are unconscious, incapacitated, or otherwise unable to remove a face covering without aid. Such conditions are rare.
Persons with hearing loss, or communicating with a person with hearing loss, where the ability to see the mouth is essential for communication.
Persons for whom wearing a face covering would create a risk to the person related to their work, as determined by local, state, or federal regulators or workplace safety guidelines.
Governor Newsom further issued a limited stay-at-home order on November 19. The new order requires generally that non-essential work, movement, and gatherings stop between 10:00 PM and 5:00 AM in counties in the purple tier. The order took effect 10:00 PM on November 21 and remains in effect until 5:00 AM December 21.
---
Vermont
Last Friday, Governor Phil Scott announced new COVID-19 mitigation measures and extended Vermont's State of Emergency through December 15. Scott noted the state would be targeting new strategies to mitigate the coronavirus's spread by addressing areas behind the spread. Namely, since the beginning of October, 71% of cases came from a private party or social gathering.
As such, Governor Scott's new order targets both public and private gatherings. Attendance at both public and private gatherings (indoors and outdoors) is limited to single household members. Multi-household social gatherings are prohibited under the governor's order.
Under the order, restaurants must close in-person dining at 10 PM but can provide curbside and delivery services after that. In-person dining is limited to one household per table. Curbside and delivery services are also allowed for bars and social clubs, but they must cease in-person service. Restaurants and other businesses that host non-essential activities must also maintain a 30-day log of employee and guest names and contact information in the event contact tracing is required by the state's Health Department.
The governor's order also targets sports and telework requirements. All youth and adult recreational sports not related to Vermont Principals Association sanctioned school sports are suspended. Further, all businesses, non-profits, and government entities must reinstitute telework policies.
---
Nevada
Nevada Governor Steve Sisolak announced new restrictions to curb the spread of COVID-19 on November 23. The new measures are in place for the next three weeks. Under the new restrictions, restaurants, bars, gaming operations, gyms, fitness facilities, and other businesses and activities will be limited to 25% of capacity, down from 50%. Retail stories, such as grocery stores, will remain at 50% capacity. Further, public gatherings are limited to no greater than 50 people, or 25% capacity, whichever is less. No large events are permitted at this time. Private gatherings are also limited to no greater than 10 people from no more than two different households. The state's face covering requirements are extended to private gatherings, and Nevadans must wear face coverings at all times when around individuals from outside their own households, whether indoors or outdoors.
---
Utah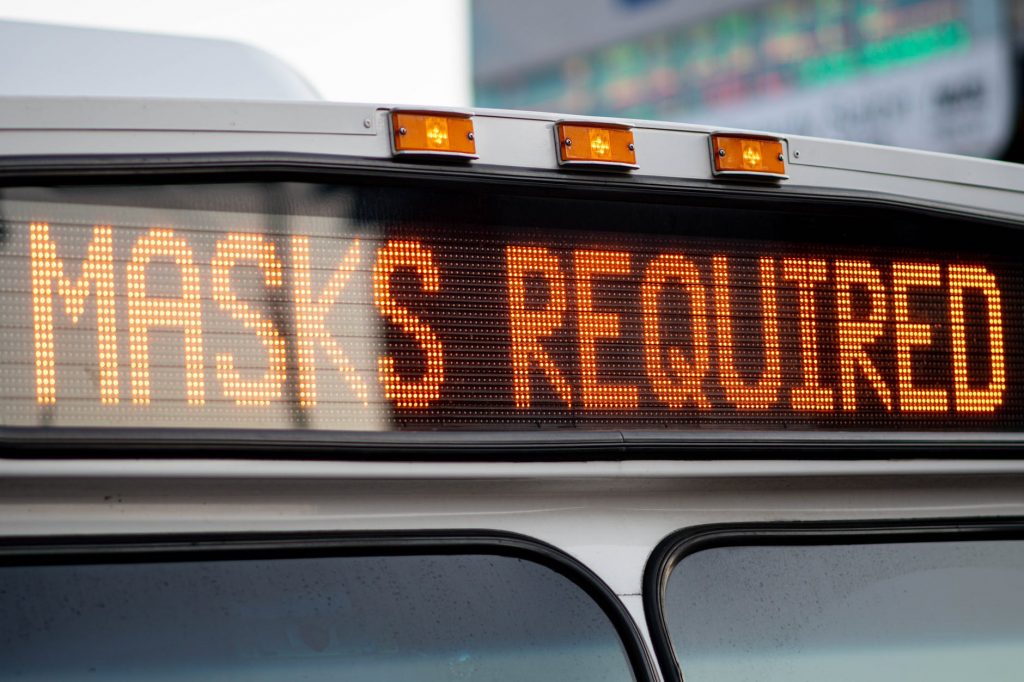 Nevada's new public health order from the Department of Health is in effect from November 24 through December 8. Under the new order, individuals shall wear a face mask and maintain six feet of physical distance from another individual from a separate household while indoors, and also while outdoors if within six feet. For events, hosts shall complete and implement the "Event Management" template provided by the Department of Health, require each attendee to wear a face mask, and post conspicuous signage that lists COVID-19 symptoms, asks individuals experiencing symptoms to stay home, and provides notice of face mask and physical distancing requirements.
The new order outlines the following:
Liquor or beer is not allowed to be sold or furnished after 10:00 PM in counties designated as a High Transmission Area.
A bar shall limit occupancy to 75% in a county designated as a Moderate Transmission Area.
A person may not be an event host for, or participate in, a high-school sponsored social gathering that is an athletic or extracurricular activity, unless the high school verifies that each participant received a diagnostic test to determine current COVID-19 infection within 14 days prior to the activity.
Higher education institutions shall require each individual 18 years of age or older who is enrolled at the institution, lives in on-campus housing, or attends at least one in-person class, to obtain a COVID-19 test every 14 days.
---
North Carolina
On November 23, North Carolina Governor Roy Cooper issued additional COVID-19 safety measures. The new measures, implemented via Executive Order No. 180, tightens face mask requirements by requiring masks to be worn whenever someone is not with a person from their household. The mask requirement is now extended to any public indoor space, even when maintaining six feet of social distance. This includes gyms (even when exercising), all public and private schools, and all pubic or private transportation when traveling with people from outside of one's household.
Governor Cooper's executive order also requires large retail businesses with greater than 15,000 square feet to have an employee near entrances to ensure masks are being worn and implementing occupancy limits.
---
Kentucky
Kentucky Governor Andy Beshear announced new COVID-19 restrictions on November 18 with the state seeing a 400% increase in positive COVID cases over the past nine weeks. All new restrictions for restaurants, bars, social gatherings, indoor fitness and recreation centers, venues and theaters, and professional services are effective from November 20 through December 13.
Under the new order, no indoor food or beverage consumption is allowed. However, carryout and delivery is encouraged and socially distanced outdoor seating is permitted.
Private social gatherings are limited up to eight people from a maximum of two households while gyms, fitness centers, pools, and other indoor recreation facilities are now limited to 33% capacity. Group classes, team practices, and competitions are prohibited, and masks are required while exercising.
Governor Beshear is requiring all employees to telework if possible, while office-based businesses are limited to 33% of employees. All businesses that can close to the public must do so under the new order. Additionally, all public and private schools, K-12, are required to cease in-person instruction. Middle schools and high schools will continue remote or virtual instruction through January, while elementary schools will be allowed to re-open for in-person instruction on December 7 if their county is not in the "red zone."
---
Arizona
The Arizona Department of Health Services (ADHS) announced an emergency measure on November 19 strengthening mask wearing requirements for schools. Under the emergency measure, district and charter schools are required to immediately mandate masks to be worn on school campuses, on school buses, and during school-associated activities by all students, faculty, staff, contractors, and visitors.
---
Illinois
Illinois' new tier three resurgence mitigations announced by Governor J.B. Pritzker on November 17 took effect November 20. The measures place new mitigation requirements on bars and restaurants:
Bars and restaurants must close by 11:00 PM.
No indoor service permitted.
All patrons must be seated at tables outside.
There is no ordering, seating, or congregating at a bar.
Tables must be six feet apart.
No standing or congregating outdoors while waiting for a table or exiting is allowed.
No dancing or standing is permitted indoors.
Reservations are required.
Additionally, health and fitness centers are allowed to operate at no more than 25% capacity, but no indoor group classes are permitted. Reservations are required and locker room areas should be closed, while face coverings are required at all times.
The measures also stipulate all employees who can work remotely should, while retail businesses can operate at no greater than 25% capacity. Grocery stores and pharmacies are allowed to operate up to 50% capacity. Delivery or curbside pickup options are encouraged in the new measures whenever possible.
---
Washington State
On November 15, Washington Governor Jay Inslee announced new statewide restrictions for four weeks. Under the new order, indoor social gatherings with people from outside one's household are prohibited unless they quarantine for 14 days prior to the gathering or quarantine for seven days prior to the gathering and receive a negative COVID-19 test result within 48 hours of the gathering taking place. Outdoor social gatherings are limited to five people from outside one's household.
Additionally, restaurants and bars are now closed for indoor dining service, while outdoor dining and carryout service is allowed. Fitness facilities and gyms are closed for indoor operations, but are allowed to conduct outdoor fitness classes. For weddings and funerals, ceremonies are limited to no more than 30 people. Indoor receptions, wakes, or other similar gatherings are prohibited.
---
Massachusetts
Under Governor Charlie Baker's COVID-19 Order #54, indoor gatherings at private residents are now limited to 10 people and outdoor gatherings at private residences are limited to 25 people. The order also requires all gatherings to end and disperse no later than 9:30 PM and organizers of gatherings to report known positive COVID-19 cases to the local health department and cooperate with contact tracing.
Local health and police departments are authorized to enforce the order, which specifies that violations could result in fines of $500 for each person above the limit at a gathering.
---
Nebraska
With Thanksgiving approaching, Governor Pete Ricketts announced new phased restrictions tied to COVID-19 hospitalization rates. The state is currently in the second most restrictive "orange" phase. Governor Ricketts urged all Nebraskans to help slow the spread of COVID-19 by limiting the size of holiday gatherings, and the "red," most restrictive phase, caps indoor gatherings to 10 people or fewer.
The state also issued a new Directed Health Measure which temporarily stops elective surgeries that can wait longer than four weeks without substantially changing a patient's outcome.
---
Virginia
COVID-19 is spreading rapidly within Virginia and across the United States; however, there are currently no statewide restrictions in Virginia.
Those who traveled to areas of widespread coronavirus transmission or who participated in higher-risk activities—such as going to larger gatherings, including sporting events, crowded restaurants, weddings, or funerals—as well as those who traveled on a cruise ship or riverboat are asked to take "extra precautions" to protect others for 14 days after returning to Virginia.
Virginia currently does not have any quarantine requirements for people arriving in the Commonwealth from other U.S. or international locations. In Virginia, wearing a mask is required for any person 5 years or older while inside public buildings (per Amended Executive Order 63).
Virginia recommends the following steps for travel:
Before Essential Travel
During Essential Travel
Pack plenty of hand sanitizer and keep it within reach if you do not always have a chance to wash your hands.
Bring disposable or extra masks (cloth face coverings) if yours becomes dirty and you will not have a chance to do laundry.
Bring enough of your medicine to last you for the entire trip.
Prepare food and water for your trip.
Pack non-perishable food in case restaurants and stores are closed.
Wear a mask to cover both the mouth and nose when waiting for, traveling on, or departing from public conveyances. Masks should be worn at an airport, bus or ferry terminal, train or subway station, seaport.
Avoid close contact by staying at least 6 feet (about two arms' length) from anyone who is not from your household.
Wash your hands often or use hand sanitizer (with at least 60% alcohol).
Avoid contact with anyone who is sick.
Avoid touching your eyes, nose, and mouth
After Essential Travel
Holiday Travel
Fall and winter celebrations typically include large gatherings of families and friends, crowded parties, and travel that put people at increased risk for COVID-19. Staying home is the best way to protect yourself and others. If holiday travel is essential, see CDC's information about important considerations before deciding to travel for Thanksgiving and information from VDH about social gatherings and holiday celebrations.
---
Maryland
Visitors and returning residents are asked to get a virus test in the 72 hours before arriving in Maryland or upon arrival. Those Marylanders who have traveled in the past week to a state with a positivity rate of greater than 10 percent should get a test and self-quarantine until a negative result is received. That leaves only Hawaii, Maine, New York City, Vermont, and the U.S. territories, excluding Puerto Rico, as non-restricted places to visit or return from. Delaware, Pennsylvania, Virginia, Washington, D.C., and West Virginia are always exempt.
Maryland is also recommending against attending public and private indoor gatherings of more than 25 individuals in one location.
---
New Mexico
In order to curb the spike in COVID-19 cases and to relieve the strain on hospitals and healthcare providers, New Mexico Gov. Michelle Lujan Grisham announced last Friday the state would temporarily re-enact a statewide order to close in-person services for all non-essential activities. New Mexico has a tiered county-by-county system that will establish benchmarks for re-opening upon the November 30 expiration of the emergency public health order. A civil, administrative penalty up to $5,000 a day for each violation of the Public Health Emergency Response Act (the law giving the Health Secretary the authority to issue emergency public health orders).
The governor's order prohibits all mass gatherings but allows houses of worship to hold religious services, either indoors or outdoors. Houses of worship may not exceed 25% of its maximum capacity or 75 individuals at any given time, whichever is less. The order also requires all "non-essential" businesses and non-profit entities to reduce the in-person workforce at each business or business location by 100%. Essential businesses may remain open but must minimize their operations and staff to "the greatest extent possible" and adhere to COVID-safe protocols.
The governor's order further outlines the following:
Essential retail businesses may not exceed either 25% of its maximum capacity, or 75 customers at any given time, whichever is less.
Food and drink establishments may not provide any indoor or outdoor dine-in service but may provide carryout or delivery services.
Places of lodging may run up to 25% of maximum occupancy if they complete the New Mexico Safe Certified training. All other places of lodging must close.
All outdoor recreational facilities must close.
All state-run museums must remain closed.
All indoor malls must close, except individual essential businesses with separate outdoor entrances.
Private educational institutions shall adhere to face covering and other COVID-safe practice requirements for in-person instruction. These institutions shall run with a maximum occupancy of 25% of any enclosed indoor space.
Any food and drink establishment, place of lodging, retail space, or essential business must immediately close for 14 days following the occurrence of four or more rapid responses within 14 days.
All individuals must wear a mask or face-covering in public settings except when eating or drinking.
---
District of Columbia
Anyone visiting for more than 24 hours from a high-risk area must get a negative coronavirus test no more than 72 hours before their arrival. If they stay in Washington for more than three days, they must have another test done three to five days after arriving.
The order excludes travelers from Maryland and Virginia because of their relationship with the District. However, it applies to any jurisdiction with more than 10 positive cases per 100,000 people per day.
Washington, DC has been in Phase Two of reopening since June. Mayor Muriel E. Bowser laid out plans to make some Phase Two adjustments with the recent spike in coronavirus cases. The following adjustments will take place Wednesday, Nov. 25:
Indoor gatherings are capped at 10 people, and outdoor gatherings are limited to 25 people (both decreased from 50). These numbers apply to business meetings.
Restaurants must stop serving alcohol at 10 p.m. but may stay open until midnight.
The District's live entertainment pilot program is suspended.
Restaurants must reduce indoor dining capacity to 25 percent, starting Monday, Dec. 14.
Many museums and galleries that have reopened, including eight Smithsonian museums, the National Gallery of Art, and the Holocaust Museum, have temporarily closed due to recent surges of COVID-19.
---
Other COVID-19 articles can be found here.
---