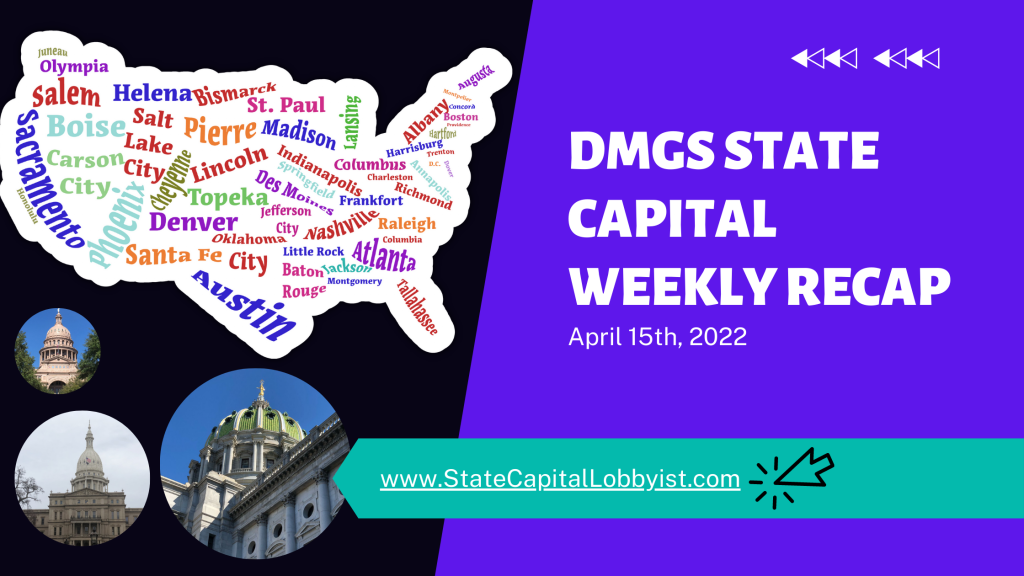 This week, hot-button issues dominated headlines in state capitals around the country. Such issues include legislation related to abortion, transgender youth, third parties funding election operations, and gas tax rebates.
---
Alabama
Governor Kay Ivey signed legislation this week making Alabama the third state in the country to pas a restriction on gender-affirming care for minors.
Learn more here.
---
California
Over a month since Gov. Gavin Newsom pledged to give Californians financial relief to offset increasing gas prices, he and state lawmakers are continuing to haggle over the details.
Learn more here.
---
Colorado
Lawmakers on the Colorado House Judiciary Committee this week amended legislation focused on fighting the fentanyl problem to make it a felony for someone to knowingly possess 1 gram or more of fentanyl or any compound containing fentanyl.
Learn more here.
---
Delaware
A state senator in Delaware held a virtual webinar looking to tackle the issue of access to high-speed internet in the first state.
Learn more here.
---
Florida
Florida Governor Ron DeSantis signed legislation banning most abortions after 15 weeks.
Learn more here.
---
Illinois
Illinois lawmakers passed a budget plan over the weekend that includes more funding for K-12 public schools.
Learn more here.
---
Kentucky
Kentucky lawmakers overrode Gov. Andy Beshear's veto of Senate Bill 83, which would not allow transgender girls from competing in girls' sports.
Learn more here.
---
Massachusetts
The Massachusetts Senate passed legislation that aims to assist members of communities disproportionately harmed by the enforcement of past marijuana laws.
Learn more here.
---
Michigan
State lawmakers are looking at a bill that could pave the way for industrial facilities that chemically transform plastics into reusable raw material.
Learn more here.
---
Mississippi
Earlier this week, Governor Tate Reeves signed the "Broadband Expansion and Accessibility of Mississippi Act," which will direct hundreds of millions in federal dollars to expand broadband internet access across the state.
Learn more here.
---
Missouri
The Missouri House Budget Committee filed legislation this week that would create a one-time economic recovery tax credit for Missouri residents who paid personal income tax in the state for 2021.
Learn more here.
---
Nebraska
Nebraska lawmakers have given final approval to a bill that would let the state build a canal in Colorado to divert water out of the South Platte River and Gov. Pete Ricketts is expected to sign it.
Learn more here.
---
Nevada
The courts are still deciding the fate of a "ghost gun" ban that passed the legislature.
Learn more here.
---
New Hampshire
Governor Chris Sununu has urged state lawmakers to approve his $100 million plan to expand housing options in the state.
Learn more here.
---
New Jersey
Legislation introduced in the Garden State would offer a $500 rebate to joint tax filers making up to $250,000 annually, with a $250 award and $125,000 cap for single filers.
Learn more here.
---
Oklahoma
Governor Kevin Stitt signed legislation earlier this week that makes it a felony to perform an abortion, punishable by up to ten years in prison.
Learn more here.
---
Pennsylvania
This week, GOP authored legislation prohibiting third parties from funding election operations passed the Pennsylvania Senate.
Learn more here.
---
Virginia
Governor Glenn Youngkin and state democrats are debating on how to deal with rising gas costs in Virginia – Youngkin wants to pause the state's gas tax while the democrats want to send money directly to drivers.
Learn more here.
---
Wisconsin
The Wisconsin Legislature is going to have several new faces next year with 19 lawmakers not returning.
Learn more here.
---
This Week's DMGS Posts
Kentucky Governor Vetoes Over 30 Bills, Some Overridden

In Kentucky, Governor Andy Beshear (D) has vetoed nearly 30 bills this year, plus four additional line-item vetoes. Of those vetoed bills, the Republican-controlled legislature has overridden four of them. Last year, Governor Beshear vetoed 31 bills, and lawmakers overrode 28.

Biden Extends Student Loan Payment Pause Again, but Will Forgiveness Happen?

Over the last few years, there has been much discussion around student loans and the possibility of broad student loan forgiveness, particularly amid the COVID-19 pandemic. As noted in our previous student loan forgiveness update, one of former President Donald Trump's last acts before leaving office was to extend the pause on federal student loan payments through January 31, 2021. One of President Joe Biden's first acts upon taking office was to extend that pause even further.
---
Capital and Capitol Happenings: Staff on the Move, Promotions, and More
Jonathan Leeman: new Director of Federal Government Relations, Equifax
Chris Tosto: new Director of Strategic Services, OneClickPolitics
Jennifer Creasey: new Assistant Vice President External and State Relations, University of Illinois System
Laurie Holmes: new Federal Policy Director, CALSTART
---
Happy Birthdays This Week
Alexandria Paolozzi: Director of Government Affairs, CUFI Action Fund
Chrissy Buteas: Chief Government Affairs Officer, New Jersey Business & Industry Association (NJBIA)
Dana Brooks: President and CEO, Pet Food Institute
Patrick Henderson: Government Affairs, Marcellus Shale Coalition
Garrett McGuire: Regional Director of External and Legislative Affairs, AT&T
Jonathan Atwood: Chief of Staff and External Affairs, South Jersey Port Corporation
Scott Peyton: State Director (Louisiana and Mississippi), Right on Crime
Email future suggestions to rjstevens@dmgs.com.
---