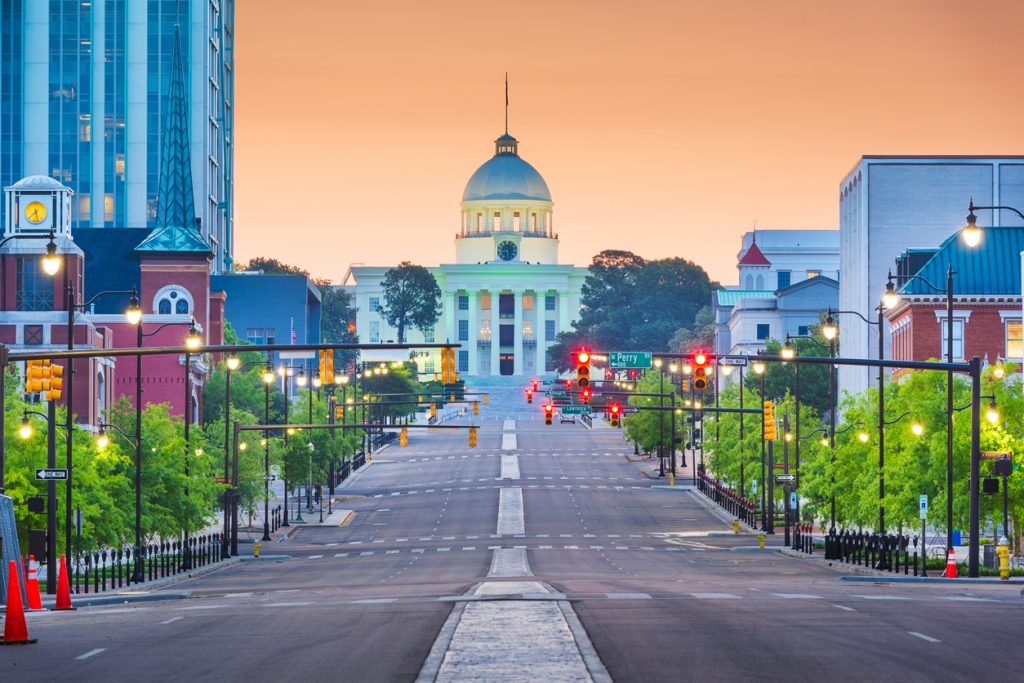 State capitals around the country were abuzz this week with plenty of action taking place. Some states, like Idaho, wrapped up their legislative sessions, while others tackled hot-button issues. Such issues include a Pennsylvania House Committee passing legislation prohibiting transgender girls from participating in women's sports and Florida lawmakers taking aim at Disney and discussing removing their governing autonomy in the state.
---
Alabama
The Alabama Senate voted 32-0 Thursday for the budget that would raise minimum salaries for teachers with nine or more years experience.
Learn more here.
---
California
This week, California lawmakers voted to extend the state's eviction ban for some renters.
Learn more here.
---
Colorado
Colorado lawmakers started debate this week on a $36 billion state budget proposal.
Learn more here.
---
Florida
Lawmakers in Florida are discussing a repeal of the 1967 Reedy Creek Improvement Act, which allows Disney the autonomy to act as its own. government.
Learn more here.
---
Idaho
This week, lawmakers wrapped up the 2022 legislative session that included passing the state's largest ever income tax cut of $600 million and one of the nation's most restrictive abortion bans.
Learn more here.
---
Kansas
Legislation that would legalize sports betting in the state is back in the Senate after being amended and passed through the House.
Learn more here.
---
Kentucky
Gov. Andy Beshear (D) signed several pieces of legislation this week that recently passed the legislature.
Learn more here.
---
Maryland
Earlier this week, Maryland lawmakers approved a new congressional map to meet the deadline imposed by a judge last week.
Learn more here.
---
Michigan
Earlier this week, Gov. Gretchen Whitmer (D) signed a $4.7 billion bipartisan infrastructure spending bill into law. The bill specifically designates almost $2 billion for water-related priorities such as clean drinking water and safe dams.
Learn more here.
---
Mississippi
The Mississippi legislature voted this week to pass a bill that would reduce the state income tax over four years, beginning in 2023.  This marks the largest state income tax cut ever in Mississippi.
Learn more here.
---
Missouri
Current state law in Missouri prohibits cellphone use while driving for people younger than 21, as well as people operating commercial vehicles. However, a few bills moving through the Legislature would expand that prohibition to all drivers.
Learn more here.
---
Nebraska
Nebraska lawmakers' debate on prison reform continued until late into the night on Wednesday.
Learn more here.
---
New Jersey
New Jersey Senate President Nick Scutari (D) announced this week the formation of a special committee to conduct oversight hearings for delays in opening up legal weed sales in the state.
Learn more here.
---
New York
Governor Kathy Hochul (D) and legislative leaders missed the state's budget deadline after failing to reach a consensus after arguing over issues such as bail reform and casinos in NYC.
Learn more here.
---
Oregon
Oregon lawmakers recently passed legislation allocating $7 million for the Oregon Department of Transportation to invest in wildlife corridor projects.
Learn more here.
---
Pennsylvania
Legislation that would prevent transgender girls and women from competing in women's sports in Pennsylvania passed the state House Education Committee this week.
Learn more here.
---
Tennessee
Gov. Bill Lee (R) announced a proposal this week for a 30 day suspension of state and local grocery sales taxes to help provide financial relief to residents.
Learn more here.
---
Wyoming
Wyoming lawmakers distributed more money than ever before this year when they set the state's budget for the next two years and also allocated federal ARPA dollars and funding for capital construction projects.
Learn more here.
---
This Week's DMGS Posts
Same-Day Voter Registration: 2022 Legislative Update

With the 2022 primary election season nearly upon us, many voters have questions to ask, including whether their state is an open or closed primary, when the election is, and when they can register to vote or change their registration. Nineteen states, as of 2021, implemented same-day voter registration on Election Day.

State Legislation Prohibiting Government Dealings with Russia

Not long after Russia invaded Ukraine, the U.S. federal government and various state governments began taking myriad action against Russia and in support of Ukraine. Since our last update, states started taking more pointed actions, particularly with legislation prohibiting government dealings with Russia and Belarus.
---
Capital and Capitol Happenings: Staff on the Move, Promotions, and More
Crystal Pruitt: new External Affairs Lead, Atlantic Shores Offshore Wind LLC
Jonathan Wren: new Senior Communications and Policy Analyst, VPD Government Solutions
Matthew Welsh: new Director of Government Affairs, Opiant Pharmaceuticals
Shawn Gremminger: new Director, Health Policy, Reservoir Communications Group
Montana Williams: new East Coast State Policy Manager, Waymo
---
Happy Birthdays This Week
Andrew Paris: Senior Policy Manager, Dentons Cohen & Grigsby
Tyler Power: Director of Government Relations, Hy-Vee, Inc.
Gene Veno: Director Governmental Affairs & Public Advocacy, Susquehanna River Basin Commission
Danie Bendesky: Director of Intergovernmental Affairs, Pennsylvania Department of State
Marlow Colvin: Vice President of Government Affairs, ComEd
Eric Kiehl: Director of Policy and partnership, PA Association of Community Health Centers
Jack Gombach: Government Affairs & Grassroots Advocacy Consultant, Community Networking Resources
Email future suggestions to rjstevens@dmgs.com.
---