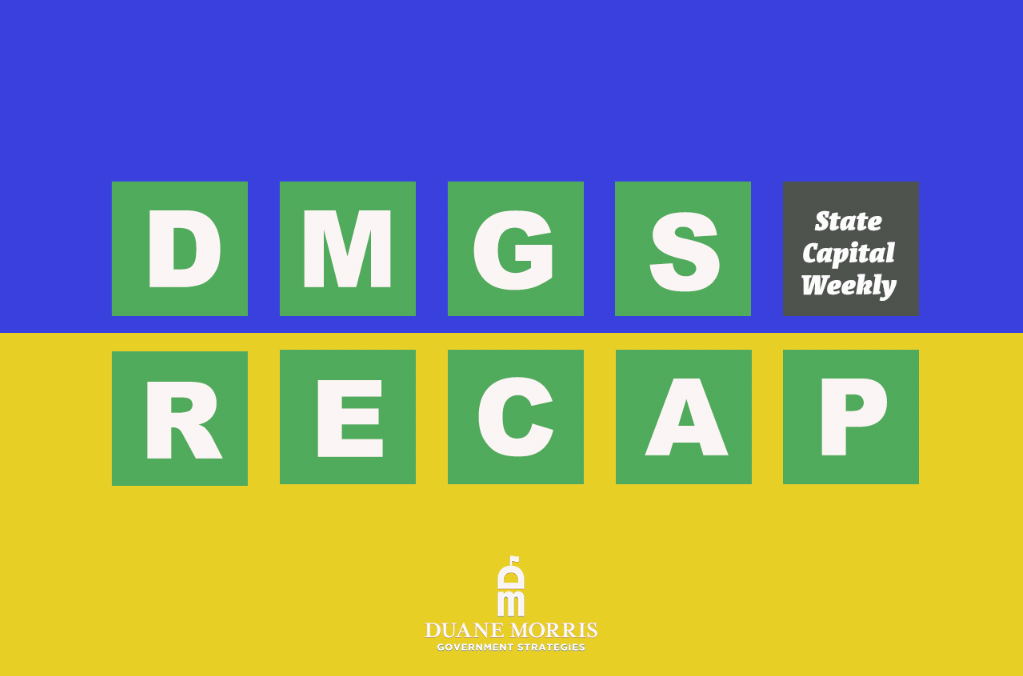 Governors, lawmakers, and other state officials from across the country dominated headlines this week in various responses to the ongoing Ukrainian crisis, something DMGS covered in two analyses earlier this week (linked below). However, lawmakers were still business-as-usual with other topics on their agendas including marijuana, gaming, COVID-19, abortion, and CRT. Notably, Connecticut lawmakers are considering legislation that would make it a crime to forge a COVID-19 vaccine card, Florida lawmakers passed an abortion ban bill, and Ohio lawmakers advanced a bill that would require hospitals to allow visitors during a pandemic.
---
Alabama
An Alabama state senator is making another effort to pass a gambling bill after announcing two new bills Thursday, one which calls for a constitutional amendment and another that is designed to implement that amendment.
Learn more here.
---
California
State lawmakers plan to introduce legislation that would force the state's giant pension funds to divest any Russian assets.
Learn more here.
---
Colorado
Under a recently introduced bill, Colorado's Department of Natural Resources would implement a pilot program which includes at least 12 cameras that can be moved around the state and spot a wildfire from 100 miles away.
Learn more here.
---
Connecticut
State lawmakers in Connecticut are considering a bill that would make it a crime to forge a COVID-19 vaccine card.
Learn more here.
---
Florida
On Thursday, Florida lawmakers voted to ban most abortions after 15 weeks of pregnancy.
Learn more here.
---
Indiana
Indiana lawmakers lawmakers are taking another shot at enacting a bill that would allow all adults in the state legally entitled to own a firearm to carry a handgun in public without obtaining a state license.
Learn more here.
---
Iowa
Iowa legislators are working across the aisle to change the way teachers are investigated when they are accused of misconduct.
Learn more here.
---
Maryland
A measure in the state Senate that would legalize recreational marijuana in Maryland on July 1, a year quicker than a similar House measure, garnered significant support Thursday during a state Senate hearing.
Learn more here.
---
Mississippi
The Mississippi House of Representatives on Thursday passed, largely along partisan lines, legislation labeled as an anti-critical race theory bill.
Learn more here.
---
New York
A few democratic lawmakers earlier this week called for an excise tax on ammunition production in New York to generate funding for gun violence research.
Learn more here.
---
Ohio
The Ohio state House passed, unanimously, "Shirley and Wilma's Law", which requires hospitals to allow visitors during a pandemic.
Learn more here.
---
Pennsylvania
Pennsylvania lawmakers held a hearing earlier this week on legislation that would legalize recreational marijuana.
Learn more here.
---
South Carolina
Two state legislators in South Carolina have managed to delay two abortion-related pieces of legislation by simply leaving the room.
Learn more here.
---
South Dakota
The same South Dakota legislative committee that thwarted a proposal to legalize recreational marijuana on Monday also advanced a separate bill that would repeal portions of the medical marijuana law adopted by voters in 2020.
Learn more here.
---
Texas
Texas held their primary elections this week, with marquee contests including races for governor and attorney general.
Learn more here.
---
Virginia
Virginia legislators overwhelmingly passed legislation requiring colleges in the state to allow student-athletes to sign endorsement deals.
Learn more here.
---
Washington
Democratic state lawmakers introduced legislation last week that would lower the threshold under which drivers would be penalized for a DUI.
Learn more here.
---
This Week's DMGS Posts
U.S. States Respond to the Ukrainian Crisis

Since last week's invasion of Ukraine by Russia, governments around the world have imposed various sanctions against Russia, including the U.S. federal government. In addition to the federal government imposing sanctions, states have already taken their own actions directed towards Russia and in support of Ukraine.
More States React to the Ukrainian Crisis

While state capitols have lit themselves azure and yellow in support of the Ukrainian people, lawmakers and other state officials are also hoping to act. While some actions may be more symbolic, such as resolutions supporting Ukraine and denouncing Russia, others propose more pointed resolutions and legislation.
---
Capital and Capitol Happenings: Staff on the Move, Promotions, and More
Danny Martinez: new Associate Director of State Government Affairs, CSL Behring
John Loyer: new Head of North American Government and Public Affairs, Somfy Group
Michael Humphreys: new Acting Commissioner, Pennsylvania Insurance Department
Erica Woods: new Board Member, US Cannabis Council
Michael Baker: new Vice President, Legislative Affairs, National Propane Gas Association
Sarah Patterson: new Manager of Regional Services, Southern California Association of Governments
Ben Wright: new Director of Public Affairs, Texas Medical Association
Jenna Reese: new Executive Director, Ohio Forestry Association
---
Happy Birthdays This Week
Catie Scott: Executive Director, Interior Finish Contractors Association of Delaware Valley
Bryan Cherry: Vice President, PinPoint Results
David John: Vice President of Government Affairs, Pennsylvania State Alliance of YMCAs
Jackie Cornell: Senior Director, Regulatory & Government Affairs, Unite Us
Email future suggestions to rjstevens@dmgs.com
---