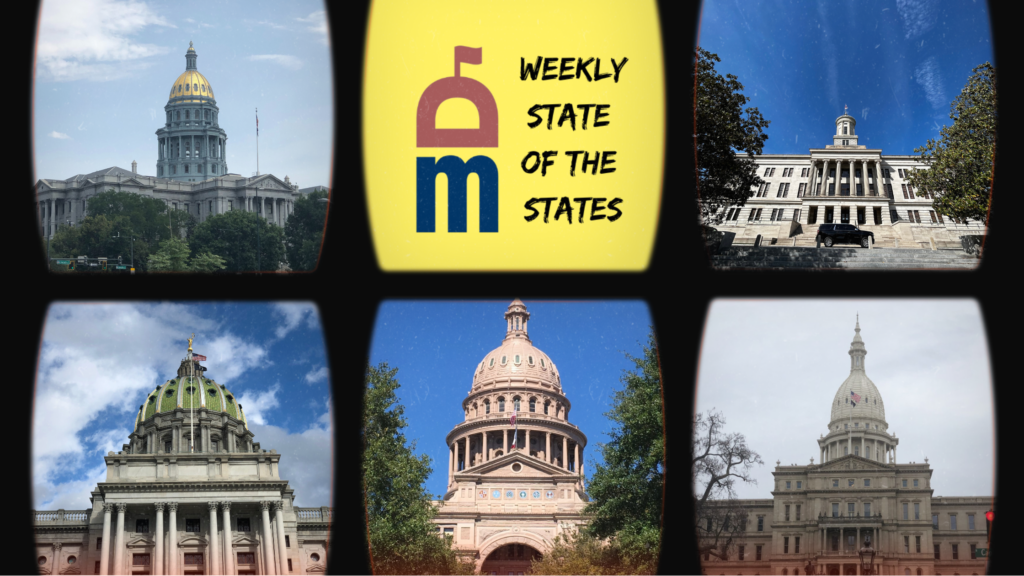 This week was Election Day in various states across the country. A few states, New Jersey and Virginia, held their state legislative elections this week which saw Democrats perform better than some anticipated, highlighted by Virginia Democrats taking back control of the House of Delegates. Incumbent governors in Kentucky and Mississippi were re-elected, while voters in Ohio and Maine cast ballots on referendum questions related to abortion, cannabis, and right-to-repair. Meanwhile, a Pennsylvania House Democrat won a local election, setting up the potential for another gridlock in the legislature when his eventual resignation will bring the balance of the House back to 101-101.
---
Arizona
Arizona's voting rights trial continued this week, with witnesses arguing that the state's new voter registration laws (HB 2492 and HB 2243) will disproportionately harm Latinos, who make up over 33 percent of the state's population.
Learn more here
---
California
A new law signed by Governor Gavin Newsom (D), protects against balance billing for ground ambulances. For those enrolled in state-regulated commercial health plans, the law limits how much a non-network ambulance operator can charge patients. The new law also prohibits operators from reporting to a credit rating agency for at least 12 months after the initial bill. Likewise, it places a cap on costs for uninsured patients saying that they cannot be charged a rate higher than Medi-Cal or Medicare.
Learn more here
---
Florida
Florida senators are discussing potential legislation for next session that would allow students aged 16 to test for high school equivalency degrees. If passed, the law would allow students to obtain their GED and enter the workforce, with parental approval.
Learn more here
---
Georgia
Lieutenant Governor Burt Jones (R) announced a Red Tape Rollback Initiative, aiming to reduce barriers for small business owners and workers who require professional licenses to work in various jobs. Under Jones' plan, the definition of "small businesses" would increase from 100 to 300 employees, which could lead to more businesses being able to take advantage of various incentives like tax relief and loan guarantees.
Learn more here
---
Kentucky
Incumbent Governor Andy Beshear (D) this week won re-election against his Republican challenger, Attorney General Daniel Cameron.
Learn more here
---
Maine
The Question 4 right-to-repair ballot measure overwhelmingly won voter support this week. Question 4 asked voters if they wanted auto manufacturers to allow vehicle owners and their independent mechanics to have access to their vehicle's diagnostic system. This follows three other states that have enacted new right-to-repair laws this year, including California, Minnesota, and Colorado.
Learn more here
---
Massachusetts
Various bills heard this week by a legislative committee would ban the sale of dogs, cats, and rabbits in pet shops. Supporters argued that animals raised in out of state "puppy mills" are raised in poor conditions, leading to health and behavioral issues. However, opponents have argued the proposed law could hurt retailers who are working with responsible breeders.
Learn more here
---
Michigan
Lawmakers introduced a package of bills to legalize assisted suicide. Known as "Dignity with Death," the legislation would allow terminally ill patients to request and use medication to help them die peacefully.
Learn more here
---
Mississippi
Incumbent Republican Governor Tate Reeves was re-elected on Tuesday, defeating Democratic challenger Brandon Presley.
Learn more here
---
New Jersey
New Jersey held their legislative elections on Tuesday. The Democrats unexpectedly outperformed Republicans, gaining seats to add to their already sizable majorities in both chambers.
Learn more here
---
Ohio
Ohio voters passed two ballot referendums, one guaranteeing a constitutional right to abortion, with the other legalizing cannabis. Regarding cannabis, Gov. Mike DeWine (R), a critic of the cannabis legalization ballot measure, came out after the results came in to say he accepted the results of the election but urged lawmakers to make changes to the law before it goes into effect in December.
---
Oklahoma
Legislators and tribal leaders in Oklahoma expressed their concerns over Governor Kevin Stitt's (R) announcement of a plan to legalize sports betting in the state, claiming they were not consulted.
Learn more here
---
Pennsylvania
House Democrats' majority is again in jeopardy after state Rep. John Galloway (D) won his election for Magisterial District Judge. When Galloway takes his new position, his resignation will prompt another special election and put the House back at a 101-101 tie between Democrats and Republicans.
Learn more here
---
Tennessee
State lawmakers this week looked at the impact of federal education funding on Tennessee classrooms. This comes on the heels of the Speaker of the House and Lt. Governor creating a group to look into rejecting $1 billion in federal funding.
Learn more here
---
Texas
In Texas' fourth special session, lawmakers are discussing HB 4, which would make unauthorized entry into Texas from a foreign country a state crime. The bill would allow a judge or county magistrate to order the unauthorized individual to return to a "port of entry", after all identifying information is obtained and cross-referenced with state and federal databases.
Learn more here
---
Virginia
Democrats won big in Virginia on Tuesday, retaining control of the Senate and taking back control of the House of Delegates, rebuking Gov. Glenn Youngkin's (R) attempt to give Republicans a trifecta in state government.
Learn more here
---
West Virginia
Democratic U.S. Senator Joe Manchin announced this week he would not seek re-election next year, giving the GOP a potential pick-up opportunity in a state that former President Donald Trump won by massive margins in 2020. Current Gov. Jim Justice (R) is currently slated to face off against U.S. Rep. Alex Mooney (R) in the primary.
Learn more here
---
Capital and Capitol Happenings: New Positions, Promotions, and More
Ryan Cantrell: new Vice President of Government Affairs, American Federation for Children
Erika Thomas: new Associate Director, Member Engagement, Tennessee Medical Association
Logan Stover: new Director of Policy and Legislative Affairs, Pennsylvania State Association of Boroughs
Debra Coffey: new Chief Government Affairs Officer, Smart Start, Inc.
Caroline Sevier: new Managing Director, Government Relations & Infrastructure Initiatives, American Society of Civil Engineers
---
Happy Birthdays This Week
Patty Mackavage: Executive Director, Duane Morris Government Strategies
Lacey Blair: Vice President of State Government Affairs, Tennessee Hospital Association
Michael McCabe: Program Officer – Bureau of Counterterrorism, US Department of State
Jay Nelson: Director of Government Affairs, the Council of State Governments Justice Center
Scott Bohn: Executive Director, Pennsylvania Chiefs of Police Association
Allison Rivera: Executive Director of Government Affairs, National Cattlemen's Beef Association
Fred Cabell: Director of Legislative Affairs, PA Bar Association
Want to wish someone a happy birthday or recognize their new job or promotion? Email future suggestions to rjstevens@dmgs.com.
---