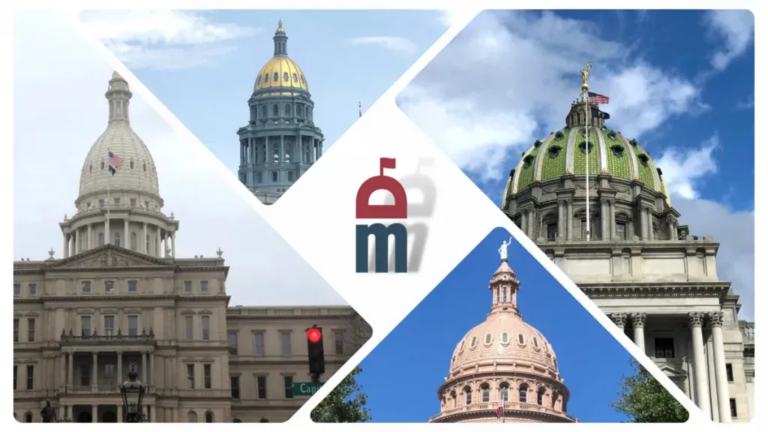 Legislators and governors around the country were busy on various issues this week, ranging from lowering the legal limit of alcohol for driving and budget funding to restricting educational funding on DEI and banning TikTok.
---
Alabama
The Alabama Senate has passed House Bill 24, which will increase the monetary fines for loitering.
Learn more here.
---
Alaska
The Alaska State Senate has passed Senate Bill 48, which creates a new system to preserve forested land.
Learn more here.
---
Colorado
Colorado Governor Jared Polis (D) has vetoed a bill that would have delayed Senate Bill 256, continuing the reintroduction of gray wolves to the state's wildlife.
Learn more here.
---
Connecticut
Legislation in Connecticut would lower the legal limit for blood alcohol content (BAC) from .08 to .05 for both drivers and boaters.
Learn more here.  
---
Florida
Florida's Governor Ron DeSantis (R) signed Senate Bill 266 into law, which will prevent public universities from spending state or federal money on Diversity, Equity and Inclusion (DEI) programs.
Learn more here.
---
Louisiana
State lawmakers received a revenue forecast on Thursday that shows the state has hundreds of millions of dollars in additional funding for this year's budget.
Learn more here.
---
Michigan
The Michigan Senate advanced Senate Bill 50, which makes Juneteenth a state holiday.
Learn more here.
---
Minnesota
Minnesota lawmakers are working on legislation to legalize the recreational usage of cannabis for adults of 21 and older in the final days of the session.
Learn more here.
---
Montana
Montana Governor Greg Gianforte (R) signed a piece of legislation to ban the TikTok App in the state, which makes it the country's first statewide ban.
Learn more here.
---
North Dakota
North Dakota's Governor Doug Burgum (R) announced a multi-million grant to the University of North Dakota's Energy and Environmental Research Center.
Learn more here.
---
Oklahoma
The Oklahoma legislature advanced two pieces of legislation, which includes a pay raise for teachers in the state.
Learn more here.
---
Oregon
State lawmakers are working on a bill to expand mental health treatment for state prisoners.
Learn more here.
---
Rhode Island
Rhode Island's Senate passed a bill to make school lunches for students in public schools free.
Learn more here.
---
Texas
Texas's Legislature is set to advance House Bill 63, which will change protocol for child abuse reports. The bill would ban the ability for individuals to anonymously report child abuse.
Learn more here.
---
Washington
Washington Governor Jay Inslee (D) has signed Senate Bill 5536 into law, which will increase funding for substance abuse treatment while retaining some of the criminal penalties for drug possession.
Learn more here.
---
Capital and Capitol Happenings: New Positions, Promotions, and More
Joseph Nahra: new Director of Government Relations and Regulatory Policy, American Medical Rehabilitation Providers Association
Andrew Robreno: new VP, Government Affairs & Head of DC Office, View, Inc.
Ashley Duckman: new Managing Director, Policy & Strategy, American Gas Association
Sarah Spotts: new Legislative Director, Pennsylvania Department of Aging
Joseph Schmoll: new Congressional Affairs Specialist, Office of the Secretary at U.S. Department of Transportation
---
Happy Birthdays This Week
Nancy McKee: Director, State Government Relations – Midwest Region, Sunovion Pharmaceuticals
Jessican Jennings: Legislative Director, National Association of Counties
David Taylor: President & CEO, Pennsylvania Manufacturers' Association
Jared Holt: Director, State Government Relations, FanDuel
Bill White: Director of External Relations and Strategic Partnerships, Ohio Chamber of Commerce
Rob Moutrie: Policy Advocate, California Chamber of Commerce
Megan Mauro: Manager of Government Affairs, Texas Association of Business
Want to wish someone a happy birthday or recognize their new job or promotion? Email future suggestions to rjstevens@dmgs.com.
---