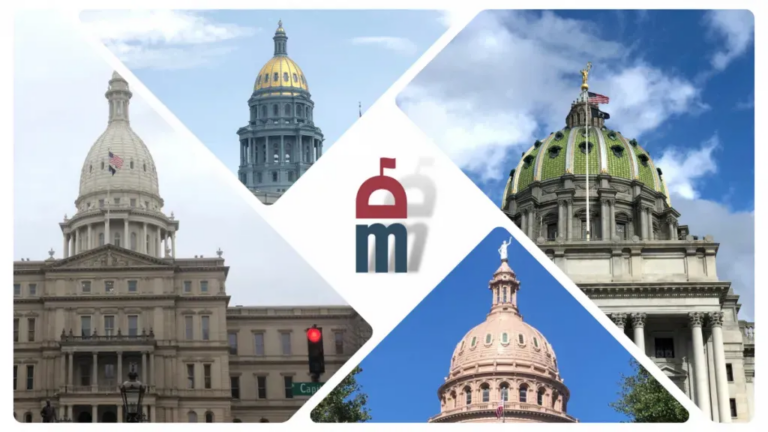 As we approach the first 2024 Presidential debate next week, states are considering changing their primaries to increase their standing in the electoral process. Meanwhile, numerous states addressed tax rebates this week, while others address issues such as cannabis, parental leave, and law enforcement funding.
---
Alabama
Governor Kay Ivey (R) announced new grants that will help increase broadband accessibility in the northern part of the state. The over $7 million in funding is expected to help more than 6,700 households.
Learn more here
---
Alaska
The so-called "Freshman Caucus" in the House of Representatives introduced a proposal to address potential conflicts of interest for lawmakers. The proposal would change the current law, which requires unanimous agreement from their colleagues to abstain when claiming a conflict of interest.
Learn more here
---
Arkansas
A judge is set to decide on the state's new social media verification law before the law goes into effect on September 1st. Act 689, which the legislature passed back in April, would require individuals under 18 to receive parental permission to access social media and require proof of age for those 18 and over.
Learn more here
---
California
Governor Gavin Newsom (D) announced a climate partnership with Australia. Under the agreement, the partners will have five years of cooperation on areas relating to a clean environment and clean energy economy. This follows similar agreements in the past few years between California and Canada, New Zealand, and Japan.
Learn more here
---
Connecticut
Connecticut's General Assembly is set to hold a special session next month to pass legislation that will move up the state's presidential primary by four weeks. The move is an attempt to make the state more relevant in the upcoming presidential election by establishing an early April primary.
Learn more here
---
Delaware
Governor John Carney (D) signed several pieces of legislation to enhance the state's mental health resources in schools. The signed legislation creates mental health days and procedures for students who utilize more than two, as well as costs for grief counseling and more resources to guide students through school-related traumatic events.
Learn more here
---
Hawaii
Governor Josh Green (D) vowed to block land grabs amid the wildfires that devastated Maui. The Governor informed the public that he is working with the state's attorney general to establish a moratorium of land transactions in impacted areas.
Learn more here
---
Maine
The state established the Maine Retirement Savings Program, which would provide a retirement savings program for employees that do not have access through their current employment. The legislation allows participants to contribute a maximum of 10% of their wages per year, and will be phased in through 2026.
Learn more here
---
Massachusetts
Members of the State House introduced new legislation that could change required vaccine requirements for children between kindergarten and twelfth grade. Specifically, the new law would add vaccinations for HPV and Hepatitis A to the list of already required shots.
Learn more here
---
Minnesota
Governor Tim Walz (D) announced that tax rebate checks will be sent out early this week, with payments up to $1,300 per household. The rebates add up to about $1 billion and are taken out of the $17.6 billion budget surplus.
Learn more here
---
Montana
Governor Greg Gianforte (R) secured property tax relief for residents of low or fixed incomes, allowing homeowners to claim a $675 property tax rebate. This follows up $120 million in permanent tax relief the governor secured this Spring.
Learn more here
---
New Hampshire
New Hampshire lawmakers postponed the state's "Veto Day," when lawmakers usually meet to consider overriding the governor's vetoes, until January 3rd when the legislative session begins. This is a break from tradition, as the day is traditionally held in mid-September.
Learn more here
---
New Jersey
Governor Phil Murphy (D) announced that property tax rebates from the state's Anchor program could arrive for residents right before the November elections. Tax rebates range and are dependent on homeowners' incomes.
Learn more here
---
Ohio
Ohio residents are set to vote on marijuana legalization this upcoming fall. The measure would allow individuals that are 21 and over to purchase and possess a maximum of 2.5 ounces.
Learn more here
---
Pennsylvania
A new plan could be added into the state's budget bill before being finalized, which would end the state's practice of using gas tax revenue to fund the State Police. Instead, the state will shift money from the General Fund, primarily made up of revenue from state and income sales taxes.
Learn more here
---
South Carolina
Governor Henry McMaster (R) signed a paid parental leave bill into law for school district employees. The new law requires school districts to provide up to six weeks of maternity leave and two weeks of paternity leave, and includes the adoption or fostering of a child in addition to birth.
Learn more here
---
Texas
A judge found a new law passed by the Legislature, which would have abolished a position that oversees elections in Harris County, as unconstitutional. The state's Attorney General Office has already announced that they would appeal the decision.
Learn more here
---
Vermont
The state ended its worker relocation program, which did not garner much support from Vermont constituents. The program, which began in 2018 and helped attract almost 1,800 new residents to the state, paid people $7,500 to relocate to the state.
Learn more here
---
Capital and Capitol Happenings: New Positions, Promotions, and More
Brandon Kern: new Director of Public Affairs and Issue Analysis, Ohio Soybean Council/Ohio Soybean Association
Rylie Shewbridge: new Government Relations Representative, KinderCare Learning Companies
Kevin Lee Matula: new Director, Government Relations, USAA
---
Happy Birthdays This Week
Kristen Farry: Senior Vice President of Policy and Government Relations, Woods Services
Tyler Micik: Director, Public Policy and Government Relations, Delaware State Chamber of Commerce
Lauren Kimzey: Senior Manager, US State Government Relations, PayPal
Mallory Dunavan: Legislative Analyst – Government and Regulatory Affairs, SERVPRO
Daniel Wanke: Program Manager for Freight, American Association of State Highway and Transportation Officials
Matt Adams: Director – External Affairs, AT&T
Richard Olson: Vice President – State Government Affairs & Patient Advocacy, US Public Affairs, Vertex Pharmaceuticals
Want to wish someone a happy birthday or recognize their new job or promotion? Email future suggestions to rjstevens@dmgs.com.
---