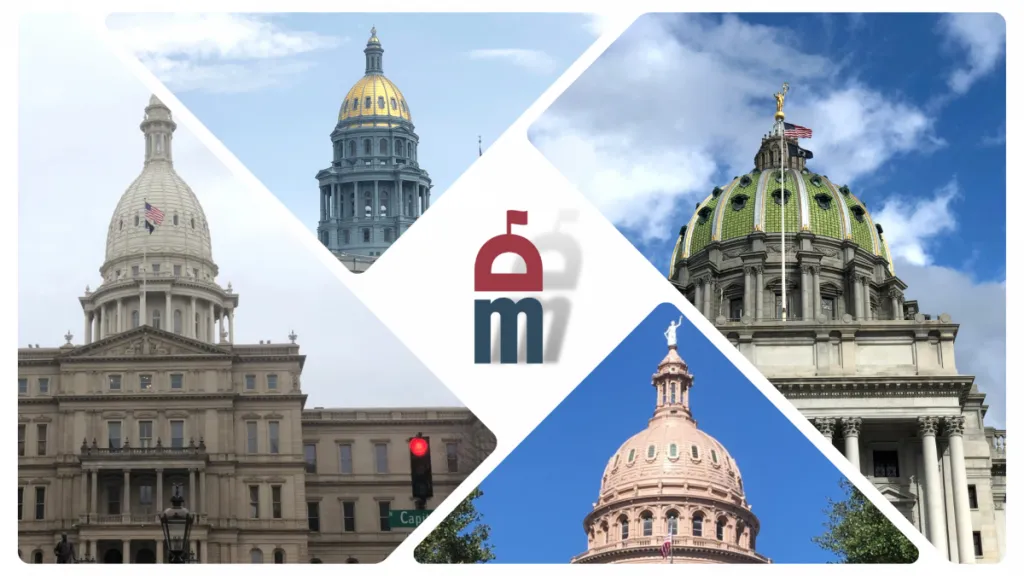 This week, lawmakers and governors around the country were busy with a flurry of activity across the spectrum. Issues facing the states this week included capitol punishment, gun control, gender-affirming care, universal pre-K, property tax cuts, and more.
---
Alabama
Alabama Department of Corrections Commissioner John Hamm has stated that the protocol for using nitrogen gas to carry out executions in the state prison system is being developed and should be completed within the year.
Learn more here.
---
Alaska
Governor Mike Dunleavy (R) issued an Executive Order that would eliminate requirements for college degrees in most public sector state jobs.
Learn more here.
---
Arizona
Arizona's Senate Judiciary Committee moved forward with a bill that would designate theft of catalytic converters as felonies punishable by a $150,000 fine and up to 18 months in prison.
Learn more here.
---
Arkansas
Governor Sarah Huckabee Sanders (R) stated that Arkansas' Department of Human Services is aiming to require recipients of Medicaid to volunteer, work, or enroll in classes.
Learn more here.
---
California
Representative Barbara Lee (D) has filed paperwork to fill the seat of Senator Dianne Feinstein (D) who has announced that she will not be running for re-election in 2024.
Learn more here.
---
Connecticut
Governor Ned Lamont (D) announced that in his new budget plan, public colleges and universities in the state would experience large cuts in Covid relief funding.
Learn more here.
---
Delaware
Delaware's Department of Corrections declared its intention to increase inmates' wages by 20% over two years.
Learn more here.
---
Florida
Governor Ron DeSantis (R) requested that all public universities in the state comply in delivering to the state the medical records of transgender students, or any students who had experienced gender dysphoria within the past five years.
Learn more here.
---
Georgia
Governor Brian Kemp (R) and the Georgia Senate are pushing forward with measures that would increase penalties and sentences for gang members and those found guilty of recruiting minors to join a gang.
Learn more here.
---
Idaho
Idaho's House of Representatives approved a bill that would criminalize gender-affirming care for minors, and sentence doctors who provide hormone therapies, puberty blockers, or gender-affirming surgeries to up to ten years in prison.
Learn more here.
---
Illinois
Governor J.B. Pritzker (D) announced his proposal for a $350 million investment in universal statewide pre-school by 2027.
Learn more here.
---
Iowa
Republicans in Iowa have introduced a bill, with the support of Governor Kim Reynolds (R), that would remove instruction on AIDS and HPV from the state's sexual education curriculum.
Learn more here.
---
Kansas
Governor Laura Kelly (D) announced $20 million in funding for Family First Prevention grants that will help keep children out of the foster care system.
Learn more here.
---
Louisiana
Louisiana's State Transportation Secretary Shawn Wilson (D) resigned from his position, indicating his intention to enter Louisiana's gubernatorial race.
Learn more here.
---
Maryland
Legislation was introduced in Maryland to restrict data collection and profiling of children online.
Learn more here.
---
Massachusetts
Governor Maura Healey (D) has named the development of a reliable and safe public transit system as one of her priorities as governor.
Learn more here.
---
Michigan
Following a mass shooting at Michigan State University, Michigan Senate Majority Leader Winnie Banks (D) declared that the legislature will introduce safe storage laws, red flag laws, and universal background checks.
Learn more here.
---
Minnesota
Governor Tim Walz (D) extended the Minnesota National Guard's State Partnership Program Agreement with Norway.  
Learn more here.
---
Missouri
Missouri's state Senate approved a bill that would restrict curriculum pertaining to race, and that would create a database where citizens can access materials used in public state education.
Learn more here.
---
Montana
Montana has become the 17th state to end prison gerrymandering, a practice in which incarcerated people are counted at the prison in which they are held, rather than at their home address.
Learn more here.
---
Nebraska
Governor Jim Pillen (R) has announced that corrections employees will receive 3% raises in each of the next two years.
Learn more here.
---
Nevada
Governor Joe Lombardo (R) has declared a State of Emergency over a pipeline leak in Clark County.
Learn more here.
---
New Jersey
State Senator Samuel Thompson has left the Republican Party, and plans to run for re-election this year as a Democrat.
Learn more here.
---
New Mexico
New Mexico legislators are accelerating the approval of $100 million in funding for wildfire recovery efforts. 
Learn more here.
---
New York
New York's state Senate rejected Governor Kathy Hochul's (D) nominee, Judge Hector LaSalle, to the state's Supreme Court.
Learn more here.
---
North Carolina
The North Carolina Senate Judiciary Committee approved a bill that would expand the locations in which people are allowed to carry firearms to include some schools and other sites, and that would minimize requirements for handgun purchases.
Learn more here.
---
North Dakota
North Dakota's House of Representatives approved a measure that would prohibit colleges from promoting or requiring Covid-19 vaccines.
Learn more here.
---
Ohio
Under Governor Mike DeWine's (R) budget proposal, social media companies would be required to gain parental consent for users below the age of 16.
Learn more here.
---
Oklahoma
Oklahoma's state Senate has passed a measure that would ban gender-affirming care.
Learn more here.
---
Oregon
Oregon's state Senate has approved a measure that would require landlords to permit the operation of child care services in rental homes, in order to alleviate the state's shortage of child care options.
Learn more here.
---
Pennsylvania
Governor Josh Shapiro (D) declared that he will not sign any execution warrants while in office and is calling for lawmakers to abolish the death penalty in the state.
Learn more here.
---
Rhode Island
In order to address the state's teacher shortage, Rhode Island's House Finance Committee moved forward with a bill to allow retired teachers to continue to work, while retaining their pensions.
Learn more here.
---
South Carolina
South Carolina's House Judiciary Committee advanced legislation that would allow owners of guns to carry their firearms without a permit.
Learn more here.
---
South Dakota
Governor Kristi Noem (R) signed a bill that would ban the provisioning of gender-affirming surgeries and puberty blockers to transgender minors.
Learn more here.
---
Tennessee
Legislators in Tennessee's House of Representatives are pushing to lower the age at which citizens can carry handguns to 18.
Learn more here.
---
Texas
Governor Greg Abbott (R) stated his intention to work with legislators to pass a bill that would ban transgender athletes from participating in college sports.
Learn more here.
---
Utah
Utah's legislature has proposed the elimination of the state sales tax on food, on the condition that voters also eliminate the provision in the state constitution which guarantees education funding.
Learn more here.
---
Vermont
Vermont's House Human Services Committee approved a measure that would ease residency requirements for terminally ill patients seeking medical "aid-in-dying."
Learn more here.
---
Virginia
Governor Glenn Youngkin (R) has blocked a bill that would protect people's menstrual data on tracking apps from being seized with search warrants.
Learn more here.
---
Wisconsin
Governor Tony Evers has proposed the repeal of personal property taxes, and dedicating $1.2 billion in middle class tax cuts.
Learn more here.
---
Capital and Capitol Happenings: New Positions, Promotions, and More
Steve Silvestri: new Senior Director, Government Affairs, Neurocrine Biosciences
Amy Brick: new Senior Vice President, External Affairs, American Beverage Association
Jessica Shirley: new Acting Executive Deputy Secretary, Pennsylvania Department of Environmental Protection
Jay Beeber: new Director of Policy and Research, National Motorists Association
Jared Holt: new Director, State Government Relations, FanDuel
Hannah Kranz: new Director of Legislative Affairs, Pennsylvania Department of Human Services
---
Happy Birthdays This Week
Nicholas Bibby: Government Affairs Representative, Duquesne Light Company
Matt Vermeire: Government Affairs Director, REALTORS Association of Metropolitan Pittsburgh
Matthew Macedo: Policy and Budget Analyst, California Department of Finance
Colton Madill: Government & Community Affairs Manager, Jacksonville Transportation Authority
Gary Link: Manager Government Affairs, Marathon Petroleum Corporation
Want to wish someone a happy birthday or recognize their new job or promotion? Email future suggestions to rjstevens@dmgs.com.
---