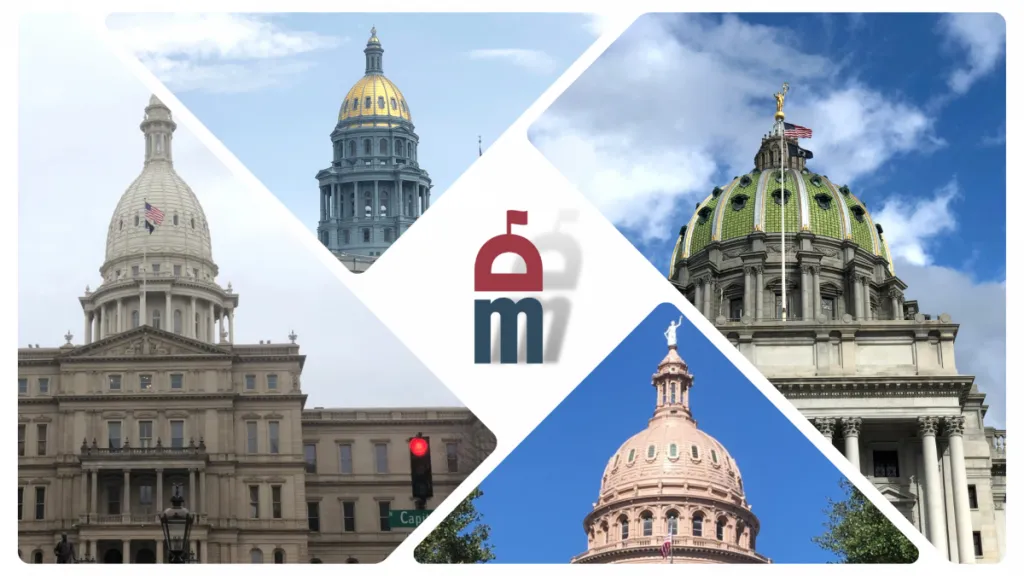 This week, lawmakers around the country continued to legislate on various issues ranging from reinstating voting rights for felons to liquor law changes, automated speed enforcement, firearm restrictions, gender-affirming care, and more.
---
Alabama
Alabama's Department of Education has requested a $984M budget increase in funding to the state's Trust Fund.
Learn more here.
---
Arizona
Governor Katie Hobbs (D) vetoed a bill that would have eliminated taxes paid by landlords on their rental properties.
Learn more here.
---
Arkansas
The Arkansas Senate Committee on City, County, and Local Affairs passed a measure that would bar minors from "adult-oriented performances." The bill originally targeted drag shows, but has since been revised.
Learn more here.
---
California
Governor Gavin Newsom (D) is leading the Reproductive Freedom Alliance, a group of governors that will share potential executive orders and model legislation in defense of abortion access.
Learn more here.
---
Colorado
Democratic legislators in Colorado have introduced legislation that would limit firearm possession and purchase to people over 21, and would require a 3-day waiting period between the purchase and possession of a gun.
Learn more here.
---
Connecticut
Governor Ned Lamont (D) has submitted bills to the state's legislature that would reduce healthcare costs by eliminating "unnecessary charges and enhancing competition."
Learn more here.
---
Florida
Following Governor Ron DeSantis' (R) call for restrictions on media, Representative Alex Andrade (R) has introduced a bill that would presume that all information from anonymous sources is false, and get rid of protections that would permit journalists to shield their sources if they are sued.
Learn more here.
---
Hawaii
Hawaii's Senate Ways and Means Committee have approved two bills that would promote the therapeutic potential of psilocybin and MDMA as alternative mental health treatments, with Governor Josh Green's (D) endorsement.
Learn more here.
---
Idaho
Idaho's Senate State Affairs Committee has approved measures that would ban election officials from accepting private money to fund election administration.
Learn more here.
---
Illinois
Governor J.B. Pritzker (D) will sign a bill that will give workers paid sick and family leave without requiring employees to give reasons for their absences.
Learn more here.
---
Iowa
Lawmakers advanced a pair of bills earlier this week that would strip cities and counties of their authority to set up traffic cameras and collect revenue.
Learn more here.
---
Kansas
A bill that would ban transgender girls from participating in youth sports has been passed in the Kansas House and Senate.
Learn more here.
---
Kentucky
Kentucky lawmakers are fast-tracking a bill that would ban gender transition services for trans minors, including social support services like using a student's preferred pronouns.
Learn more here.
---
Maine
Secretary of State Shenna Bellows (D) has declared a "right to repair" law for auto manufacturers has qualified for the November ballot.
Learn more here.
---
Maryland
Governor Wes Moore (D) has appointed Col. Roland Butler as Maryland's State Police Superintendent.
Learn more here.
---
Michigan
Lawmakers in Michigan introduced legislation, the CROWN Act, to ban discrimination against natural hairstyles, like braids, locks, and twists.
Learn more here.
---
Minnesota
Minnesota's state Senate has approved a bill that would restore voting rights to felons upon leaving prison. Governor Tim Walz (D) is expected to sign the bill.
Learn more here.
---
Mississippi
Mississippi's Senate has approved a bill that would prohibit doctors from providing gender-affirming care to trans youth.
Learn more here.
---
Missouri
Missouri's Senate Emerging Issues Committee has moved forward with a bill that would restrict gender-affirming care for minors.
Learn more here.
---
Nebraska
A bill that would bar abortions approximately six weeks after conception has been advanced by the Nebraska Senate Health and Human Services Committee.
Learn more here.
---
Nevada
A bill that would protect patients who sought abortion access outside of the state (initially protected in an executive order issued by former Governor Steve Sisolak (D) has been introduced in committee.
Learn more here.
---
New Hampshire
Governor Chris Sununu (R) has proposed the elimination of licensure requirements for over 30 professions, making it easier for professionals with out-of-state licenses to have their applications processed in the state.
Learn more here.
---
New Jersey
Governor Phil Murphy (D) has proposed modernizing liquor laws, which would make it easier for restaurants to get liquor licenses.
Learn more here.
---
New Mexico
In a party-line vote, the state House of Representatives advanced a bill that would create a permanent absentee voter list, make Election Day a state holiday, and reinstate voting rights for felons following their release from prison.
Learn more here.
---
North Carolina
North Carolina's House of Representatives voted to get rid of a requirement that people purchasing handguns must first obtain a permit from a county sheriff.
Learn more here.
---
North Dakota
North Dakota's House of Representatives approved a measure that would ban students from using restrooms that do not align with their biological sex.
Learn more here.
---
Ohio
Ohio's Department of Health has stated that it will set up a clinic to address the medical needs of residents in East Palestine following the derailment of a Norfolk Southern train.
Learn more here.
---
Oklahoma
Oklahoma's House of Representatives have approved a Parental Choice Tax Credit Act that could potentially lead to Oklahoma families receiving tax credits for sending their children to private schools.
Learn more here.
---
Oregon
Legislation currently under discussion in Oregon's Senate would give Governor Tina Kotek (D) the power to redraw urban growth boundaries via executive order in order to incorporate more rural land into urban growth boundaries that can be designated for industrial use that would bolster Oregon's semiconductor industry.
Learn more here.
---
Pennsylvania
Pennsylvania's House of Representatives has convened a special state committee which has advanced a bill that would create a two-year exception to the civil statute of limitations for sex abuse lawsuits.
Learn more here.
---
South Carolina
South Carolina's House of Representatives have approved a bill that would allow permit-less carry of handguns.
Learn more here.
---
South Dakota
South Dakota's House of Representatives has approved a cut in the state sales tax from 4.5% to 4.2%, the largest tax cut in state history.
Learn more here.
---
Tennessee
A bill that would ban transgender minors from receiving gender-affirming care has been sent to Governor Bill Lee (R), and is expected to be signed.
Learn more here.
---
Texas
Governor Greg Abbott (R) has stated that universities cannot use diversity, equity, and inclusion in their hiring processes.
Learn more here.
---
Vermont
Vermont's House Health Care Committee has moved forward with a bill that would require a 72-hour waiting period after the purchase of a firearm, and mandate that firearms are stored in a locked container in homes with children.
Learn more here.
---
Virginia
Governor Glenn Youngkin (R) has called for a review of the College Board AP African American Studies class to ensure it does not violate the Governor's Executive Order One, which bans topics "including Critical Race Theory."
Learn more here.
---
Washington
Lawmakers in Washington are moving forward with measures that would prohibit the sale and transfer of semi-automatic rifles, hold gunmakers liable in some cases of harm, and mandate gun safety training.
Learn more here.
---
West Virginia
A bill that would permit concealed carry of firearms on public college campuses has been passed in the legislature, and will be sent to the desk of Governor Jim Justice (R).
Learn more here.
---
Wisconsin
Former Justice Dan Kelly and Judge Janet Protasiewicz received the most votes in the primary for an open seat on the state's Supreme Court.
Learn more here.
---
Wyoming
Governor Mark Gordon (R) has signed a bill that would protect the coal industry by granting the governor the power to fund litigation defending coal companies in lawsuits brought against them.
Learn more here.
---
Capital and Capitol Happenings: New Positions, Promotions, and More
Maribel Gallardo: new Government Relations Professional, Samsung Austin Semiconductor
James Stevens: new Legislative Aide, PA House of Representatives
Jacob Cimperman: new Personal Aide to the Secretary, Ohio Secretary of State
Madison Rose: new Senior Director of Advocacy & Counsel for Payments and Technology, Credit Union National Association
Scott Levy: new Chief Government Affairs Officer, Amedisys
Stephen Keegan: new Senior Counsel, Government and Legal Affairs, Wireless Infrastructure Association
Jessica Shirley: new Acting Executive Deputy Secretary, Pennsylvania Department of Environmental Protection
Steve Silvestri: new Senior Director, Government Affairs, Neurocrine Biosciences
---
Happy Birthdays This Week
Kyra Harris: Director of Communications, Office of Philadelphia Councilmember Sharon Vaughn
Ashley Brinkman: Director of Government Affairs, Pet Advocacy Network
Margaret Hardin: Grassroots Manager, NACS
José Luis Briones: Public Policy Manager, Airbnb
Want to wish someone a happy birthday or recognize their new job or promotion? Email future suggestions to rjstevens@dmgs.com.
---