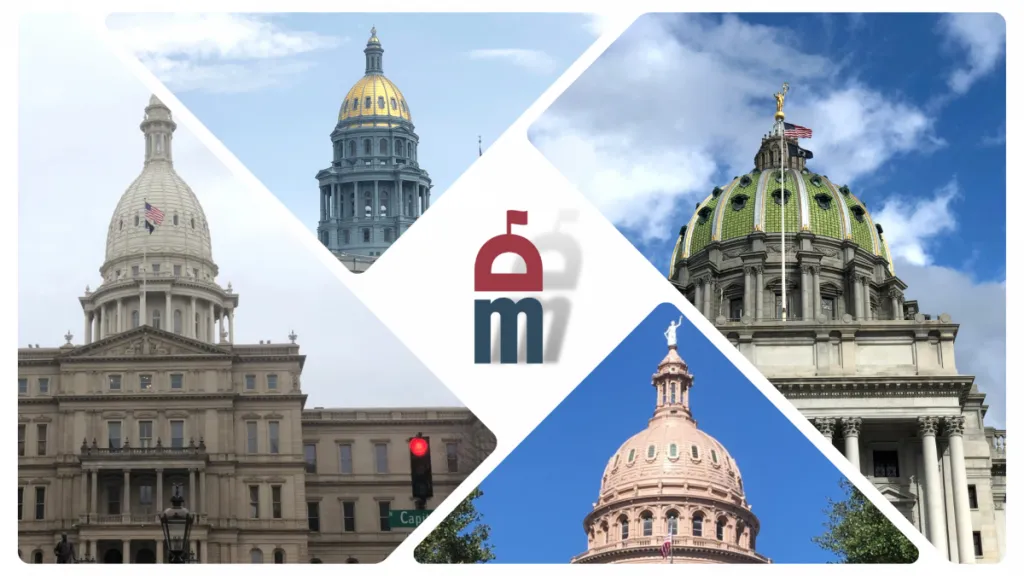 This past week, several states (Montana, Utah, Wyoming) introduced or advanced legislation to ban the provisioning of gender-affirming care for transgender youth. Republican legislators in states including Arkansas, Kansas, North Carolina and West Virginia have introduced measures pertaining to school choice and curriculums. Additionally, bills pertaining to abortion legality were furthered in Idaho, Minnesota, and Nebraska, and measures relating to firearm access and use were introduced in Florida, New Mexico, and Washington.
---
Alabama
Alabama's Attorney General Steve Marshall has filed a lawsuit challenging the early release of 369 inmates.
Learn more here.
---
Alaska
Governor Mike Dunleavy (R) has revealed bills that would create a leasing structure for companies who want to capture and inject carbon dioxide emissions into the ground, and would contribute to the global market for carbon credits.
Learn more here.
---
Arizona
Republican lawmakers are seeking to pass a budget without obtaining input from Governor Katie Hobbs (D). If an agreement cannot be reached by July 1, a government shutdown may occur.
Learn more here.
---
Arkansas
Arkansas's Division of Elementary and Secondary Education is reviewing the curriculum content of the pilot AP African American studies course, in light of Governor Sarah Huckabee Sanders's (R) Executive Order 23-05 which "prohibit[s] indoctrination and critical race theory in schools."
Learn more here.
---
California
California has introduced a competing plan on how states reliant on the Colorado River can save water one day after six other states revealed their proposal. California's proposal has been criticized for its failure to account for water lost during transportation or through evaporation.
Learn more here.
---
Colorado
Governor Jared Polis (D) has issued an Executive Order that renews a state of disaster emergency on account of Colorado's fuel supply chain risk.
Learn more here.
---
Connecticut
Governor Ned Lamont (D) has proposed a $45 million tax cut that would save low income families an average $211 over the next year.
Learn more here.
---
Florida
Florida's Speaker of the House Paul Renner (R) has introduced legislation that would allow permitless-carry of concealed firearms.
Learn more here.
---
Georgia
Georgia's House of Representatives approved funding for a $1 billion income tax break and a $1 billion property tax break in an amended version of the state's budget.
Learn more here.
---
Idaho
Idaho's State House of Representatives has approved a bill that would withhold state sales tax revenues from local governments that are refusing to enforce state felony laws, particularly laws that criminalize abortion.
Learn more here.
---
Illinois
Illinois's State Board Education received a $4 million federal grant that will be used to support early childhood care and education in the state.
Learn more here.
---
Indiana
Indiana's State Senate has affirmed a proposed constitutional amendment that would permit judges to deny bail to individuals who pose a "substantial risk" to the public.
Learn more here.
---
Iowa
Governor Kim Reynolds (R) is supporting a bill that would reform health care in rural areas and permit pharmacists to dispense birth control without a prescription.
Learn more here.
---
Kansas
Republican legislators have introduced a measure that would allow parents to remove their children from public schools because of what's taught about gender and sexuality using state tax dollars.
Learn more here.
---
Kentucky
Governor Andy Beshear (D) presented $4.1 million in awards for Boyd County as part of Kentucky's Cleaner Water Program and the American Rescue Plan Act.
Learn more here.
---
Louisiana
A special session has been called for Louisiana's legislation to address the state's struggling homeowners insurance market.
Learn more here.
---
Maine
Governor Janet Mills (D) has announced that the first round of $450 energy relief payments have been mailed to eligible Maine taxpayers.
Learn more here.
---
Maryland
Governor Wes Moore (D) has proposed a $422 million investment in statewide environmental protection programs, and has announced Maryland's participation in the U.S. Climate Alliance.
Learn more here.
---
Massachusetts
Governor Maura Healey (D) has proposed a supplemental spending plan to house migrants, which would cost $282 million, and provide support for emergency assistance, expanding shelter capacity, and funding school opportunities.
Learn more here.
---
Michigan
Michigan's House of Representatives approved a bill which would change the date of Michigan's presidential primary election, making it the fifth state to vote in presidential primaries.
Learn more here.
---
Minnesota
The Minnesota Senate passed a measure along party lines that would guarantee the rights of citizens to seek abortions. The bill has been sent to the governor's office to be signed.
Learn more here.
---
Mississippi
Mississippi's Senate Finance Committee has approved HB 401, a bill which would ban car companies from operating their own locations within the state, with the intention of making it more difficult for electric car companies to sell directly to customers in the state.
Learn more here.
---
Missouri
Missouri's House of Representatives has approved a bill that would raise the threshold for approving amendments to the state constitution from a simple majority to 60%.
Learn more here.
---
Montana
Montana legislators are currently debating the proposed SB 99, which would restrict minors in the state from accessing gender-affirming care.
Learn more here.
---
Nebraska
The Nebraska Legislature is debating a bill that would ban abortions after six weeks when embryonic cardiac activity is detectable.
Learn more here.
---
New Hampshire
Governor Chris Sununu (R) is considering running for president in 2024.
Learn more here.
---
New Jersey
New Jersey's motion to enforce restrictions on concealed carry permits has been blocked by a federal judge.
Learn more here.
---
New Mexico
New Mexico's Senate Health and Public Affairs Committee has approved a bill that would raise the minimum age to purchase high-powered firearms from 18 to 21.
Learn more here.
---
New York
Governor Kathy Hochul (D) has received Republican support for her budget proposal to provide free meals to students in all New York schools.
Learn more here.
---
North Carolina
Republicans in North Carolina's Senate have introduced a "Parents' Bill of Rights" that would prohibit instruction on gender identity and sexuality in K-4 public school classes, and expand the authority that parents can have over children's reading materials, education, and mental health care.
Learn more here.
---
North Dakota
Governor Doug Burgum (R) has appointed Kuldip Mohanty as the new information technology chief for North Dakota's state government.
Learn more here.
---
Ohio
Governor Mike DeWine (R) has proposed a state income-tax deduction of $2,500 per child for parents and eliminating the sales tax for "critical infant supplies."
Learn more here.
---
Oklahoma
Oklahoma's Attorney General Gentner Drummond announced that he has dismissed a lawsuit regarding the handling of federal Covid-19 relief education funding, filed initially by the state's former attorney general.
Learn more here.
---
Oregon
Governor Tina Kotek (D) has proposed a $130 million investment to provide relief to Oregonians experiencing homelessness.
Learn more here.
---
Pennsylvania
Governor Josh Shapiro (D) signed an Executive Order which would improve licensing and certification processes by establishing standardized response times.
Learn more here.
---
Rhode Island
Governor Dan McKee (D) and Rhode Island's Executive Office of Health & Human Services have launched a pilot program to serve Rhode Islanders with acute illnesses or injuries and are experiencing homelessness or housing insecurity.
Learn more here.
---
South Carolina
South Carolina's House of Representatives has unanimously passed a measure that would prohibit the state from denying occupational licenses on account of previous criminal convictions.
Learn more here.
---
South Dakota
Senator Erin Tobin (R) and Representative Gary Cammack (R) are sponsoring a bill which would give Governor Kristi Noem (R) the power to restrict foreign acquisitions of agricultural land in the state.
Learn more here.
---
Tennessee
Tennessee Republicans filed several bills which would enable them to appoint members to and exert control over the governing boards for several of Nashville's Music City landmarks including Nissan Stadium, Bridgestone Arena, and Nashville's airport.
Learn more here.
---
Texas
Governor Greg Abbott (R) has announced that he will be establishing a "border-czar" role, filled by Mike Banks, in order to expedite the construction of a border wall in collaboration with the Texas National Guard and state troopers.
Learn more here.
---
Utah
Governor Spencer Cox (R) has signed legislation that would bar transgender minors from obtaining gender-affirming surgical procedures.
Learn more here.
---
Vermont
Governor Phil Scott (D) appointed Farzana Leyva as the state's attorney to Orleans County.
Learn more here.
---
Virginia
Virginia's Commission on Human Trafficking Prevention and Survivor Support has released their report on state-wide human trafficking.
Learn more here.
---
Washington
Washington legislators have moved forward with a bill that would prohibit the sale of assault rifles, and require that purchasers of firearms complete a safety training course.
Learn more here.
---
West Virginia
A bill introduced in West Virginia's Senate would require public schools, including colleges and universities in addition to K-12 schools, to display the motto "In God We Trust" in "a conspicuous place."
Learn more here.
---
Wisconsin
Wisconsin Democracy Campaign, a nonpartisan organization which tracks campaign spending, reported that overall spending in Wisconsin's 2022 gubernatorial race was 77% higher than previous spending records.
Learn more here.
---
Wyoming
Wyoming's State Senate has passed a bill which criminalizes gender-affirming care, including both hormone treatments and surgery, for minors.
Learn more here.
---
Capital and Capitol Happenings: New Positions, Promotions, and More
Ruvi Lopez: new Campaign Manager, Lawsuit Reform Alliance of New York
Austin O'Boyle: new Director of Advocacy, Aristotle
Chris Gustafson: new Regional Press Secretary, NRCC
Tonja Wicks: new VP, Regulatory Affairs, Elevate Renewable Energy
Joshua Fidler: new Director of Legislative Affairs, Pennsylvania Treasury
Kim Cooper: new Senior Director, Government Affairs, North American Millers' Association
Bernard Parker III: new Vice President External Affairs, SMART
Shaheed Morris: new Communications Manager, New Jersey Board of Public Utilities
---
Happy Birthdays This Week
Lindsey Gray: Executive Director of CSG South and Southern Legislative Conference, the Council of State Governments
Robert Jones: Vice President, Global Public Affairs, Mosa Meat
Victor Cabral: Director of Policy and Regulatory Affairs, Fluence
Catherine Hendricks: Manager, State Advocacy, American Urological Association
Lindsay Scott: Government Affairs Director, USAA
Landon Stevens: Director of Policy and Advocacy, Conservative Energy Network
J. Bucy: Partner, Capitol & 5th Public Strategies
Rob Orr: Director of Regulatory Affairs, Lone Star Transmission
Michael Lewan: Senior Director of Government Relations, The Recording Academy
Sherry Gay-Dagnogo: Director of Government Relations and Academic Outreach, Team Wellness Center
Want to wish someone a happy birthday or recognize their new job or promotion? Email future suggestions to rjstevens@dmgs.com.
---