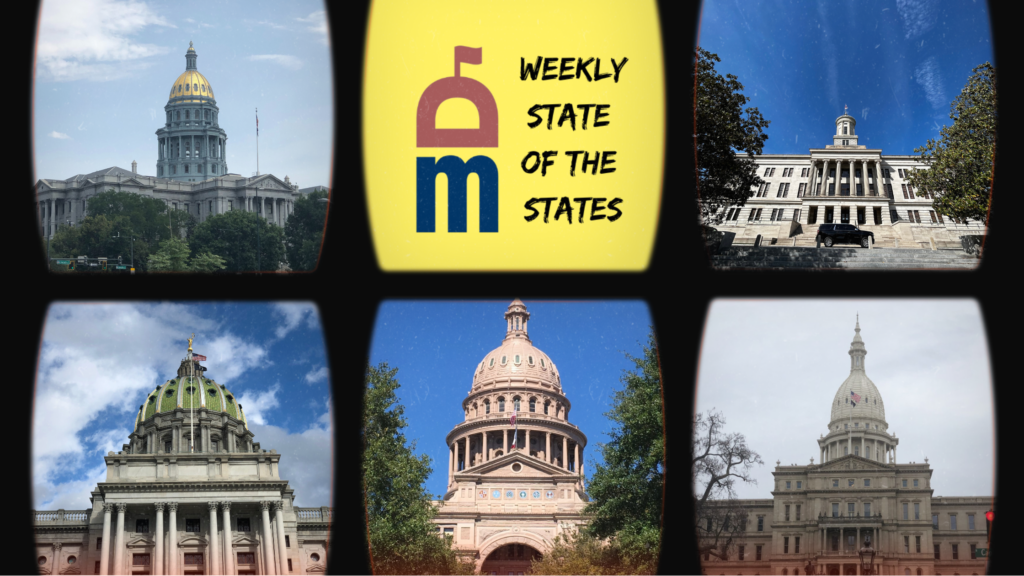 It was a busy week for legislators and governors around the country as we shift into fall-mode. Arizona's governor spoke out this week on the state's school voucher program, while California is banning red dye No. 3, and a Wisconsin lawmaker is standing up for 'real' maple syrup. Other issues covered this week include collective bargaining, energy, gun reform, and more.
---
Alabama
Governor Kay Ivey (R) announced a $600,000 grant to ensure protection and aid to victims of sexual violence. The Alabama Coalition Against Rape Inc. will be using the funds for advocacy, training, and education to prevent sexual violence and assist victims.
Learn more here
---
Arkansas
A nonpartisan state advocate group has proposed a ballot initiative to help protect the state's Freedom of Information Act laws. Senator Clarke Tucker (D) believes the constitutional amendment will help maintain transparency in the state government.
Learn more here
---
Arizona
Governor Katie Hobbs (D) has spoken out against the state's school voucher program, calling it "unaccountable and unsustainable." Hobbs was speaking in reaction to a report showing the number of students receiving school vouchers exceeded the 68,000+ expected recipients in the FY24 budget.
Learn more here
---
California
Governor Gavin Newsom (D) signed legislation banning the sale of red dye No. 3, among other chemicals. Red dye No. 3 is found in over 3,200 food products including mixed fruit, ice cream, yogurt, and candy.
Learn more here
---
Connecticut
Connecticut has required its cities and towns to offer property tax relief to veterans since the Civil War, but some lawmakers are hoping to increase that relief up to $2,000 per veteran.
Learn more here
---
Florida
New legislation sponsored by Senator Lori Berman (D) would make the definition of 'antisemitism' apply to all areas of policy and life in Florida, as Florida law only defines the term currently in an education-specific section of state statutes. The bill defines 'antisemitism' as "a certain perception of Jewish individuals which may be expressed as hatred toward such individuals."
Learn more here
---
Hawaii
Leaders in Hawaii's House and Senate are responding to the recent wildfires on Maui in different ways, with the House acting quickly while the Senate has taken a slower approach and offered more individual actions.
Learn more here
---
Illinois
Lawmakers this week voice their opposition to the proposal by Chicago Mayor Brandon Johnson to create so-called "winterized base camps" that would shelter thousands of migrants.
Learn more here
---
Kansas
Governor Laura Kelly (D) this week announced Kansas will become the 29th state to officially designate Juneteenth as a state holiday.
Learn more here
---
Maine
A republican member of the state House is set to introduce legislation to restrict the sale or transfer of fetal remains.
Learn more here
---
Maryland
The Senate Finance Committee met earlier this week to discuss the landscape of collective bargaining for state employees and what opportunities may exist to address the issue in next year's legislative session.
Learn more here
---
Massachusetts
A public hearing was held earlier this week by the Massachusetts House to address a redrafted bill that would change the state's gun laws. A vote on the bill, which is designed to close certain loopholes and strengthen the state's assault weapons ban, could happen later this month.
Learn more here
---
Michigan
This week, a House committee began discussion over a package of legislation that would give a state commission authority over site permits for large solar and wind farm projects – and remove local governments from the process.
Learn more here
---
Nebraska
The Secretary of State this week announced that a petition effort to get a question on the 2024 ballot to allow voters to decide whether or not public money can go towards private school tuition, has exceeded the number of signatures needed.
Learn more here
---
New York
Two new bills were introduced this week to help protect the mental health of children online by changing how they are served content on social media and limiting how companies use that data.
Learn more here
---
North Carolina
This week, Republican majorities in the House and Senate enacted vote-count restrictions and weakened the governor's ability to oversee elections through a series of veto-overrides.
Learn more here
---
Ohio
Ohio voters are set to vote on Issue 1 in next month's General Election. Issue 1 would "establish an individual right to one's own reproductive medical treatment, including but not limited to abortion."
Learn more here
---
Pennsylvania
Federal funding has been secured for the Mid-Atlantic Clean Hydrogen Hub for Pennsylvania, New Jersey, and Delaware.
Learn more here
---
Texas
Lawmakers have approximately $6 billion to spend in the legislature's third special session, which Governor Greg Abbott (R) has called to address school choice, border security, and restrict COVID mandates.
Learn more here
---
Wisconsin
One lawmaker in Wisconsin loves real maple syrup so much that she introduced legislation aimed at preventing restaurants from labeling artificial syrup as 'real.'
Learn more here
---
Capital and Capitol Happenings: New Positions, Promotions, and More
Justin Fiore: new Deputy Director, Advocacy and Public Affairs, Maryland Municipal League
Mitchell Albers: new Legal Counsel, Michigan Association for Justice
Bill Young: new External Affairs Lead, EDF Renewables North America
Allyson Finch Wilson: new Director of Communications, Prince George's County, Maryland
---
Happy Birthdays This Week
Ron Boston: Senior Government Affairs Manager, Duane Morris Government Strategies
Patrick MacFarlane: Government Relations Manager, Child Care Resource Center
Jose Asuna: Director of External Affairs, Brilliant Corners
Talar Alexanian: Senior Government Affairs Manager, Pallet
Michael Hogg: Manager, State Affairs, NAMA
Want to wish someone a happy birthday or recognize their new job or promotion? Email future suggestions to rjstevens@dmgs.com.
---