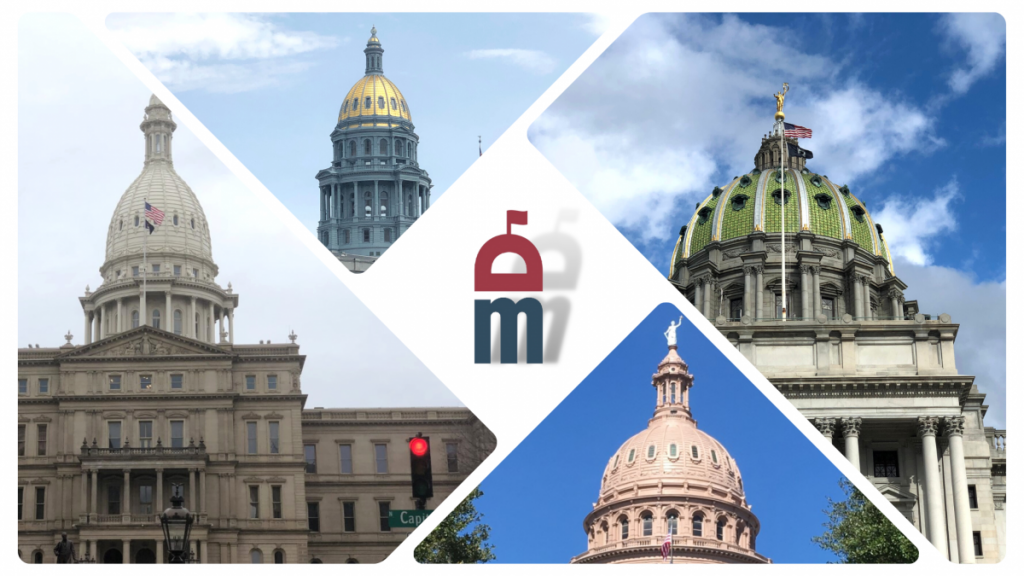 Governors continued to lay out their legislative priorities and budget proposals this week as their legislatures continue to lay down the groundwork for 2023. Notably, the Delaware's governor called for teacher raises, Florida's governor called for mask mandate prohibitions to be permanent, Pennsylvania's new governor removed a four-year degree requirement for thousands of state jobs, and Kentucky's governor expanded medical marijuana use in the state.
---
Alabama
Governor Kay Ivey (R) was sworn-in for her second full term as governor of Alabama, pledging to focus on education and parental involvement in education.
Learn more here.
---
Arizona
Governor Katie Hobbs (D) released her budget priorities for FY2024, which include lowering costs, investing in public education, ensuring affordable housing, and securing the state's water supply.
Learn more here.
---
California
Governor Gavin Newsom (D) signed an Executive Order, in addition to securing a Presidential Major Disaster Declaration and a Presidential Emergency Declaration, to protect communities affected by the severe winter storms impacting the state.
Learn more here.
---
Colorado
Colorado has implemented a voluntary program, Universal Preschool Colorado, which offers families with eligible children up to 15 hours of free preschool each week.
Learn more here.
---
Connecticut
Governor Ned Lamont (D) has scheduled special elections to fill three vacancies in the Connecticut House of Representatives.
Learn more here.
---
Delaware
Governor John Carney (D) has recommended a 9% pay raise for teachers in Delaware, and is also directing funds towards raising wages by 3% for all public education workers.
Learn more here.
---
Florida
Governor Ron DeSantis (R) called on state lawmakers to make Florida's prohibitions on mask mandates at schools and vaccine requirements for local governments and businesses permanent.
Learn more here.
---
Georgia
There may be a workaround to getting sports betting passed in Georgia this legislative session, according to supporters of sports betting legalization.
Learn more here.
---
Idaho
One lawmaker is hoping to stop state government agencies from supporting any nongovernment events, unless the governor grants permission to do so.
Learn more here.
---
Illinois
Governor J.B. Pritzker (D) has signed HB4664, a reproductive rights and gender affirming omnibus bill, into law.
Learn more here.
---
Iowa
Governor Kim Reynolds (R) announced $40 million in funding for Iowa State University's Veterinary Diagnostic Laboratory.
Learn more here.
---
Kentucky
Governor Andy Beshear's (D) Executive Order expanding the legal use of medical marijuana is now in effect.
Learn more here.
---
Louisiana
Republican Rep. Richard Nelson has declared his intention to run for governor of Louisiana.
Learn more here.
---
Maine
Governor Janet Mills (D) and Senate and House leaders announce legislation to strengthen reproductive care laws in Maine.
Learn more here.
---
Maryland
Governor Wes Moore (D) has been inaugurated as Maryland's first Black governor.
Learn more here.
---
Massachusetts
Andrea Campbell (D) was sworn in as the new Massachusetts Attorney General.
Learn more here.
---
Michigan
Michigan has a $9.2 billion surplus and under a 2015 law, the state income tax rate will automatically be cut 0.20% once the surplus reaches a certain level. While Democrats, who now control both legislative chambers, have not committed to that automatic reduction, House Republicans are hoping the rollback happens.
Learn more here.
---
Minnesota
A bill banning conversion therapy for minors in Minnesota has advanced to the state legislature.
Learn more here.
---
Mississippi
The Mississippi state House passed legislation that would prohibit EV manufacturers from the direct sale of vehicles. The bill now moves to the Senate for consideration.
Learn more here.
---
Missouri
Governor Mike Parson (R) has declared his intention to use $859 million to widen I-70.
Learn more here.
---
Nebraska
Governor Jim Pillen (R) and several lawmakers revealed a tax proposal that would stop taxation of Social Security income, restrict taxes on agricultural land, and cut income and corporate taxes.
Learn more here.
---
New Jersey
Governor Phil Murphy (D) announced health care coverage for all children in New Jersey, regardless of immigration status or documentation.
Learn more here.
---
New Mexico
Governor Michelle Lujan Grisham (D) distributed $3.95 billion in Federal aid to the Hermit's Peak/Calf Canyon Fire Assistance Act.
Learn more here.
---
New York
Justice Hector LaSalle, Governor Kathy Hochul's (D) choice for the state's top judge, was rejected by a key Senate committee in a 10-9 vote.
Learn more here.
---
North Carolina
North Carolina's Attorney General Josh Stein (D) has announced his decision to run for governor in 2024.
Learn more here.
---
North Dakota
Conservative lawmakers in North Dakota are pushing several bills which would restrict healthcare, sports participation, and individual expression rights for transgender residents in the state.
Learn more here.
---
Ohio
Ohio state Senator Matt Dolan (R) has announced that he will run for US Senate in 2024 against Incumbent Senator Sherrod Brown (D).
Learn more here.
---
Oklahoma
Governor Kevin Stitt (R) signed an Executive Order creating the Workforce Transformation Task Force.
Learn more here.
---
Oregon
Governor Tina Kotek (D) announced housing and homelessness as her major priorities for this legislative term as the new session convenes.
Learn more here.
---
Pennsylvania
Newly sworn-in Governor Josh Shapiro (D) signed his first Executive Order this week, removing a four-year degree requirement for nearly 65,000 state government jobs.
Learn more here.
---
Rhode Island
Governor Dan McKee (D) delivered his State of the State address this week. McKee is calling for a tax relief plan which includes reducing the state sales tax and reducing the corporate minimum tax."
Learn more here.
---
South Dakota
Governor Kristi Noem (R) has announced her support for legislation that would preserve the agricultural industry in the state.
Learn more here.
---
Tennessee
Tennessee has convened its 113th General Assembly. Top issues facing lawmakers include healthcare access for transgender people and clarifications on the state's abortion ban.
Learn more here.
---
Texas
Greg Abbott (R) was sworn in to his third term as Governor of Texas, promising the largest property tax cut in state history.
Learn more here.
---
Utah
Governor Spencer Cox (R) discussed his goals to increase education funding and teacher pay in the state, but neglected to discuss school vouchers. 
Learn more here.
---
Virginia
Governor Glenn Youngkin (R) announced $90 million in grants to develop industrial sites across the Commonwealth.
Learn more here.
---
Wisconsin
Governor Tony Evers (R) signed an order banning the use of TikTok on government-owned and managed devices.
Learn more here.
---
Wyoming
Some GOP state lawmakers are calling to ban the sale of electric vehicles in Wyoming by 2035, in an attempt to protect the oil and gas industry.
Learn more here.
---
Capital and Capitol Happenings: New Positions, Promotions, and More
Greg Hines: new Government Relations, Accenture
Jordan Grant: new Director of Government Relations, PA Commission for Community Colleges
Joshua Lyman: new Director of External Affairs, Office of Speaker Joe Tate (Michigan)
Zach Roberts: new Executive Assistant for Policy and Research, Tennessee House Majority Caucus
Erick Orellana: new Senior Policy Advocate, Community Water Center
Arielle Woodmore: new Business Development Manager, Health Care, Transfr
Michelle Yoo: Senior Director, Corporate Relations, U.S. Chamber of Commerce
---
Happy Birthdays This Week
Will Lawrence: Chief of Staff, Kansas Governor Laura Kelly
Tiffany Hauser: Senior Manager, State External Affairs N. America, Reckitt
Victor Wills: Education Partnerships and State Policy Specialist, Pearson
Tegan Gelfand: Director of Government Affairs, Federal & Head of Public Policy, Ferring Pharmaceuticals
Nate Spade: Vice President, External Affairs, UnitedHealth Group
Anne Baloga: Executive Director, Pennsylvania House Appropriations Committee
Want to wish someone a happy birthday or recognize their new job or promotion? Email future suggestions to rjstevens@dmgs.com.
---