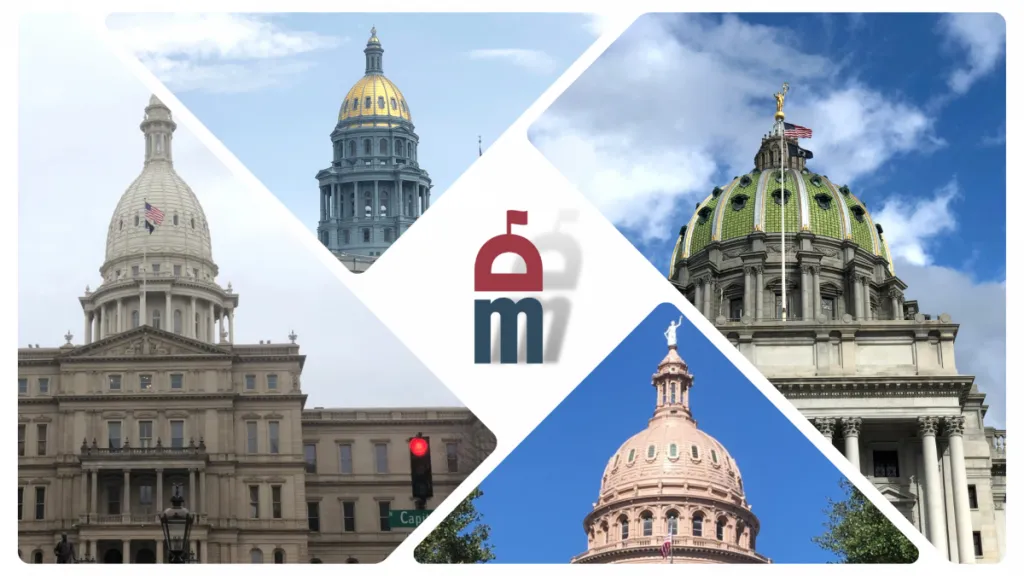 This week, governors across the country continued delivering their State of the State addresses, outlining their visions for their respective states this year. Additionally, lawmakers across the country are addressing a myriad of issues at the onset of 2023 legislative sessions, including limiting the sale of electric vehicles, death penalty protocols, cannabis, and limiting drag performances.
---
Alabama
The Alabama Supreme Court, with the support of Governor Kay Ivey (R), has changed its death penalty procedures to eliminate automatic review for trial errors and allow the prison system more time to carry out executions.
Learn more here.
---
Arkansas
Arkansas's Senate has approved placing restrictions on drag show locations, categorizing drag performances as "adult-oriented business" in the same way that strip clubs, escort agencies, and adult theaters are.
Learn more here.
---
California
California's Assembly is considering legislation that would create a statewide stock of infant formula in response to the past year's shortage.
Learn more here.
---
Colorado
A bill that would permit cities to pass rent stabilization measures has been introduced in the state legislature.
Learn more here.
---
Connecticut
Governor Ned Lamont (D) has banned open carry of firearms in the state, installed a monthly limit on handgun purchases, and strengthened enforcement of Connecticut's ban on "ghost guns."
Learn more here.
---
Delaware
Representative Ed Osienski (D) has introduced legislation that would legalize marijuana for individuals 21 years old and older and introduce a regulatory structure and 15% sales tax to the marijuana market.
Learn more here.
---
Florida
Governor Ron DeSantis (R) has revealed a "Teacher's Bill of Rights" that would greatly diminish the power of teachers' unions, raise teacher pay, and limit the term of school board members.
Learn more here.
---
Georgia
Governor Brian Kemp (R) delivered his State of the State address, emphasizing that fighting crime would be a major priority for his administration.
Learn more here.
---
Hawaii
Governor Josh Green (D) had announced his proposal for a $1 billion investment in affordable housing and tax breaks for all income levels. The Governor also signed a proclamation which would permit the construction of 12 communities to house those experiencing homelessness.
Learn more here.
---
Idaho
"Idaho Launch," a grant program that would invest in the career paths of Idaho students pursuing in-demand careers, has been proposed in committee in the Idaho House of Representatives.
Learn more here.
---
Illinois
Former state senator and former GOP gubernatorial nominee Darren Bailey is leading a lawsuit against the state's ban on assault weapons.
Learn more here.
---
Indiana
Former Governor Mitch Daniels (R) has declared his interest in entering the race for Indiana's open U.S. Senate seat.
Learn more here.
---
Iowa
The Iowa State Legislature approved Governor Kim Reynolds' (R) proposal to issue vouchers of up to $7,598 for private tuition. For each student who receives voucher funding, public school districts will receive up to $1,205.
Learn more here.
---
Kansas
Governor Laura Kelly (D) called for the decriminalization of medical marijuana in her State of the State address.
Learn more here.
---
Kentucky
Governor Andy Beshear (D) has announced an additional high-ground home development to help Eastern Kentucky rebuild after the destructive floods it experienced six months ago.
Learn more here.
---
Louisiana
Governor John Bel Edwards (D) has called for a special session to address the growing property insurance crisis in the state, and hopes to implement a $45 million incentive fund that will compel companies to create new policies.
Learn more here.
---
Maine
Republicans in the state Senate are seeking to cap the increasing cost of home heating in the state, which has doubled since 2020.
Learn more here.
---
Maryland
A bill that would dedicate $12 million to funding Maryland's suicide and crisis prevention hotline is being considered by the State Senate.
Learn more here.
---
Massachusetts
Kate Walsh, current CEO of the Boston Medical Center Health System has been appointed as Massachusetts's Secretary of Health and Human Services.
Learn more here.
---
Michigan
Governor Gretchen Whitmer (D) has proposed universal pre-K for Michigan 4 year-olds, in addition to increasing income tax credits, and decreasing tax on retirement incomes in her State of the State address.
Learn more here.
---
Minnesota
Governor Tim Walz (D) has proposed $1 billion to increase affordable housing, and $300 million to support public safety agencies in the state.
Learn more here.
---
Mississippi
Mississippi's House of Representatives approved a measure that would bar electric vehicle manufacturers from selling vehicles to consumers directly.
Learn more here.
---
Missouri
Governor Mike Parson (R) is advocating to create 27 new positions for youth behavioral health liaisons in the state.
Learn more here.
---
Montana
Montana Democrats are proposing $20 million in order to support the state's behavioral health system.
Learn more here.
---
Nebraska
Pete Ricketts (R) has been sworn in as a member of the U.S. Senate, taking the seat of former Senator Ben Sasse (R).
Learn more here.
---
Nevada
In his first State of the State address, Governor Joe Lombardo (R) has proposed a suspension of the state's gas tax, business tax cuts, and a dedication of $313 million to the state's rainy day fund.
Learn more here.
---
New Hampshire
Governor Chris Sununu (R) has released a report recommending that New Hampshire create a legal framework to regulate the development of blockchain technology and application in the state.
Learn more here.
---
New Mexico
New Mexico' House Consumer and Public Affairs Committee has moved forward with a bill that would hold adults criminally culpable for children and teens accessing their firearms.
Learn more here.
---
New York
New York Democrats have passed legislation that would extend the Equal Rights Amendment so as to protect New Yorkers' constitutional right to access an abortion.
Learn more here.
---
North Dakota
The House Judiciary Committee has advanced a bill that would make it a misdemeanor to allow a minor to attend a drag show, with second offenses being treated as Class C felonies.
Learn more here.
---
Ohio
Governor Mike DeWine (R) has signed a bill that requires state IDs and driver's licenses to state whether an individual is a "noncitizen."
Learn more here.
---
Oklahoma
One lawmaker is hoping to make some changes to Oklahoma's abortion law by emphasizing exceptions.
Learn more here.
---
Oregon
This week, state lawmakers announced more than $3 million in additional rental assistance funding, following Gov. Tina Kotek declaring a "Homelessness State of Emergency."
Learn more here.
---
Pennsylvania
Governor Josh Shapiro (D) has signed an Executive Order to establish the Pennsylvania Office of Transformation and Opportunity within the Governor's Office and the Economic Development Strategy Group.
Learn more here.
---
Rhode Island
Governor Dan McKee (D) has announced a homeownership program that would provide $17,500 in down payment assistance for first-time homebuyers.
Learn more here.
---
South Carolina
Governor Henry McMaster (R) issued his State of the State address, renewing his call for a ban on abortion, and declaring that the governor's office should have a say in judicial appointments.
Learn more here.
---
South Dakota
South Dakota's House of Representatives has approved a $200 million fund for housing infrastructure. The bill will also expedite funding for water lines and roads in new housing developments, and will be sent to Governor Kristi Noem (R) for her signature.
Learn more here.
---
Tennessee
Tennessee's Department of Health has rejected a CDC grant program that provides community health organizations with resources to treat HIV-positive patients.
Learn more here.
---
Texas
Governor Greg Abbott (R) has signed legislation that would prohibit citizens and foreign entities from China, Iran, North Korea, and Russia from purchasing land in the state.
Learn more here.
---
Utah
Utah House GOP leaders are reigniting a bill that would block private businesses from mandating proof of Covid-19 vaccination.
Learn more here.
---
Vermont
Governor Phil Scott (R) has released his proposed 2024 budget, totaling $8.4 billion and including $2.1 billion towards education, $335 million towards transportation, and $150 million for infrastructure improvements.
Learn more here.
---
Washington
Republicans in Washington state's House of Representatives have introduced a bill that would impose a legislative check on Governor Jay Inslee's (D) emergency powers.
Learn more here.
---
West Virginia
West Virginia's Senate Committee has passed a bill that would ban any platform or technology (including TikTok) that could threaten cybersecurity from state devices.
Learn more here.
---
Wisconsin
Total control over Wisconsin's Department of Natural Resources has been assumed by Governor Tony Evers (D) for the first time in his tenure.
Learn more here.
---
Wyoming
Wyoming legislators have introduced two bills that seek to protect the state's fossil fuel-based industries by banning the sale of electric vehicles by 2035.
Learn more here.
---
Capital and Capitol Happenings: New Positions, Promotions, and More
Kelly Ramsey Fuhlbrigge: new Director – Legislation, Regulations, Communications at Connecticut Department of Mental Health and Addiction Services
Colton Fedell: new Government Affairs Manager, T-Mobile
Ted Mowatt: new Executive Director, PA Association of Home and Community Based Services
Zach Border: new Township Manager, Lower Swatara Township
Noelle Carter: new Advisor to the Executive Director, Heritage Action for America
Monica Laufer: new Senior Public Policy Manager – State and Local Affairs, Workday
Chris Frye: new City Administrator, New Castle City
Karen Sisson: Head of Strategic Advocacy, Global Government Affairs/Enterprise Risk Management, 3M
Jamie Barker: new Director of Legislative Affairs, Office of Governor Sarah Huckabee Sanders
James Johnson: new Chief of Staff, Michigan Department of Military and Veterans Affairs
---
Happy Birthdays This Week
Kevin DiGuiseppe: Business Policy & Advocacy Manager, Harrisburg Regional Chamber & CREDC
Ashlie Keener Kuehn: Head of Government Relations and Communications, Botanic Tonics
Emma Jungwirth: Assistant Program Budget Manager, California Department of Finance
Matthew Frank Guilbault: Associate Director, State Government Affairs, Novartis
Cathy Senderling-McDonald: Executive Director, County Welfare Directors Association of California
Hank Dempsey: Head of Public Policy – US States, Snap Inc.
Brandon Vaughan: Advocacy & Engagement Specialist, Association of American Medical Colleges
Want to wish someone a happy birthday or recognize their new job or promotion? Email future suggestions to rjstevens@dmgs.com.
---