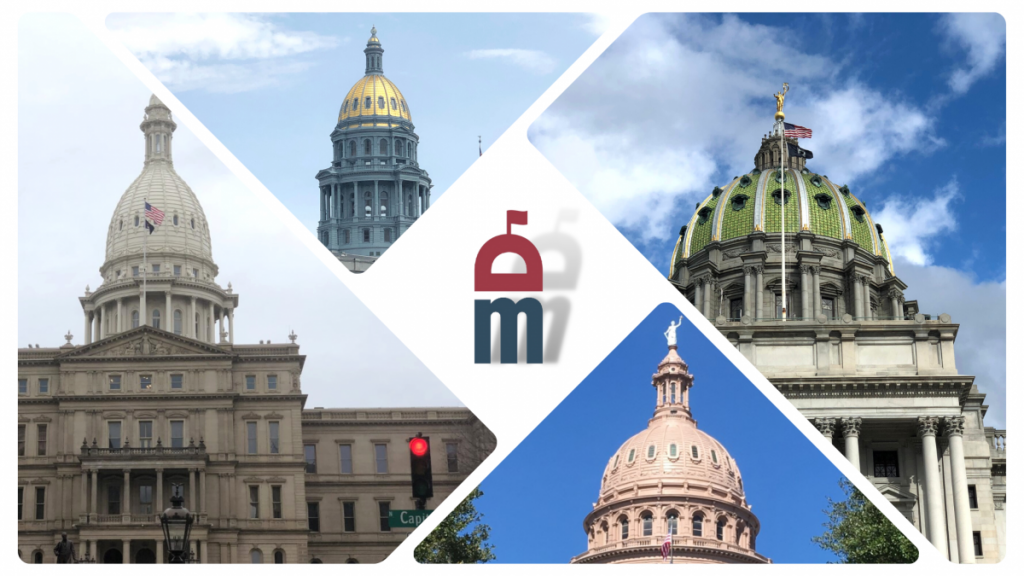 In the first week of 2023, state capitals around the country have already seen a flurry of activity. Governors have begun to take office and set their policy agendas, state legislatures are convening and electing leadership and setting committee assignments, and various pieces of legislation are now being introduced. 
---
Alabama
A new firearms law in Alabama took effect this week. The legislation (HB272), was signed into law last February by Governor Kay Ivey (R), and makes it legal to carry a weapon without a background check or permit in the state.
Learn more here.
---
Arizona
Following her victory in November's election, Katie Hobbs (D) was officially sworn in as Governor of Arizona. Governor Hobbs was previously the Secretary of State for Arizona and succeeds the term-limited Republican Doug Ducey.
Learn more here.
---
Arkansas
House Speaker Matthew Shepherd (R) indicated he will follow the lead of Governor-elect Sarah Huckabee Sanders (R) to set the priorities for their upcoming legislative session, and is anticipating working on issues such as education, criminal justice, and tax cuts.
Learn more here.
---
Colorado
Governor Jared Polis (D) submitted his 2023-2024 budget request, which includes funding for expanded workforce training, after-school tutoring, and on-site child care subsidized by the state government at employers.
Learn more here.
---
Connecticut
Governor Ned Lamont (D) was officially sworn-in for his second term as Governor.
Learn more here.
---
Florida
Governor Ron DeSantis (R) announced a new $79 million program for nursing education and healthcare partnerships. Governor DeSantis was also sworn-in to his second term this week.
Learn more here.
---
Georgia
Governor Brian Kemp (R) announced that 28 counties would receive over $234 million to help expand broadband internet in the state. Capital matches for the program will bring the overall investment to about $455 million.
Learn more here.
---
Illinois
The Illinois General Assembly is considering a ban on assault weapons in the state as they near the end of their lame duck session. The legislation, HB 5855, would prohibit most individuals under 21 from buying firearms in the state, and the purchase or manufacture of extended magazines.
Learn more here.
---
Indiana
Governor Eric Holcomb (R) announced his "Next Level Agenda" for 2023. The plan outlines four key categories he will focus on, including public health development, education and workforce development, stronger economic development, and community development.
Learn more here.
---
Iowa
With Iowa's legislative session beginning January 9th, potential legislation is already being pre-filed. Proposals include limiting cell phone use while driving, and regulations around car seats.
Learn more here.
---
Kansas
Governor Laura Kelly (D), who is beginning her second four year term, laid out her legislative priorities for the upcoming session. Priorities include tax relief, reproductive access, and healthcare expansion.
Learn more here.
---
Louisiana
New laws are taking effect the first week of 2023. Newly effective laws include requiring age verification for pornography websites, new regulations for reporting potential human trafficking, and new policies regarding mediation for natural disaster insurance claims.
Learn more here.
---
Maine
Governor Janet Mills (D) signed emergency legislation to assist Maine families during winter conditions. The Emergency Winter Energy Relief plan will provide financial assistance to Maine families amid high energy costs.
Learn more here.
---
Massachusetts
Maura Healey, a Democrat, was officially sworn-in to office this Thursday. Governor Healey replaces outgoing Governor Charlie Baker (R) who opted not to seek a third term in office. In her inaugural address, Governor Healey announced some of her top priorities, including advancing education access, public transportation, and equality issues.
Learn more here.
---
Michigan
Governor Gretchen Whitmer (D) was sworn-in for her second term this week. Additionally, Michigan Democrats now control both the State House and State Senate for the first time since 1984.
Learn more here.
---
Minnesota
Governor Tim Walz (D) was sworn-in for another term as governor. In his inaugural address, he pledged to make significant investments in improving public education. Minnesota Democrats also took control of the legisture.
Learn more here.
---
Mississippi
Mississippi began their legislative session this week. Potential legislative priorities include tax cuts, and improvements to rural healthcare.
Learn more here.
---
Missouri
Missouri began their state legislative session this week. Potential legislative priorities could include sports betting, education, child care, and government transparency.
Learn more here.
---
Montana
Montana legislators met to open the 68th State legislature, which also saw the first Republican bicameral supermajority under the state's current constitution. Republicans are expected to push legislation supporting tax rebates, and educational and governmental transparency.
Learn more here.
---
Nebraska
Jim Pillen (R), a farmer by trade, was sworn-in to office this week. He replaces outgoing Governor Pete Ricketts (R). Governor Pillen spent much of his campaign discussing issues such as property taxes, and K-12 school funding.
Learn more here.
---
Nevada
Governor Joe Lombardo (R) was sworn-in to office this week. Governor Lombardo defeated Governor Steve Sisolak (D) in November's election. Governor Lombardo is expected to prioritize raises for teachers, easing business regulations, and fighting tax hikes.
Learn more here.
---
New Hampshire
Governor Chris Sununu (R) was sworn-in for his fourth term this week. Governor Sununu's inaugural address focused on exploring alternative energy sources, and combating any attempts to remove New Hampshire as the first-in-the-nation primary state.
Learn more here.
---
New Jersey
In an attempt to combat misinformation, Governor Phil Murphy (D) signed legislation that will require public schools to teach media literacy to K-12 students.
Learn more here.
---
New Mexico
Democratic state lawmakers are introducing legislation that would automatically adjust the minimum wage to an inflation index, providing automatic increases annually.
Learn more here.
---
New York
Governor Kathy Hochul (D) was sworn-in for her first full term in office this week. Her legislative priorities are expected to include continued work on issues such as firearms legislation, reproductive access, and continuing to manage the state's recovery from the COVID-19 pandemic.
Learn more here.
---
North Dakota
As the 2023 legislative session begins, North Dakota Republicans are expected to focus on property tax reductions, as well as legislation regarding abortion access and gender-affirming procedures.
Learn more here.
---
Ohio
Governor Mike DeWine (R) signed a package of criminal justice legislation that include new rules about distracted-driving, inmate prison sentences, and fentanyl test strips.
Learn more here.
---
Oklahoma
Governor Kevin Stitt (R) indicated his support for legalized sports betting in the state. State Representative Ken Luttrell (R) pre-filed legislation for this session that will introduce sports-betting legislation on February 6th.
Learn more here.
---
Pennsylvania
The General Assembly convened for the 2023 legislative session this week, and unexpectedly elected Representative Mark Rozzi as their new speaker. With a gridlocked House, Speaker Rozzi emerged as a compromise candidate. A Democrat, Rozzi pledged to be "independent" and not caucus with either party.
Learn more here.
---
Rhode Island
Governor Dan McKee (D) was sworn-in for his first full-term as governor. Governor McKee emphasized his goals to increase wages and education results in the state.
Learn more here.
---
South Carolina
The South Carolina Supreme Court ruled that the state's six week abortion ban is unconstitutional. The law was signed in February of 2021, prior to the United States' Supreme Court reversal of the Roe v. Wade decision.
Learn more here.
---
Tennessee
Governor Bill Lee (R) announced a new plan to improve the state's infrastructure and transportation. Proposals include the potential of public-private partnerships to include private investment in urban areas.
Learn more here.
---
Vermont
Governor Phil Scott (R) was sworn-in for his fourth term as governor. His inaugural address highlighted his past work on issues such as housing, infrastructure, and tackling climate change.
Learn more here.
---
Virginia
Ahead of the legislature convening next week, several education bills that would enhance school choice options were pre-filed for consideration in the upcoming session.
Learn more here.
---
Washington
The Washington legislature is expected to consider legislation that will battle climate change and reduce emissions in the upcoming session.
Learn more here.
---
Capital and Capitol Happenings: New Positions, Promotions, and More
Jake Jacobs: new Director of External Affairs, Southeast Region, Philip Morris International
Stephen DeFrank: new Vice Chairman, Pennsylvania Public Utility Commission
Ezra Thrush: new Vice President of Government Affairs, PennFuture
Sarah Milby: new Senior Policy Director, Blockchain Association
Conor Farrell: new Chief of Staff, NJ Assemblywoman Carol Murphy
Anna Claire Stietenroth: new Legislative Correspondent, U.S. House of Representatives
John Walters: new Vice President of External Affairs, Louisiana State University
Max Karlin: new Regulatory Affairs Analyst, UnitedHealthcare
John McCord: new Executive Director, Texas Retailers Association
Jacob McLaughlin: new Legislative Specialist, County Road Association of Michigan
Bryanna McGarry: new Director of Policy and Partnerships, Greater Flint Health Coalition
Kristopher Denzel: new Manager, Government Affairs, Caterpillar Inc.
Jonas Neri: new Legislative Representative, NYC Office of the Mayor
Quentin Scholtz: new Director, Federal Government Affairs, HP
Deanna Brunner: new Policy Advisor, North Carolina General Assembly
John Frick: new District Director, PA State Senator Pat Stefano
Tyler Micik: new Director, Public Policy and Government Relations, Delaware State Chamber of Commerce
Alex Otte: new Regional Executive Director, Mothers Against Drunk Driving
Eric Dell: new President and CEO, American Bakers Association
Sara Baran: new Policy Specialist, Pennsylvania Treasury
Brian Sapita: new Manager, Government & Regulatory Affairs, Comcast
David Coffield: new Director of Policy and Government Affairs, the International Foodservice Distributors Association
Michael Stephens: new Legislative Director, Pennsylvania State Senator Camera Bartolotta
---
Happy Birthdays This Week
Kate Randle: Public Policy Manager, Meta
Matthew Deegan: Legislative Director, Senate of Pennsylvania
Brett Buerck: CEO, Majority Strategies
Nichole Trujillo: Legislative Advocate, State Building & Construction Trades Council of California 
Lucas Greenberg: Research Analyst, Republican Governors Association
Kyle Miller: State Policy Advocate – Pennsylvania, Protect Democracy
Teresa Osborne: State Advocacy Director, AARP
Jose Alvarado: Manager of Government Affairs, Cruise
Rafaela Amador Fink: Chief Public Affairs and Communications Officer, Tampa Bay Rays
Brian O'Connor: Director of Policy & Research, Connecticut General Assembly
Email future suggestions to rjstevens@dmgs.com.
---