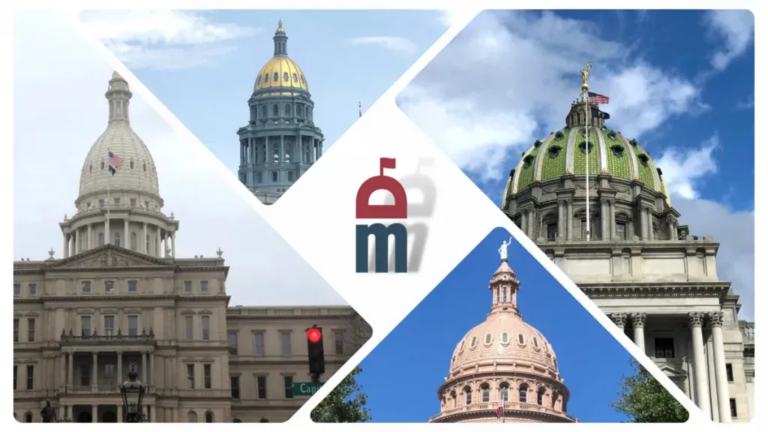 Governors and state legislatures across the country remained busy this week, addressing various issues such as e-bikes, school vouchers, electric vehicles, and more. Notably, Texas enacted property tax cuts into law, Pennsylvania's budget stalemate continues, and New Jersey is suing the federal government over New York's congestion pricing plan.
---
Alabama
Governor Kay Ivey (R) announced her intention to support legislation related to school voucher programs, also known as Educational Savings Accounts.
Learn more here
---
Alaska
Governor Mike Dunleavy (R) vetoed HB 8, which would have deregulated electric bike use within the state. The sponsor for the bill, Representative Ashley Carrick (D), plans to convince colleagues to try to override the governor's decision.
Learn more here
---
Arizona
The State Legislature is set to return on Monday to make a deal relating to Proposition 400, or the half-cents tax. If a deal is not met on Monday, there is a possibility the Legislature will return for a special session.
---
California
The Assembly passed legislation which would put a cap on renters' security deposits. The bill is a part of a larger plan to combat the state's housing crisis.
Learn more here
---
Connecticut
Governor Ned Lamont (D) announced that the state will adopt new standards that will require vehicle manufacturers to produce 100% electric vehicles by 2035. Connecticut will also join eight other states to slash tailpipe emissions beginning in 2027.
Learn more here
---
Florida
The Florida Supreme Court, with support from the Drug Free America Foundation, has granted the state's attorney general additional time to file a brief regarding the legalization of marijuana on the 2024 ballot.
Learn more here
---
Illinois
Governor J.B. Pritzker (D) signed a bill that now codifies action to combat homelessness, providing new resources to multiple state agencies.
Learn more here
---
Kansas
Governor Laura Kelly (D) announced that $7.9 million in federal grants will be allocated for 24 communities relating to community development projects, with a focus on revitalizing rural communities in the state.
Learn more here
---
Maine
Governor Janet Mills (D) has reached a deal on legislation with labor unions relating to offshore wind. Last month, she vetoed bills that would have required project labor agreements (PLAs) for companies that work on offshore wind ports.
Learn more here
---
Maryland
Governor Wes Moore (D) announced that $4 million will be allocated towards the state's Energy Efficiency Retrofits Pilot Program, which will help homeowners with costs associated with achieving energy efficiency.
Learn more here
---
Michigan
Governor Gretchen Whitmer (D) signed legislation that would reinstate teacher bargaining rights, which allow teachers to bargain about performance evaluations, classroom observations, and discipline.
Learn more here
---
Mississippi
A federal court in Mississippi blocked SB 2358, which was signed into law earlier this year and places limits as to who can assist mail-in voters while introducing new penalties for ballot harvesting.
Learn more here
---
New Jersey
New Jersey is suing the federal government over New York's Congestion Pricing Plan, which will charge drivers that enter Midtown Manhattan. The state named concerns over unfair claims that New Jersey drivers pose an environmental and financial burden onto New York City.
Learn more here
---
New York
Governor Kathy Hochul (D) announced a new development plan for Lower Manhattan, which would create over 1,200 units of affordable housing at the World Trade Center.
Learn more here
---
North Carolina
Governor Roy Cooper (D) opposed a natural gas pipeline extension in a letter he sent to the Federal Energy Regulatory Commission. The FERC is supposed to decide in a few months on the gas pipeline extension.
Learn more here
---
Oklahoma
The Senate reconvened on Monday to override Governor Kevin Stitt's (R) vetoes on two bills that would have extended existing agreements with Native American tribes, including over the sale of tobacco products and how motor vehicle tags are issued.
Learn more here
---
Pennsylvania
Amid a budget stalemate, the Senate Education Committee met to discuss "student opportunities for success," with senators arguing over the importance of school choice and increasing public school funding.
Learn more here
---
Texas
Governor Greg Abbott (R) officially signed property tax relief bills into law, which were recently passed in the second legislative session that occurred earlier this month. The new relief will include at least $18 million in cuts.
Learn more here
---
West Virginia
Governor Jim Justice (R) filed a SCOTUS brief to allow for the construction of the Mountain Valley Pipeline. The pipeline stretches over 300 miles, and would provide almost $180 million in revenues to Virginia and West Virginia.
Learn more here
---
Wisconsin
The Legislature opposed Governor Tony Evers' (D) budget proposal to help make child care more affordable by making the Child Care County program permanent. He was seeking a $340 million investment for the program, which will now end in January 2024.
Learn more here
---
Capital and Capitol Happenings: New Positions, Promotions, and More
Tim Beaubien: new Director of Legislative and Political Affairs, Arizona REALTORS ®
Christopher Johnson: new Manager, State Governmental Affairs, American Academy of Ophthalmology
Nathan Medina: new State Advocacy Director, FoodCorps
Davion Percy: new Vice President, Community Relations & Public Policy, Luminis Health
Matt Salomon: new National Director of State Policy, The ALS Association
---
Happy Birthdays This Week
Gerald Wosewick: Executive Director, PA School Bus Association
Christopher Porter: Vice President, Travere Therapeutics
Alex Wirth: Cofounder and CEO, Quorum
David Toth: Deputy Secretary of Legislative Affairs, Office of Governor Josh Shapiro (D-PA)
Sara Baran: Policy Specialist, Pennsylvania Treasury
Nicoletta Blevins: Government and Community Relations Manager, South Central Connecticut Regional Water Authority
Melissa Girty: Government Affairs Liaison, Pittsburgh Regional Transit
Brian Gamberini: Senior Manager, State and Local Government Relations, The Home Depot
Want to wish someone a happy birthday or recognize their new job or promotion? Email future suggestions to rjstevens@dmgs.com.
---