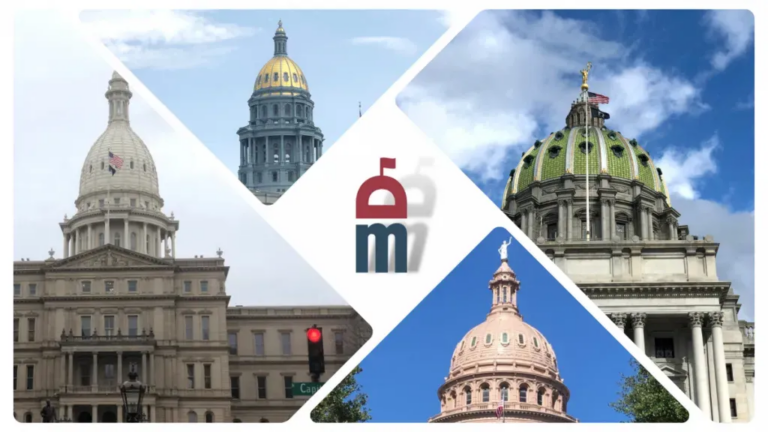 States around the nation were busy this week, working on their respective state budgets and a myriad of legislative issues including climate policy, prison reform, and free meals in school.
---
Alabama
Alabama Governor Kay Ivey (R) has signed House Bill 210 into law, which provides for Mandatory Liability Insurance for Alabamians in the military.
Learn more here.
---
Alaska
The Alaska State Legislature approved several picks for the state boards and commissions, excluding one nominee.
Learn more here.
---
Arizona
Arizona lawmakers have approved a new multi-billion dollar state spending plan.
Learn more here.
---
California
The California Legislature passed a bill that makes phone calls from prison facilities free.
Learn more here.
---
Colorado
Colorado lawmakers made amendments to a previous ozone pollution bill during the last hours of the legislative session.
Learn more here.
---
Connecticut
Senate Republicans proposed $1.5 billion in tax cuts for the state's budget.
Learn more here.
---
Florida
Florida's Governor Ron DeSantis (R) is receiving backlash from Senate Democrats after signing into law a bill that puts restrictions on unions in the state.
Learn more here.
---
Hawaii
The Hawaii Legislature has passed a bill that will increase the penalty for chicken fighting.
Learn more here.
---
Illinois
Illinois lawmakers have proposed legislation which would allow incarcerated people to obtain state IDs after being released from prison.
Learn more here.
---
Kentucky
The Kansas Legislature has passed House Bill 594 enforcing a state ban on skill-based gaming machines and a variety of new lawsuits are being filed claiming the bill is unconstitutional.
Learn more here.
---
Louisiana
Louisiana's Legislature has passed House Bill 361, allowing the state's colleges to expel the app usage of TikTok on campus WiFi.
Learn more here.
---
Michigan
The Michigan Senate advanced a piece of legislation to ban usage of cell phones while operating vehicles, limiting drivers to hands-free settings.
Learn more here.
---
Minnesota
The Minnesota House of Representatives and Senate have approved a new affordable housing bill aiding first time buyers.
Learn more here.
---
Montana
Montana's Legislature added an additional $135 million into tax rebate programs that were already approved earlier in the year.
Learn more here.
---
North Dakota
North Dakota's Governor Doug Burgum (R) has signed 45 of 590 bills sent to his desk after the Legislature adjourned their session .
Learn more here.
---
New York
The New York Senate passed a series of bills, such as Senate Bill 1951, Senate Bill 3340 and Senate Bill 214-A which aim to strengthen protections for survivors of domestic and sexual violence.
Learn more here.
---
Oklahoma
The Oklahoma Governor Kevin Stitt (R) has signed Senate Bill 481 into law, which makes threats to election officials a misdemeanor publishable by time in jail.
Learn more here.
---
Rhode Island
Rhode Island's Senate has passed two pieces of legislation to remove income requirements for free lunch for students.
Learn more here.
---
Tennessee
Governor Bill Lee (R) has announced new measures to combat gun violence in schools.
Learn more here.
---
Vermont
The Vermont Legislature approved House Bill 165 which will provide universal school meals.
Learn more here.
---
Virginia
Several Republicans are proposing legislation to reduce spending costs of public education in the state.
Learn more here.
---
Washington
Washington Governor Jay Inslee (D) signed a series of housing bills into law which will allow for multifamily housing.
Learn more here.
---
Capital and Capitol Happenings: New Positions, Promotions, and More
Margaret Hardin: new Manager, Government Relations, NACS
Ken Hiscoe: new Head of Patient Advocacy and Government Affairs, Rhytm Pharmaceuticals Inc.
Charles Hinderliter: new Senior Vice President of Government Affairs, St. Louis REALTORS
Kernard Jones: new SVP of Government Relations, Waterford.org
---
Happy Birthdays This Week
Phil Innamorato: Public Affairs Coordinator, Independence Blue Cross
Michael Lawrence: Senior Associate Director, State Government Affairs, American College of Cardiology
Collan Rosier: Vice President of Government Relations, Pyramid Healthcare, Inc.
Joshua Alvarez: Officer, Government Relations, the Pew Charitable Trusts
Lesley Beltran Brizuela: Policy Analyst, California State Senate
Want to wish someone a happy birthday or recognize their new job or promotion? Email future suggestions to rjstevens@dmgs.com.
---