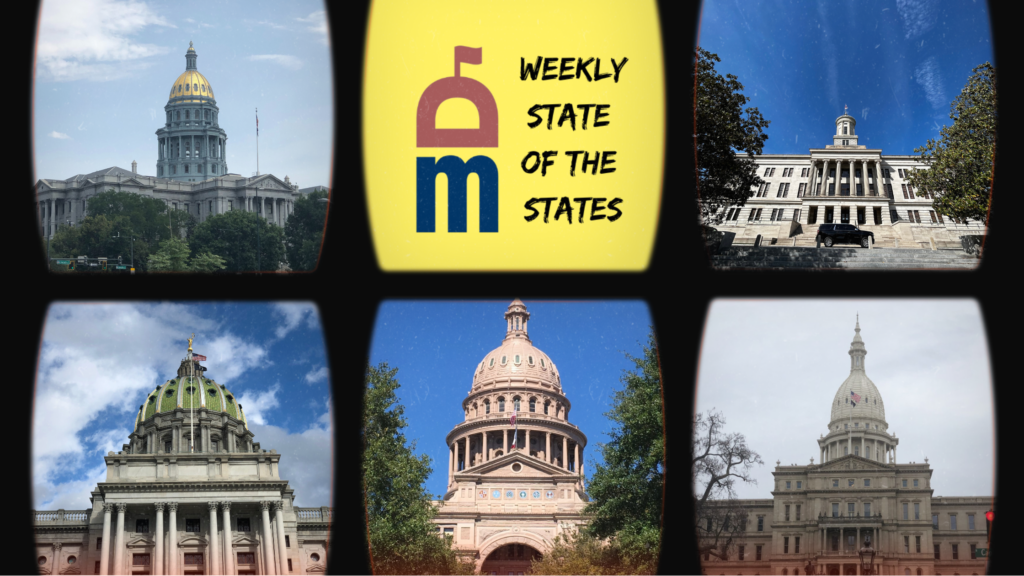 As we head into the Holiday Season, lawmakers continued preparing for 2024 legislative sessions, as well as wrapping up sessions for 2023. Notably, New York's governor signed a new Clean Slate bill, Texas lawmakers passed the strictest immigration law in the country, Maine lawmakers are discussing PFAS regulations, Ohio legislators are preparing for legal cannabis, and New Jersey lawmakers are entering lame duck session post-election.
---
Alabama
Lawmakers are considering comprehensive gambling legislation for the 15th time in the last 20 legislative sessions. The proposed bill would legalize gambling at certain locations, expand gambling regulation, and strengthen laws against illegal gambling operations.
Learn more here
---
California
Governor Gavin Newsom (D) signed two pieces of legislation in an effort to combat climate change. The two bills, Senate Bills 253 and 261 would mandate new disclosures for corporate climate and climate-related financial risk disclosures.
Learn more here
---
Colorado
After a referendum initiative intended to stop growing property taxes failed, Governor Jared Polis (D) convened a special legislative session to discuss a possible rise in property taxes. The goal of the session, which began November 17, is to offer homeowners who had been impacted by the sharp increase in property prices and ensuing tax increases with immediate relief. Conservatives called for further tax cuts, while Democrats emphasized striking a balance between relief and the demands of local government finance.
Learn more here
---
Connecticut
Governor Ned Lamont (D) announced that businesses in the state will receive an almost 10% decrease in rates for workers' compensation insurance. The decrease comes as a direct result of less workplace injuries.
Learn more here
---
Delaware
State officials have announced a $50 million grant in order to pay for an expansion project for the Port of Wilmington. The project aims to expand imports and exports while also reducing emissions.
Learn more here
---
Florida
Governor Ron DeSantis (R) signed four bills during a special legislative session this week. Bills signed include HB 5C which expands state sanctions against Iran, HB 1C which includes a package of $176.17 million to provide additional assistance in areas hit by Hurricane Idalia, HB 7C to increase security at Jewish day schools and preschools, and HB 3C to increase school vouchers for students with disabilities.
Learn more here
---
Idaho
A lawsuit challenging Idaho's voter registration laws has been dismissed by County Judge Samuel Hoagland. As a result, the plaintiffs have filed a brief with the Idaho Supreme Court, arguing that HB 124 and 340 violate young Idahoans' constitutional rights to equal protection and suffrage and targets a disfavored group by imposing unnecessary barriers to voting.
Learn more here
---
Indiana
State Senator Mike Bohacek (R) has introduced a preliminary draft of an age verification bill to prevent minors from accessing porn websites. The bill would establish a criminal penalty for websites that produce adult content online without verifying users' ages. Transnational pornography websites and parent firms would also be subject to a misdemeanor if they fail to meet age verification requirements.
Learn more here
---
Kansas
State Democrats unveiled a new tax relief package this week. Included is a constitutional amendment before voters that would shift the tax burden from homeowners to other types of property.
Learn more here
---
Louisiana
Louisiana's Task Force to Study HIV Criminalization is advocating for a revision of the 1987 law, which currently mandates up to 10 years in prison and 15 years on the sex offender registry for those convicted of intentionally exposing others to the virus. Advocates argue the law is overly broad, results in false accusations, and discourages HIV testing.
Learn more here
---
Maine
Lawmakers are evaluating ways to change a law that will require manufacturers to report whether or not products sold in the state contain PFAS – or forever chemicals.
Learn more here
---
Maryland
Maryland Republicans have unveiled their 2024 Public Safety Agenda. The agenda includes five proposals: the Violent Firearms Offenders Act, the Gun Theft Felony Act, the Safe Communities Act, the Drug-Free Roadways Act, and the Juvenile Justice Restoration Act.
Learn more here
---
Michigan
Michigan's legislative session has ended, with at least 67 bills signed by Governor Gretchen Whitmer (D) set to take effect on February 13. The bills include gun reform, LGBTQ protections, repeals of Right-to-Work, abortion restrictions, many more.
Learn more here
---
Minnesota
The Minnesota Legislature has changed its law to limit murder charges to those who intended to cause death or were a major participant in a murder. The old law allowed people to be convicted of murder even if they didn't intend to harm anyone. The new law focuses on those who commit a killing directly. This change could potentially free dozens of people currently imprisoned for murder.
Learn more here
---
Missouri
A 2022 voter identification law is being challenged in state court. The law is being accused of unconstitutionally restricting resident's right to vote by imposing burdens that disenfranchise large numbers of people. The plaintiffs include the NAACP of Missouri, the League of Women Voters of Missouri as well as three individual voters.
Learn more here
---
New Jersey
In New Jersey's lame duck session, lawmakers are expected to tackle the issue of banning smoking in casinos.
Learn more here
---
New York
Governor Kathy Hochul (D) this week signed a Clean Slate bill into law, which will seal more than 2 million criminal records in the state.
Learn more here
---
Ohio
Ohio's Senate President Matt Huffman (R) said this week he is in agreement with Gov. Mike DeWine's (R) plan to modify the adult-use marijuana initiated statute before it starts to take effect next month.
Learn more here
---
Oklahoma
The Oklahoma Supreme Court ordered a temporary ban on three anti-abortion bills, including requiring physicians to be board certified in obstetrics and gynecology, admitting privileges at a nearby hospital, and an ultrasound 72 hours before administering abortion drugs.
Learn more here
---
Pennsylvania
Lawmakers this week finally passed legislation providing level funding for state-related schools (Penn State, Pitt, Temple) and increases to Lincoln and Penn College of Technology. The Senate passed the bill 45-5 and the House passed the bill 149-54.
Learn more here
---
South Carolina
The State Board of Education is considering regulations to employ a universal definition of "age appropriate" educational materials. This would prohibit sexual conduct descriptions and items considered obscene or indecent. Opponents argue that the regulation could jeopardize the availability of inclusive books that resonate with students from marginalized backgrounds. Supporters argue that the proposal ensures unbiased curriculum and matches students' cognitive development stages.
Learn more here
---
Texas
The State House of Representatives has voted in favor of SB 4, which authorizes local and state law enforcement officials to arrest migrants they suspect unlawfully crossed into Texas. It also allows judges to order migrants to return to the country they illegally crossed from instead of pursuing prosecution.
Learn more here
---
Utah
Lawmakers are aiming to increase student protection by providing faculty members with special training on emergency handling. The Utah School Security Task Force aims to have an armed person at every school, such as a school resource officer, certified security guard, or a school guardian.
Learn more here
---
Capital and Capitol Happenings: New Positions, Promotions, and More
Tom Holroyd: new Chief of Staff, Senate of Pennsylvania
Melissa Wolf: new Executive Director, Minnesota Cable Communications Association
Adam Maxey: new Vice President of Government Affairs, State Chamber of Commerce
Stephen Ciachhi: new Director of Political Affairs, Ohio REALTORS
Robert Kearley: new Head of Government Affairs, Dentsply Sirona
Patrick Finnegan: new Senior Director, Government Affairs, The Lubrizol Corporation
Stephanie Radix: new Senior Director, State Policy, American Academy of Physician Associates
---
Happy Birthdays This Week
Emily Ackerman: Professional Staff, U.S. House of Representatives
Will Danowski: Associate VP, University Relations & External Affairs, Shippensburg University
Jason Griffin: Director of State Government Affairs, Hemlock Semiconductor
Josh Hess: District Director, U.S. House of Representatives
Frank Mazza: Director of Government Relations, County Commissioners Association of Pennsylvania
Want to wish someone a happy birthday or recognize their new job or promotion? Email future suggestions to rjstevens@dmgs.com.
---