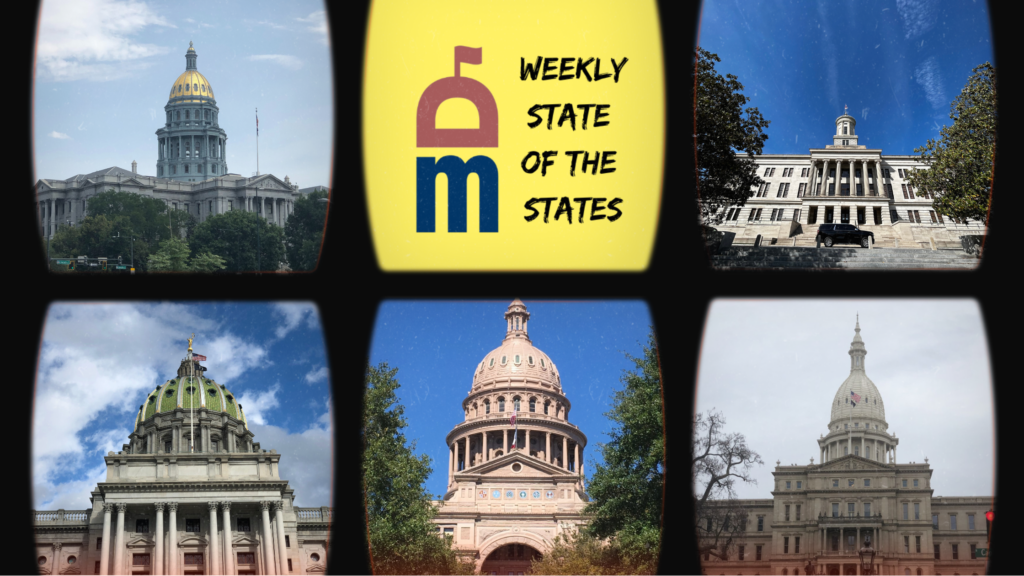 It was a busy week for lawmakers and governors around the country. California's governor reflected on his recent visit to China and the future of autonomous and potentially flying vehicles, a lawmaker in Georgia is trying to codify the definition of "anti-semitism," Texas lawmakers are advancing funding for a border wall, and Pennsylvania lawmakers this week heard testimony related to the potential legalization of recreational marijuana.
---
Arizona
Arizona's Attorney General Kris Mayes (D) plans to propose a "red flag" bill, which would allow courts to remove guns from individuals who they believe pose a threat to schools. The bill would require a judge to obtain "compelling evidence" to issue an extreme risk protection order. Through the order, the gun owner would be required to temporarily surrender their weapons until a hearing is conducted. Over 20 states have already passed such laws.
Learn more here
---
California
Last week, Governor Gavin Newsom (D) visited Tesla's Gigafactory in China and shared his thoughts on the future of motor vehicles, namely that humans may not be driving much longer as cars become autonomous. 
Learn more here
---
Colorado
A temporary legislative committee tasked with addressing the opioid crisis passed four proposals but turned down a plan to establish safe injection sites where people could use illegal substances under medical supervision. Concerns about Governor Jared Polis' (D) possible veto had an impact on the decision, which was in line with the conclusion of a similar attempt in a Senate committee earlier this year. 
Learn more here
---
Delaware
Delaware implemented new regulations to prevent consumer fraud by home improvement contractors. The new regulations prevent contractors from claiming a signed contract was an estimate or not binding. It also requires contracts to include an approximate completion date, required materials and costs, contractor contact information, and installation or delivery fees.
Learn more here
---
Florida
Students for Justice in Palestine groups in Florida's public university system were recently ordered to dissolve by Florida Governor Ron DeSantis (R), who cited a federal law that forbids providing "material support to terrorist organizations."
Learn more here
---
Georgia
Esther Panitch (D), Georgia's only Jewish legislator, is renewing a push to define "antisemitism" in Georgia law. Panitch has asked Governor Brian Kemp (R) to add a bill to the upcoming special session that would codify an anti-semitism definition. 
Learn more here
---
Kansas
Kansas lawmakers this week discussed internet security, following a "security incident" that shut down the online operations for most courts in the state.
Learn more here
---
Louisiana
For the first time ever, Louisiana will have a GOP governor, a GOP supermajority in the Senate, and likely a supermajority for the GOP in the House. 
Learn more here
---
Michigan
A new bill introduced by Rep. Matt Koleszar (D) aims to publicize how much public funding charter schools spend on education and private management companies. The bill is among several others pushing for greater transparency with charter schools.
Learn more here
---
Missouri
Amid calls for House Speaker Dean Plocher (R) to resign after alleged campaign finance violations, a group of state lawmakers met last week behind closed doors to discuss a "personnel issue."
Learn more here
---
New Jersey
In a major blow to Gov. Phil Murphy's (D) clean energy agenda, the Danish company behind two major offshore wind projects off the New Jersey coast announced it was scrapping both projects. 
Learn more here
---
New York
Governor Kathy Hochul (D) signed legislation to expand the rights of homeowners in manufactured home parks. The legislation expands the right of first refusal for homeowners, requires homeowners to notify owners of manufactured home parks within 60 days of making an offer to purchase the park, and requires homeowners to make the offer within 140 days.
Learn more here
---
Ohio
State Senator Andrew Brenner (R) proposed a bill to revise the state's franchise law. The bill aims to grant small craft brewers more flexibility when dealing with wholesalers. 
Learn more here
---
Oklahoma
Ten new laws impacting drivers and vehicle registration in Oklahoma went into effect this week. Some of the new laws include allowing for an optional two-year motor vehicle registration, allowing more time for customers to pay their tag, title, and tax on a new vehicle, and more.
Learn more here
---
Oregon
State Representative Ben Bowman (D) is drafting a bill for the 2024 session to ensure that medical practices are run by physicians. The bill would ban management services organizations from using non-compete agreements with physicians and from prohibiting physicians from speaking out about their practices. 
Learn more here
---
Pennsylvania
A state House committee this week discussed potential adult-use cannabis legalization in Pennsylvania, hearing from experts on the potential pros and cons of legalizing non-medicinal cannabis.
Learn more here
---
Texas
Lawmakers this week advanced a proposal that allocates $1.5 billion to construct a border barrier between Texas and Mexico. 
Learn more here
---
Capital and Capitol Happenings: New Positions, Promotions, and More
Melanie Donnelly: new Executive Director, PA House Children & Youth Committee (R)
Ben Utley: new Government Affairs, Texas-New Mexico Power (TNMP)
Daniel Carey: new Director of Government Relations, Polaris Inc.
Katie McLaughlin: new OTO Coordinator, Office of the Governor, Office of Transformation & Opportunity (Pennsylvania)
Kristen Hildreth: new AVP, Government Relations & Strategic Partnerships, ISRI 
---
Happy Birthdays This Week
Marvin Deon: Chief Legislative Representative, County of Los Angeles
Altmann Pannell: Director of Government Relations, Coca-Cola
Matthew O'Donnell: Senior Director, State Government Affairs, Alexion Pharmaceuticals, Inc.
Nick D'Andrea: Vice President and Managing DIrector, State Public Affairs, UPS
Kristine Bush: District Director, Pennsylvania State Senate
Laura Manion: President and CEO, Chester County Chamber of Business & Industry
Cody Lyon: Managing Director, Advocacy and Political Affairs, American Farm Bureau Federation
Annie Haury Larson: Assistant Vice President of Federal Relations & Outreach, University of Colorado 
Want to wish someone a happy birthday or recognize their new job or promotion? Email future suggestions to rjstevens@dmgs.com.
---