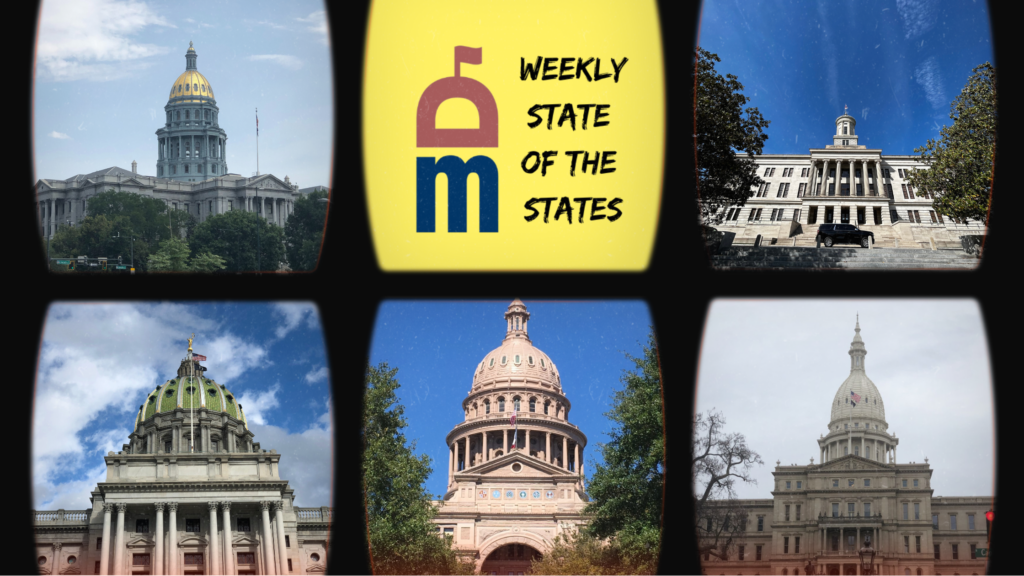 As we approach the end of October, lawmakers around the country remained busy on varying issues. Michigan lawmakers are advancing legislation that sets more ambitious targets for clean and renewable energy standards, while the Lt. Governor of Georgia is proposing giving $10,000 to teachers who arm themselves in the classroom. Additional issues covered below include special sessions, funding for border barriers along the Texas-Mexico border, higher education, marijuana, and more.
Not only that, but we at DMGS posted our special Halloween podcast episode! Learn more below.
---
Halloween Podcast Episode: Haunted State Capitols!
Did you know we started a new podcast?
In this week's episode of Back in Session, the Ryans venture into the Capitol of Shadows, a special Halloween episode to cover spooky and haunted state Capitol buildings. Do you like ghost stories? Then this haunted state Capitol episode is for you! The Ryans discuss the hauntings of Capitols in Tennessee, Arkansas, Kentucky, and Maryland, and stories including assassinations, murders, untimely deaths, and more.
Listen and subscribe wherever you listen to podcasts:
---
Alabama
This week, Governor Kay Ivey (R) awarded $2.5 million in grants from the Emergency Solutions Grants program to go to local governments and nonprofits to help fight homelessness across the state. 
Learn more here
---
California
This week, Governor Gavin Newsom (D) traveled to China and met with Chinese President Xi Jinping to discuss Climate Change ahead of the APEC summit and COP28 climate meeting next month.
Learn more here
---
Florida
Late last week, legislative leaders issued a proclamation calling for a special session next month on various issues, such as bolstering sanctions against Iran and giving extra assistance to those impacted by Hurricane Idalia.
Learn more here
---
Georgia
In an attempt to address school safety and security, Lt. Governor Burt Jones (R) proposed a plan for Georgia to pay teachers an additional $10,000 per year if they voluntarily undergo firearms training and arm themselves in the classroom. 
Learn more here
---
Indiana
Earlier this week, the Interim Study Committee for Commerce and Economic Development heard testimony on artificial intelligence to determine how AI is changing the state's economic outlook and how lawmakers should regulate it.
Learn more here
---
Kansas
The Kansas Legislative Compensation Committee released its report last week detailing how lawmakers should be paid.
Learn more here
---
Michigan
Michigan's state Senate passed legislation this week that sets more ambitious targets for clean and renewable energy standards in the state.
Learn more here
---
Minnesota
Governor Tim Walz (D) predicted this week that the legislature will consider a $1 billion infrastructure package next session to help fund public works projects across the state.
Learn more here
---
Montana
The legislature began a special session this week to fix the budget bill that was voided by the state Supreme Court.
Learn more here
---
New Hampshire
Governor Chris Sununu (R) signed an executive order this week that established a task force to study the strategic alignment of public higher education in the state.
Learn more here
---
New York
Governor Kathy Hochul (D) again extended a state of emergency over the influx of migrants into New York. The goal of the extension is to give the state more flexibility to get resources to localities to support those seeking asylum in the state.
Learn more here
---
North Carolina
The GOP-controlled state Senate advanced a redistricting proposal earlier this week that could give the GOP the opportunity to pick up at least three states in Congress next year.
Learn more here
---
North Dakota
The state House, with two-thirds approval, this week called into a special session to address Governor Doug Burgum's (R) tax relief proposal. Under the proposal, the first $60,000 in income by a single filer would not be subjected to state income taxes for next year.
Learn more here
---
Ohio
Voters are set to vote on Issue 2 (marijuana legalization) in the next few weeks, but they may not have the final say as lawmakers could change or repeal the law as GOP members of the General Assembly have shown little interest in cannabis legalization.
Learn more here
---
Pennsylvania
This week, Governor Josh Shapiro indicated he would be open to speaking with lawmakers who want to change the laws regarding non-disclosure agreements, in response to a sexual harassment settlement involving a former staffer in the governor's office. 
Learn more here
---
South Carolina
More than half of South Carolina's elected prosecutors want to change how the legislature selects judges. Specifically, they are calling for legislators who are lawyers to be removed from a judicial screening committee.
Learn more here
---
Texas
This week, the state House Appropriations Committee approved HB 6, legislation that contains $1.5 billion in funding to build border barriers along the Texas-Mexico border.
Learn more here
---
Vermont
State lawmakers in Vermont are expected to debate new ways to help minimize the economic damage that natural disasters inflict in the state.
Learn more here
---
Wisconsin
Citing the U.S. Supreme Court's recent ruling against race-conscious admissions practices in colleges, state lawmakers this week introduced legislation to ban the consideration of race in state financial aid and scholarships for college students.
Learn more here 
---
Capital and Capitol Happenings: New Positions, Promotions, and More
Renée Gibson: new Director of Government Affairs, Autonomous Vehicle Industry Association
Katie Dotto: new Government Relations Manager, Modivcare
Joshua Spagnola: new Director, State Government Affairs & Regulatory Strategy, AstraZeneca
John Horton: new Head of U.S. Public Policy, DoorDash
Kaitlyn Floyd: new Constituent Affairs Manager, Office of Pennsylvania Governor Josh Shapiro
Lily Moll: new Grassroots Programming Director, American Conservation Coalition
Tara Taggart Chilton: new Government Relations Manager, Publix Super Markets
Zachary McKeown: new Advocacy Manager, Connecticut Conference of Municipalities
---
Happy Birthdays This Week
Tyler Laughlin: Director of Corporate and Government Relations, Allegheny County Airport Authority
Tyler Diers: Executive Director, Midwest, TechNet
Benjamin Williams: Executive Director, Government Relations/Advocacy, Global Policy & External Relations, The College Board
Rian English Barnhill: Vice President of Government & Community Affairs, Olympia Development of Michigan
Want to wish someone a happy birthday or recognize their new job or promotion? Email future suggestions to rjstevens@dmgs.com.
---