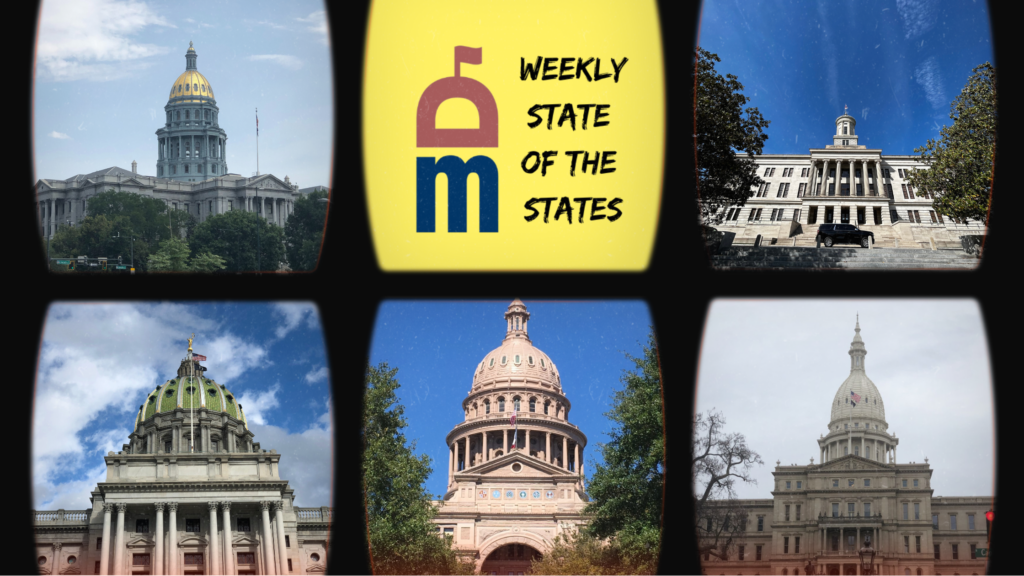 This week was certainly a busy one for lawmakers and governors around the United States. Georgia's governor has suspended the state's gas tax again, Arkansas reinstated a ban on COVID vaccine mandates, California lawmakers approved allowing their staff to unionize, and Florida's Speaker announced a special committee to look at hurricane relief and resilience.
Learn about these issues and more in this week's DMGS State of the States!
---
Arkansas
On Thursday, Governor Sarah Huckabee Sanders signed a bill that reinstates a ban on COVID-19 vaccine mandates. The bill specifically bars public agencies such as schools and state agencies from requiring an individual to receive a vaccine or immunization for COVID-19.
Learn more here.
---
California
After a previous attempt last session failed, state lawmakers in Sacramento approved legislation this week to allow legislative employees to unionize.
Learn more here.
---
Connecticut
Connecticut is set to use most of last fiscal year's $1.9 billion surplus to reduce pension debt in the coming months. With that, the state will have added $7.7 billion in supplemental payments in the last four years to reduce pension debt.
Learn more here.
---
Delaware
This week, Governor John Carney signed legislation being dubbed as the strongest data privacy bill in the country. The bill is set to go into effect January 1, 2025.
Learn more here.
---
Florida
Following another major hurricane in August, House Speaker Paul Renner announced this week a select committee to address hurricane relief and storm resilience. The committee, set to be chaired by Rep. Michael Grant, will examine ways to both protect and repair the state from future storms and look at immediate needs for hard-hit areas by recent hurricanes.
Learn more here.
---
Georgia
Thanks in part to another state surplus, Governor Brian Kemp this week announced he is again suspending Georgia's gas tax. The gas tax suspension is set to run through October 12, but he indicated he will continue to suspend the gas tax on a monthly basis via executive orders.
Learn more here.
---
Idaho
The Idaho GOP is set to hold a caucus next year in place of a presidential primary, unless lawmakers convene for a special session.
Learn more here.
---
Massachusetts
Lawmakers this week proposed a first-of-it-kind bill to prohibit the manufacture, sale, or use of robots that have mounted weapons on them.
Learn more here.
---
Michigan
This week, lawmakers in Michigan introduced legislation that would require insurance companies to offer coverage for hearing-related devices and services for children in the state.
Learn more here.
---
Nebraska
Governor Jim Pillen appointed state Sen. Tom Briese as the state's new Treasurer. Briese has served two terms in the legislature.
Learn more here.
---
Ohio
For the second time, a proposed constitutional amendment to overhaul the way Ohio draws its political maps has been rejected after Attorney General Dave Yost rejected a proposal to create an independent redistricting commission.
Learn more here.
---
Oregon
Senators in Oregon who are supposedly disqualified from running for reelection due to absences during a GOP walkout, have filed candidacy paperwork for re-election.
Learn more here.
---
Pennsylvania
Control of the state House in Pennsylvania is again up for grabs. A special election in Allegheny County on September 19th will decide which party controls the House, which is currently divided evenly, 101-101.
Learn more here.
---
Washington
Last weekend, Gov. Jay Inslee endorsed Attorney General Bob Ferguson as his chosen successor for next year's gubernatorial race.
Learn more here.
---
Capital and Capitol Happenings: New Positions, Promotions, and More
Dan Smith: new Director of External Affairs, Visit California
Joshua Robertson: new Director of Regulatory Affairs, Forensic Fluids Laboratories
Christian Rodrick: new Public Affairs Manager, Northeast Gas Association
Tom Foulkes: new Senior Director, State Government Affairs, Otsuka Pharmaceutical Companies
Frank Schultz: new Vice President for Government Affairs – East Region, Jefferson Health
---
Happy Birthdays This Week
Scott Hayes: Director, Midwest Government Relations and Strategic Communications, PBF Energy
Rahul Kalsi: Director of Government Affairs, Nicor Gas
Chad Wilson: Associate Vice President, Government Relations, Nationwide Insurance
L. Kyle Gerron: Legislative Affairs Manager, American Academy of Family Physicians
Ben Gann: Senior Director, Government Affairs, Oxy
Morgan Judge: Director of Compliance, Regulation, and Policy, EverDriven
Carter Stern: Director of Global Government Affairs, Cruise
Want to wish someone a happy birthday or recognize their new job or promotion? Email future suggestions to rjstevens@dmgs.com.
---