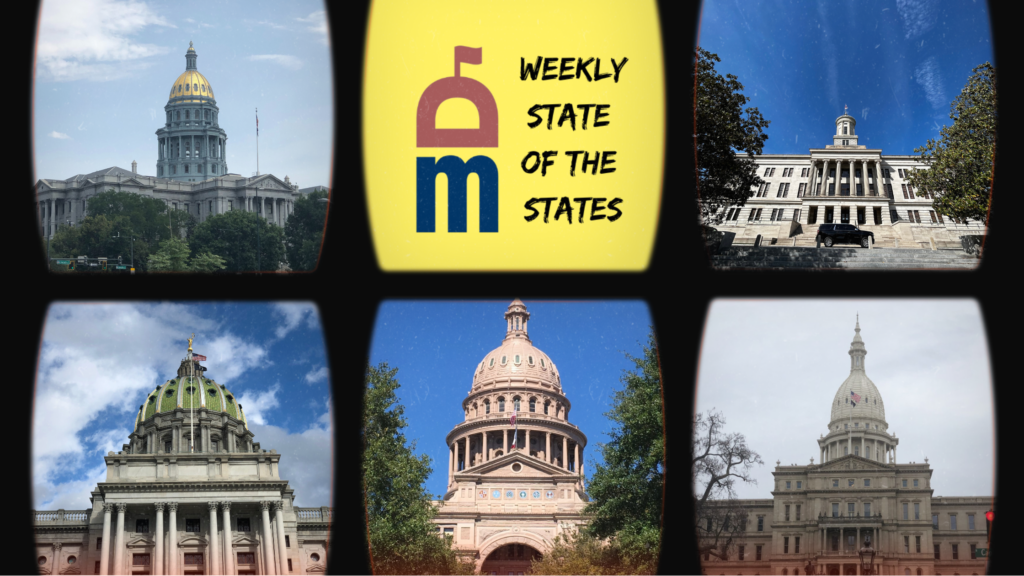 As September comes to an end, lawmakers and governors around the country took action on a myriad of issues. Alabama appears set to get a new Statehouse, while California's governor signed a law requiring gender-neutral bathrooms in K-12 schools and Oklahoma's governor announced the creation of a task force to study and make recommendations on artificial intelligence.
---
Alabama
State lawmakers voted this week to construct a new Statehouse to replace their current one, citing mold in the current Statehouse, among other issues.
Learn more here
---
Arkansas
The state is set to receive more than $10 million in federal funding in an attempt to help bolster electric grids statewide. The funding will go towards preventing electric outages and creating a more resilient electric grid.
Learn more here
---
California
Governor Gavin Newsom (D) signed legislation that will require K-12 schools to provide gender-neutral bathrooms by 2026.
Learn more here
---
Colorado
Govern Jared Polis (D) announced the state is funding a statewide apprenticeship program that aims to fill the workforce gap and assist the younger generation in joining the workforce. The program will contribute $2.5 million in grants in the hopes of expanding career opportunities.
Learn more here
---
Connecticut
During a special session this week, lawmakers voted to add a monitor to watch over the City of Bridgeport's elections for the next two years while they find out what happened in a video that appeared to show a City employee stuffing absentee ballots into a drop box.
Learn more here
---
Florida
A democratic lawmaker prefiled legislation for the 2024 session that would see Florida join the National Popular Vote Compact, which is an agreement among states where the winner of a presidential election would be whoever receives the most popular votes, not electoral votes. 16 states and Washington, D.C. have enacted the Compact, which needs 65 more electoral votes to go into effect.
Learn more here
---
Iowa
Governor Kim Reynolds (R) announced the state ended the fiscal year with a $1.83 billion surplus. Reynolds plans on using the surplus to cut taxes in the upcoming legislative session.
Learn more here
---
Kentucky
GOP lawmakers this week proposed a so-called "three-strikes law" to keep people locked up after they are convicted of a third violent felony.
Learn more here
---
Massachusetts
Lawmakers have revealed a new tax relief plan that would deliver around $561 million in relief. The plan contains over a dozen specific tax proposals, including estate tax changes and increasing the child tax credit.
Learn more here
---
Michigan
Governor Gretchen Whitmer (D) signed legislation this week that ends child marriage in the state. Michigan is now one of nine states to ban child marriage. Michigan previously allowed 16 and 17 year olds to get married with parental consent and those under 16 could get married with parental consent and a judge signing off.
Learn more here
---
Nevada
Earlier this week, State Treasurer Zach Conine announced Nevada's Rainy Day Fund reached its highest level in history, $1.23 billion.
Learn more here
---
New Jersey
The minimum wage in New Jersey is set to exceed $15 an hour by January 2024. Governor Phil Murphy (D) set a goal in early 2019 to raise the minimum wage and has finally reached it.
Learn more here
---
New York
Governor Kathy Hochul (D) announced the state will deploy 150 National Guard troops to address the ongoing migrant issue and to to assist asylum seekers in New York City. There are currently 1,900 National Guard troops assisting with this crisis.
Learn more here
---
North Carolina
Governor Roy Cooper (D) vetoed a bill that would have restructured the state and county election boards to be split evenly between Democrat and Republican members. The bill would have taken away power from the governor to appoint members of those boards.
Learn more here
---
Ohio
Lawmakers in Ohio are introducing legislation to help with the nursing shortage crisis in the state. The bill would address minimum staffing standards as well as patient safety.
Learn more here
---
Oklahoma
This week, Governor Kevin Stitt (R) announced the creation of a task force to study and research the benefits, potential uses, and security issues of artificial intelligence (AI). The task force will be charged with developing recommendations for AI policy.
Learn more here
---
Oregon
Governor Tina Kotek (D) directed state police to devise new strategies to combat fentanyl use across the state, specifically to hold sellers accountable.
Learn more here
---
Pennsylvania
Governor Josh Shapiro (D) announced the state's first comprehensive economic development strategy in over 20 years. The plan aims to make the state more competitive in attracting businesses to the Commonwealth
Learn more here
---
Texas
Governor Gregg Abbott (R), who previously indicated a special session would be happening in October, has indicated the session will begin "in two weeks" and address not only school choice, but border security as well.
Learn more here
---
Capital and Capitol Happenings: New Positions, Promotions, and More
Zach Messersmith: new Director of Government Relations, Western Illinois University
Jeannie Morris: new Vice President, Government Affairs, Vicinity Energy
Tracey Hester: new State and Local Government Affairs Manager, bp
Erika Hoffman: new Deputy Legislative Director, State and Federal Programs, California School Boards Association
Mark Solano: new Engagement Manager, Southeast, Cruise
Jenna McCarthy: new Budget Analyst, Pennsylvania House of Representatives
Ross Eisenberg: new President, America's Plastic Makers, American Chemistry Council
---
Happy Birthdays This Week
Sharon Seyler: Deputy Director of Government Affairs, Duane Morris Government Strategies
Kristen Rapp: Executive Director, Free Clinic Association of Pennsylvania
Conor Gillis: Government Affairs Field Representative, New York State Association of REALTORS, Inc.
Jon O'Brien: Executive Director, Keystone Contractors Association
Braden Stover: Director of Legislation, Tennessee Department of Economic Development
Kiley Smith: Manager, State Government Affairs, TikTok
Want to wish someone a happy birthday or recognize their new job or promotion? Email future suggestions to rjstevens@dmgs.com.
---