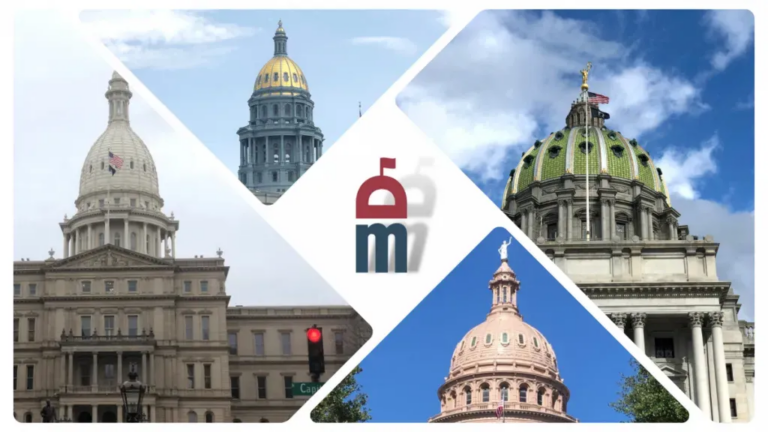 Lawmakers around the country were busy this week as summer comes to an end. Virginia finally settled on a budget following a special session, Michigan lawmakers announced legislation to implement new gun restrictions, and Wyoming is considering taxing EVs. Other issues covered this week include artificial intelligence, cannabis, and Hawaii's recovery from the Maui wildfires.
---
Alabama
A Federal judge struck down Alabama's congressional map due to concerns over the lack of a second majority-Black district. The court reached a unanimous decision, following the Supreme Court's 5-4 decision in June that the maps be redrawn.
Learn more here
---
Alaska
The Biden administration canceled all remaining oil and gas leases in the Alaska Arctic National Wildlife Refuge, a reversal from the Trump administration. The Biden administration had recently faced criticism from environmental groups for approving an oil project in the state.
Learn more here
---
Arkansas
Governor Sarah Huckabee Sanders (R) has approved a new plan for additional funding for the state's four Crisis Stabilization Units. The plan will direct $90,000 per month through the fiscal year.
Learn more here
---
California
Governor Gavin Newsom (D) signed an executive order directing state agencies to further study potential risks and benefits for generative AI. The order will have state agencies analyze prospective negative impacts of technology.
Learn more here
---
Colorado
Governor Jared Polis (D) announced his support for the Biden administration's planned move to reschedule marijuana. He also called for additional steps to address cannabis banking, among other issues.
Learn more here
---
Connecticut
Governor Ned Lamont (D) announced the United States Department of Agriculture approved his request for a disaster declaration. All eight counties in the state are now eligible to apply for federal disaster assistance due to recent severe weather.
Learn more here
---
Georgia
Governor Brian Kemp (R) announced that DAS Corp is building a new manufacturing facility in Metter. The expansion by the automotive parts company will bring an estimated 300 jobs and $35 million in investment to the county.
Learn more here
---
Hawaii
Governor Josh Green (D) announced a new vehicle replacement program to help residents impacted by the recent wildfires. The Governor announced the partnership with Avis Budget, Enterprise, and Hertz to help increase the amount of rental cars for purchase by survivors of the fire.
Learn more here
---
Indiana
Governor Eric Holcomb (R) is leading a trade delegation to Japan this week. The Governor, along with members of the Indiana Economic Development Corp, will meet in Tokyo with U.S. and Japanese government officials.
Learn more here
---
Kansas
Governor Laura Kelly (D) announced $1 million in Attraction Development Grants through Kansas Tourism. The funding will help assist the development of tourism destinations and experiences.
Learn more here
---
Kentucky
Sports betting is now officially legal in Kentucky. The bill that legalized sports betting was passed in March, and signed into law by Governor Andy Beshear (D). 
Learn more here
---
Massachusetts
Governor Maura Healey (D) indicated she will mobilize 250 members of the National Guard to facilities that are housing homeless and migrant families.The Governor is also pursuing funding from the Biden administration to help combat the crisis.
Learn more here
---
Michigan
Lawmakers introduced new legislation that would restrict gun possession for those who have been convicted of misdemeanors related to domestic violence. There are current restrictions for those convicted of felonies, which does not apply to domestic assault until the third offense.
Learn more here
---
North Carolina
Governor Roy Cooper (D) announced a new program to improve access to broadband across the state. The Completing Access to Broadband program will total $22 million and help over 6,000 households get access to the internet.
Learn more here
---
New York
Governor Kathy Hochul (D) signed three worker protection bills that would protect workers' religious and political beliefs, strengthen wage theft penalties and increase benefits for injured workers.
Learn more here
---
Ohio
Governor Mike DeWine (R) announced a new $100 million in funding for railroad crossings in the state. These funds are expected to help local municipalities prepare federal grant applications and provide matching funds.
Learn more here
---
Pennsylvania
Governor Josh Shapiro (D) signed an executive order designed to help small and small diverse businesses. The order will help these businesses compete for state contracts and ease the state procurement process.
Learn more here
---
Virginia
Virginia lawmakers finally approved a 2023 budget bill during a special session. The budget will provide over $1 billion in tax relief and assist with new behavioral health care initiatives.
Learn more here
---
West Virginia
Democrat Steve Williams announced his plans to enter the 2024 race for Governor. Williams, the Mayor of Huntington, is the first Democrat to enter the race to succeed outgoing Governor Jim Justice (R) who is running for the United States Senate.
Learn more here
---
Wisconsin
State Senator Joan Ballweg (R) proposed legislation that would make it more feasible for retailers to offer E15 motor fuel. The aim of the legislation is to bring funding and increase availability of renewable fuel throughout the state.
Learn more here
---
Wyoming
Lawmakers in Wyoming are considering a new piece of legislation that would increase a diesel fuel tax. The increase comes as concerns over interstate commerce will generate enough revenue for the state. The legislation would also create a $200 annual fee for EV owners and a $100 annual tax for plug-in hybrid owners. 
Learn more here
---
Capital and Capitol Happenings: New Positions, Promotions, and More
Erin Parker Raub: new Director of Government Relations, WellSpan Health
Nikki Burns: new Senior Manager, Government & Public Affairs, the LEGO Group
Ilhaam "Illy" Jaffer: new Senior Director, Federal Government Affairs, Association of Accessible Medicines
Brian Garcia: new Communications Director, Congressional Hispanic Caucus
Thomas Donohue: new Government Affairs & Communications Specialist, Monroe Energy
Christina Bailey Shaver: new Manager, Government Affairs – Pacific Northwest, Invenergy LLC
---
Happy Birthdays This Week
Katie DeLand: Director of Government Affairs, Duane Morris Government Affairs
Aaron Zappia: Director of Government Affairs, the Housing Alliance of Pennsylvania
Carly McCain: Deputy Director of Coalitions for Ohio, Americans for Prosperity
Joseph Dooley: State Policy Manager, Google
Cristian Lopez: Advocacy Associate, the Equipment Manufacturing Industry
Katie Dotto: Director of Government Relations, Pennsylvania Homecare Association
Joshua Baca: Vice President, Plastics Division, American Chemistry Council
Want to wish someone a happy birthday or recognize their new job or promotion? Email future suggestions to rjstevens@dmgs.com.
---