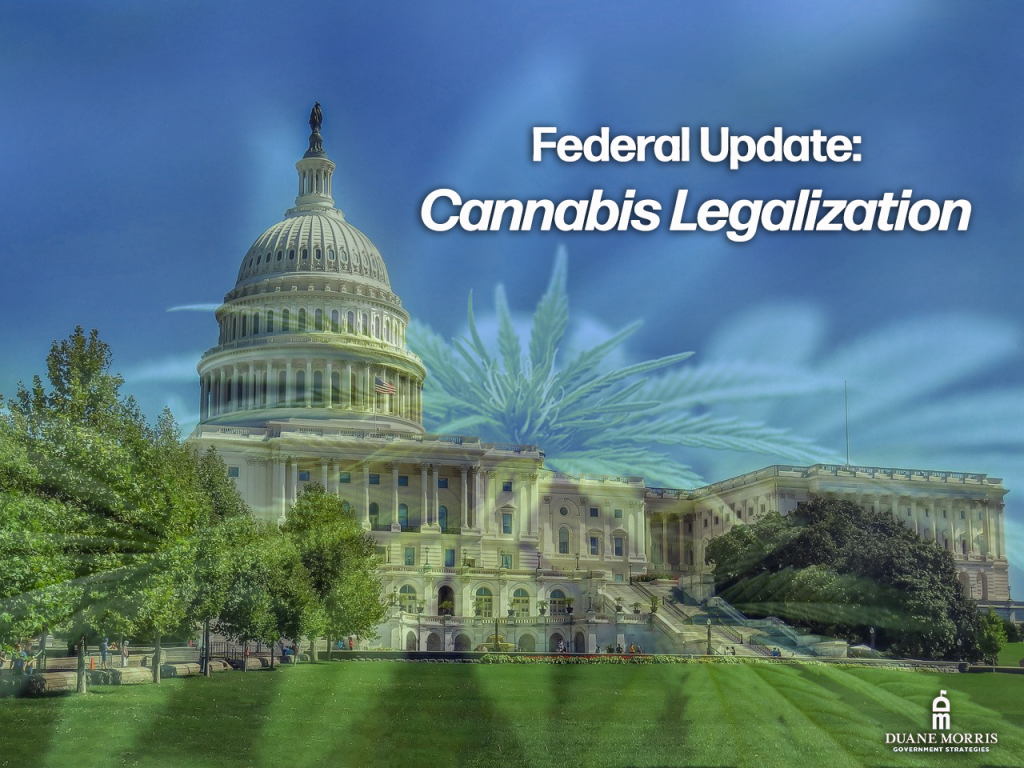 Forty-seven states, four U.S. territories, and the District of Columbia–representing 97.7 % of the U.S. population–have legalized some form of recreational or medical marijuana, including cannabidiol (CBD). However, marijuana products are still prohibited under the federal Controlled Substances Act.
With most states now permitting Americans to make use of marijuana products in some fashion and with a push to legalize marijuana in additional states, the push to decriminalize and legalize marijuana nationwide continues at the federal level in Congress and the Biden-Harris administration.
---
Federal Cannabis Legislation: SAFE Banking Act
Under federal money laundering laws, the federal government can penalize banks and other depository institutions for accepting deposits from a cannabis-related business. Businesses involved in the cannabis industry can also be required to file Suspicious Activity Reports for transactions involving proceeds from marijuana sales.
The SAFE Banking Act would amend federal law to allow banks and credit unions to provide financial services to state-authorized cannabis businesses without federal penalties. The bill is intended to make it easier for marijuana dispensaries and growers, real estate owners, law firms, and other businesses to access the banking system instead of relying on cash transactions.
In the 116th Congress, the SAFE Banking Act passed the U.S. House with a broad bipartisan vote of 321 to 103. H.R. 1996, the SAFE Banking Act, was reintroduced by Representative Ed Perlmutter (D-CO) in the 117th Congress and passed in the House in early 2021.
The House attempted to include the SAFE Banking Act in the National Defense Authorization Act (NDAA). However, the provision was stripped out of the bill during the conferencing to reconcile differences between the House and Senate versions of the NDAA.
---
Federal Cannabis Legislation: MORE Act
Also in Congress is H.R. 3617, the Marijuana Opportunity Reinvestment & Expungement (MORE) Act, introduced by Representative Jerry Nadler (D-NY) and sponsored by over 100 members of the House. The MORE Act would decriminalize marijuana nationally, removing
it from the list of scheduled substances under the Controlled Substances Act and eliminating criminal penalties for an individual who manufactures, distributes, or possesses marijuana.
The MORE Act would also make other changes, including:
Replaces statutory references to marijuana and marihuana with cannabis;
Requires the Bureau of Labor Statistics (BLS) to publish demographic data on cannabis business owners and employees regularly;
Establishes a trust fund to support various programs and services for individuals and businesses in communities impacted by the war on drugs;
Imposes an excise tax on cannabis products produced in or imported into the United States and an occupational tax on cannabis production facilities and export warehouses;
Makes Small Business Administration (SBA) loans and services available to entities that are cannabis-related legitimate businesses or service providers;
Prohibits the denial of federal public benefits to a person based on certain cannabis-related conduct or convictions;
Prohibits the denial of benefits and protections under immigration laws based on a cannabis-related event (e.g., conduct or a conviction);
Establishes a process to expunge convictions and conduct sentencing review hearings related to federal cannabis offenses; and
Directs the Government Accountability Office (GAO) to study the societal impact of cannabis legalization.
---
Calls for Administrative Descheduling
Democratic Senators Elizabeth Warren (MA) and Cory Booker (NJ) also called on the Department of Justice (DOJ) to decriminalize cannabis by removing the drug from the federal controlled substances list in a letter to Attorney General Merrick Garland. The descheduling would allow states to regulate the cannabis substances as they see fit, remedy racial disparities in cannabis law enforcement, and facilitate cannabis-based medical research.
---