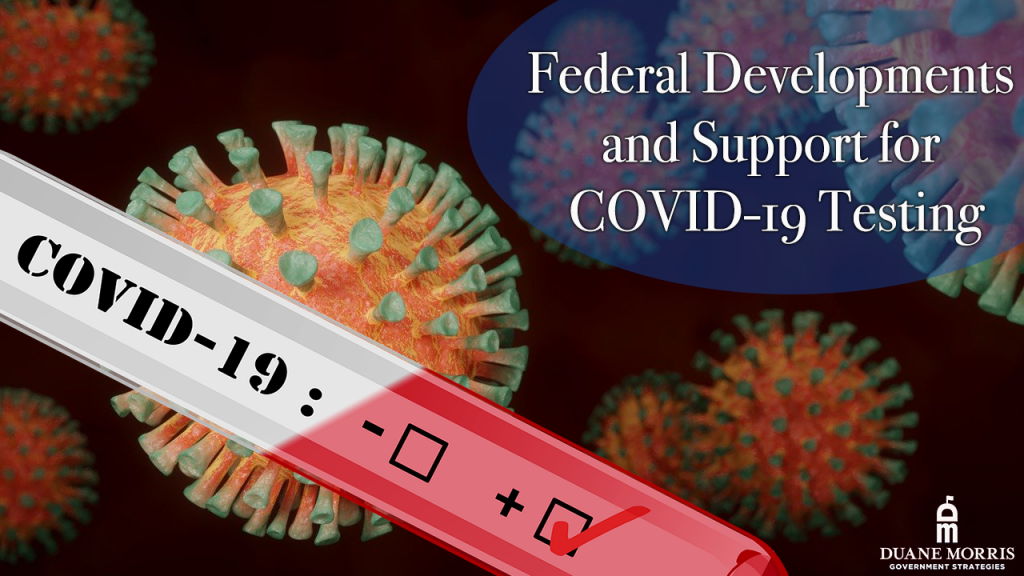 Last year, we provided a breakdown of COVID-19 testing, including a breakdown of diagnostic tests (i.e., PCR tests, rapid antigen tests) and antibody tests. We also covered how COVID-19 tests get authorized for use by the FDA and what actions the federal government took to provide COVID-19 testing services and expand access. Now that the Biden Administration has taken over the federal government's response to the ongoing pandemic, it is time to take another look at COVID-19 testing and look at what has changed since our last update.
---
COVID-19 Testing via Federal Relief
Democrats are quickly pivoting back to President Joe Biden's priorities, notably his $1.9 trillion stimulus plan with Donald Trump's impeachment trial behind them. Lawmakers face a short turnaround to approve another round of stimulus payments, jobless compensation, and funding for schools and vaccines before crucial benefits from the last round of pandemic aid expire on March 14. Democrats must pass a bill out of the House in less than four weeks and get all 50 Senate Democrats to back the legislation.
The House of Representatives was hard at work over the week of February 8, marking up legislation to infuse American households with hundreds of billions of dollars of cash through direct payments and tax credits, a key plank of President Joe Biden's Covid-19 relief package. A dozen House committees worked on different elements of Biden's $1.9 trillion rescue proposal.
The House Energy and Commerce Committee approved more than $46 billion for Covid-19 testing and $20 billion to expand vaccine distribution as part of the Democratic Party's $1.9 trillion coronavirus relief package. The Committee approved the legislation in a 31-25 vote. The measure also includes funding to support research and the public health workforce.
---
Virus Travel Restrictions Weighed by the U.S. for More Countries
The Biden administration is also reviewing whether more nations need to be added to a list of countries facing travel restrictions due to the coronavirus pandemic. State Department officials warned Americans to reconsider international travel amid the pandemic as they may find it harder to return home.
The U.S. is also considering coronavirus testing requirements at land crossings and domestic flights. Should Americans test positive for the virus while overseas, they may need to postpone returning to the U.S. for several weeks.
The comments came days after the Biden administration confirmed that it would continue to restrict travel to the U.S. from the U.K., Ireland, and 26 countries in Europe and extend the ban to South Africa to slow COVID-19 transmission.
---
Pre-Flight Testing
President Biden has ruled out requiring Covid-19 tests for all passengers on domestic flights, for now, saying that the scientific evidence does not support implementing the measure. A White House statement said that the CDC is not recommending testing and that the president will follow their lead.
Rochelle Walensky, the Centers for Disease Control and Prevention (CDC) Director, had suggested that COVID-19 testing before U.S. domestic flights could help reduce transmission, as she urged state and local leaders to maintain steps to limit Covid-19's spread. Marty Cetron, director of the CDC's Global Migration and Quarantine Division, also had said that the agency was "actively looking" into a Covid-19 testing requirement for domestic flights. Transportation Secretary Pete Buttigieg had told Axios the discussion was ongoing. The decision would be "guided by data, by science, by medicine, and by the input of the people who are actually going to have to carry this out."
That suggestion had drawn significant opposition from the airline industry representatives concerned about the lack of testing capacity and the inability of current testing to meet air travel demand.
---
School Testing
President Joe Biden has pledged that most K-12 schools would be back open within 100 days of his taking office. Members of Congress have called for getting classrooms back open, citing concerns over a lower quality of remote instruction. Education Secretary nominee Miguel Cardona said that the national strategy should include surveillance testing for Covid-19 cases on campuses. Cardona also said that states should get a chance to weigh in on federal testing mandates, including how accountability is attached to results. He said mitigation strategies such as testing were critical for reopening.
The CDC recommended that schools should use masks and social distancing to resume in-person learning as soon as possible safely. The CDC has outlined five mitigation strategies that include the proper use of masks, social distancing of six feet where community transmission is high, strict cleaning of classrooms, frequent testing, and rapid contact tracing.
---
Related Articles:
---