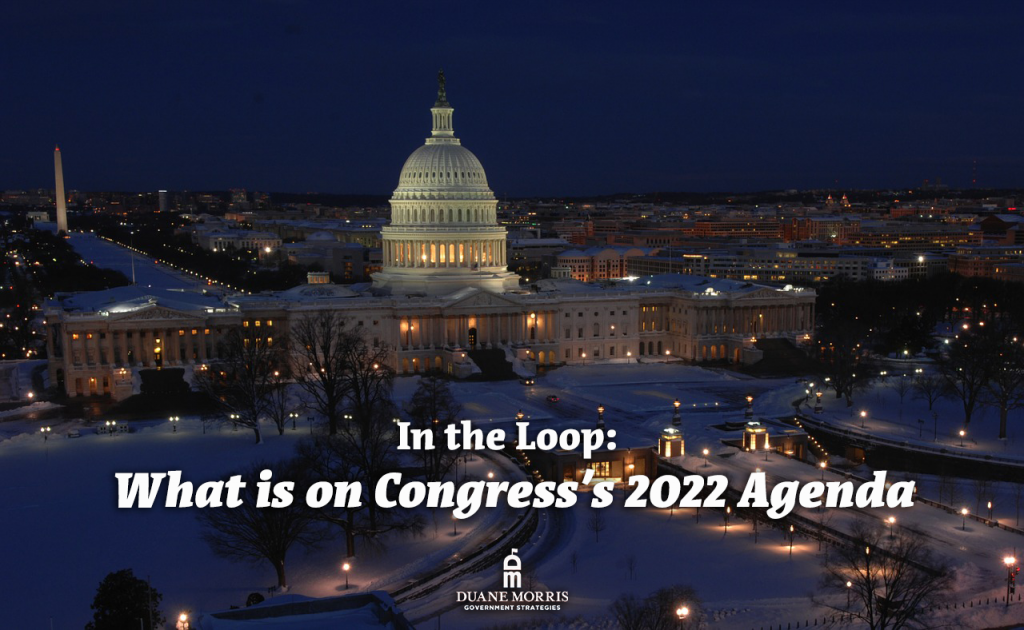 In 2021—the 1st Session of the 117th Congress—Congressional leaders in the U.S. House and Senate managed to pass several significant legislative accomplishments, including a historic infrastructure bill, the $1.9 trillion American Rescue Plan (ARP), and a new federal holiday honoring the freedom of all enslaved people in America. As 2022 continues to get underway with the 2nd Session of the 117th Congress, much remains on the Congressional to-do list. Democratic members of Congress returned still working to negotiate a path forward to advance President Joe Biden's domestic agenda priorities in 2022 as the November 2022 midterm elections loom. Meanwhile, Republicans have returned to decrying the taxes designed to provide the revenue Congress needs to fund the proposed investments in social programs. Taxes, climate initiatives, competition with China will figure prominently as both parties seek legislative success in the 2022 session.
---
A Lookback at 2021
Infrastructure Investment & Jobs Act (IIJA)
Congressional lawmakers finally agreed to a $1 trillion infrastructure investment. The Infrastructure Investment & Jobs Act (IIJA) (H.R.3684), signed into law by President Biden in November 2021, included a five-year reauthorization of surface transportation programs and new infrastructure funding for broadband and water infrastructure.
---
American Rescue Plan (ARP)
Democratic lawmakers also used the Senate's budget reconciliation process to pass another round of COVID-19 relief for the country. The American Rescue Plan Act of 2021 (ARP) (H.R.1319), signed into law by President Biden in March 2021 included direct payments to Americans, funding for state and local governments, expanded health insurance funding, and pandemic unemployment funding extensions. The ARP also provided billions for testing and vaccines, schools, mass transit, and restaurants.
---
National Defense Authorization Act (NDAA)
Congress also completed its annual work on the National Defense Authorization Act for Fiscal Year 2022 (NDAA). The FY 2022 NDAA included $768 billion and notably removed military commanders from decisions related to the prosecution of rape, sexual assault, murder, manslaughter, and kidnapping.
---
2022 Outlook
Build Back Better (BBB)
Senate Democrats are continuing negotiations on their version of the Build Back Better Act (H.R. 5376), which includes critical elements of the Biden economic agenda. The House version of BBB would provide $550 billion for climate change, extend the child tax credit, curb prescription drug pricing, institute a federal paid leave program, and support preschool programs. Sen. Joe Manchin (D-WV), whose vote is required in the 50-50 Senate, said on December 19, 2021, that he could not support that version but is continuing discussions with the White House in search of a compromise measure
---
2022 Appropriations
Congressional apropriators have until February 18 to pass federal government funding for the rest of the 2022 fiscal year that ends September 30. Disagreement persists on topline spendingand there no agreement on a variety of policy riders.
---
Freedom to Vote Protections
The House of Representatives has passed three different voting reform and ethics measures. To date, the House has approved of a comprehensive elections package (H.R. 1), a measure making changes to the Voting Rights Act (VRA) (H.R. 4), and a bill on ethics and foreign election interference (H.R. 5314). The efforts to advance any of those voting packages in the 50-50 Senate have been frustrated by Republican opposition and arcane Senate procedures.
---
Opioids
Lawmakers delayed the expiration of fentanyl-analog drugs ban to February 18, as they continue to seek consensus on a long-term policy. The Biden administration has asked Congress to permanently deem fentanyl-related substances among the most-controlled drugs while simultaneously exempting some arrested for trafficking these newly banned substances from mandatory minimum sentences. Nevertheless, some Congressional lawmakers support the permanent ban, but oppose the criminal justice changes.
---
Medicare cuts
Before the end of 2021, Congress delayed scheduled cuts to Medicare sepdning. Nevertheless, the delays were short-term and sequestration—automatic cuts to federal spending required by the Budget Control Act— would take effect on Medicare on March 31. The end of the year measure also delayed cuts under statutory pay-as-you-go requirements by one year.
---
Key Dates for 2022
| | |
| --- | --- |
| Date | Event |
| February 18 | Federal funding under the December continuing resolution expires, along with other extensions such as a ban on fentanyl-analog drugs |
| March 31 | Delayed Medicare sequestration under the Budget Control Act takes effect |
| May 1 | Student loan interest and payment pause issued by administration ends |
| June 30 | Trade Adjustment Assistance program for U.S. workers fully phases out |
| September 30 | End of fiscal 2022; several major programs expire, including: FDA fees for prescription drugs and medical products Mental health and other programs under the 21st Century Cures Act State grants to improve systems related to the National Instant Criminal Background Check System |
| November 8 | Midterm congressional elections |
| December 31 | Tax credits for biodiesel and renewable diesel expire |
---