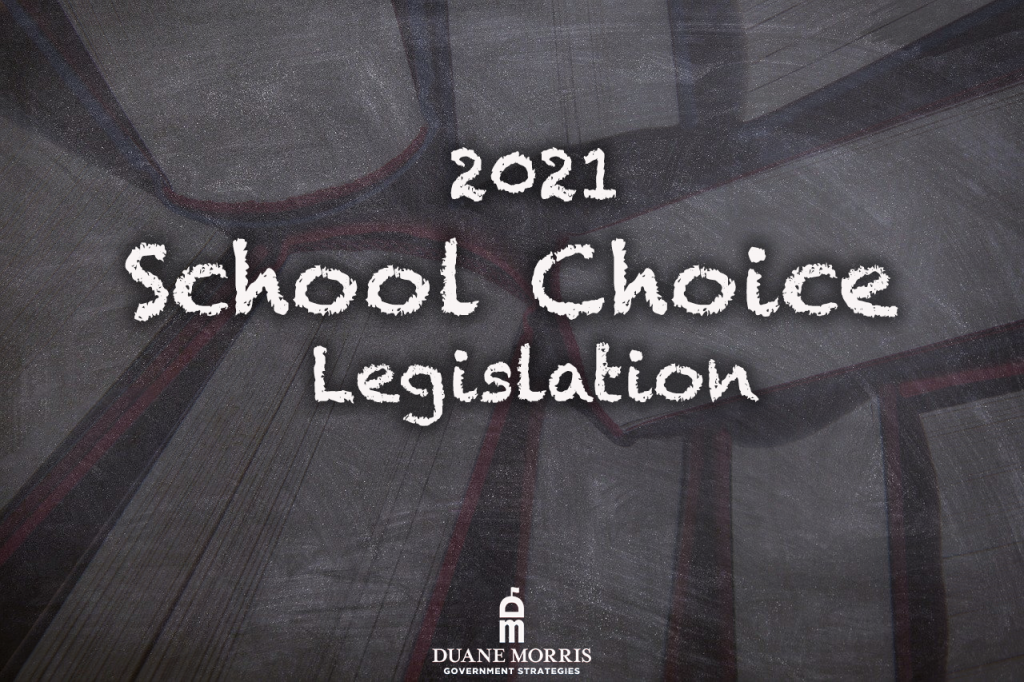 In the year 2021, many states passed new school choice legislation or legislation expanding existing school choice programs.  School choice comes in many different forms across the country. However, almost every state has some system that allows families of K–12 students to choose a school outside of their designated public-school district.  For example, some states offer charter and magnet schools as additional public-school options. Others offer education savings accounts or voucher programs to include private schools.
As of March 2021, there are 27 voucher programs in 16 states and the District of Columbia, six states with education savings accounts, 24 tax credit scholarship programs in 19 states, and several other states that offer charter and magnet schools.
---
Oklahoma Tax Credit Expansion
Titled as a modification to the "Equal Opportunity Scholarship Act," SB 1080 effectively raises the tax credit payout of numerous educational scholarship programs in the state.  The bill raises the cap tenfold, from a payment of $5 million to $50 million, with $25 million going to both public and private schools.
According to the bill, from educational scholarship programs, eligible students can receive up to $5,000.00 or 80% (whichever is greater) of the statewide annual average per-pupil expenditure as determined by the National Center for Education Statistics of the U.S. Department of Education. These scholarships can cover all or part of the tuition, fees, and transportation costs of a qualified school accredited by the State Board of Education. "Eligible student," according to the Oklahoma legislature, refers to a student whose household income does not exceed 300% of the income standard used to qualify for reduced or free lunch.
Additionally, the bill allows public schools to apply for supplemental funding for "innovative educational programs." According to the bill, "innovative educational programs" refer to advanced academic improvements that are not considered part of the regular curriculum of a public school but enhance the coursework or provide early childhood opportunities to students.
The Oklahoma House and Senate passed SB 1080, which Oklahoma Governor Kevin Stittwas signed into law on May 21, 2021.
---
Missouri Empowerment Scholarship Accounts
Several bills were introduced in the Missouri Legislature in 2021 regarding school choice and the expansion of scholarship accounts.  One of these bills, HB 349, would establish the "Missouri Empowerment Scholarship Accounts Program."  These scholarship accounts would largely be funded by "education assistance organizations," charitable organizations in the state of Missouri that are exempt from federal taxation and allocate all their annual revenue toward educational assistance.
According to the bill, money deposited into qualified students' scholarship accounts may be used for the following expenses:
Tuition or fees at a qualified school.
Textbooks required by a qualified school.
Licensed or accredited paraprofessionals or educational aides.
Tutoring services.
Curriculum.
Tuition or fees for a private virtual school.
Fees for nationally recognized examinations related to college or university admission.
Fees for management of the Missouri empowerment scholarship account.
Services provided by a public school, including individual classes and extracurricular programs.
Approved technological devices that are used to meet educational needs.
Fees for summer education programs and specialized after-school education programs.
Transportation costs for mileage to and from a qualified school
Both the Missouri House and Senate passed HB 349, which is headed to Governor Mike Parson's desk.
---
Florida Scholarship Program Expansion
In late March of 2021, the Florida House of Representatives introduced HB 7045.  The bill would make several changes to the already existing Family Empowerment Scholarship program and the Tax Credit Scholarship program in Florida. 
According to the bill, the expansion of the Family Empowerment Scholarship Program would now allow a family of four earning under $100,000 per year to receive full K–12 funding at a school of their choice. Furthermore, eligibility of this provision was expanded to include students in foster care, students of parents serving in the military, and children not currently enrolled in public schools.
HB 7045 also makes several expansions to the current school choice program for low-income families. More specifically, the bill adjusts prior Florida school choice legislation by expanding Florida Empowerment Scholarship eligibility from 300% of the federal poverty level to 375% with an annual growth rate of 1%. The bill was signed into law by Florida Governor Ron DeSantis on May 11, 2021.
---
North Carolina School Choice Legislation: Equity in Opportunity Act
The Equity in Opportunity Act, HB 32, would expand the current voucher and scholarship program in North Carolina.  Currently, eligible students applying for K–12 scholarship grants can only receive an amount up to the cap of $4200.  With the changes made in this bill, that cap would be removed, and eligible students would now qualify for scholarship grants up to 90% of the tuition and fees of the nonpublic school the student wishes to attend.  However, according to the bill, no scholarship would cover greater than 80% of the state's per-pupil funding on education or cover the entire tuition and fees of the desired nonpublic school.
Additionally, HB 32 makes several changes to the voucher program for currently enrolled private school students and first-time voucher recipients. Under the bill, applicants entering second grade would no longer need to be previously enrolled in a public school. Also, the bill would allow for students in grades 3–12 to be eligible for the voucher program even if they are currently enrolled in a private school. The one condition is that the student must have attended a public school in the preceding semester.
Like legislation passed in other states, the bill defines eligible students as those whose family income does not exceed the level required for free or reduced lunch. The North Carolina House passed the bill, which the Senate Committee on Rules and Operations is now considering.
---
West Virginia School Choice Legislation: Expansion of School Voucher Program
West Virginia Governor Jim Justice signed an extensive piece of school choice legislation in March 2021 to greatly expand the state's voucher program.  Effective 2022–2023, HB 2013 would make it so that students are now eligible for $4600 in voucher funding to attend a nonpublic school of their choice. 
Furthermore, the bill would also create new education savings accounts for K–12 students through the Hope Scholarship Fund. Unlike other states with some eligibility guidelines on education savings accounts, every student in West Virginia entering kindergarten or switching out of public school would be eligible. According to the bill, if participation in the Hope Scholarship Program is less than 5% of net public school enrollment, all students, regardless of whether they currently attend or have attended public or private school, will be eligible for the savings account.
---