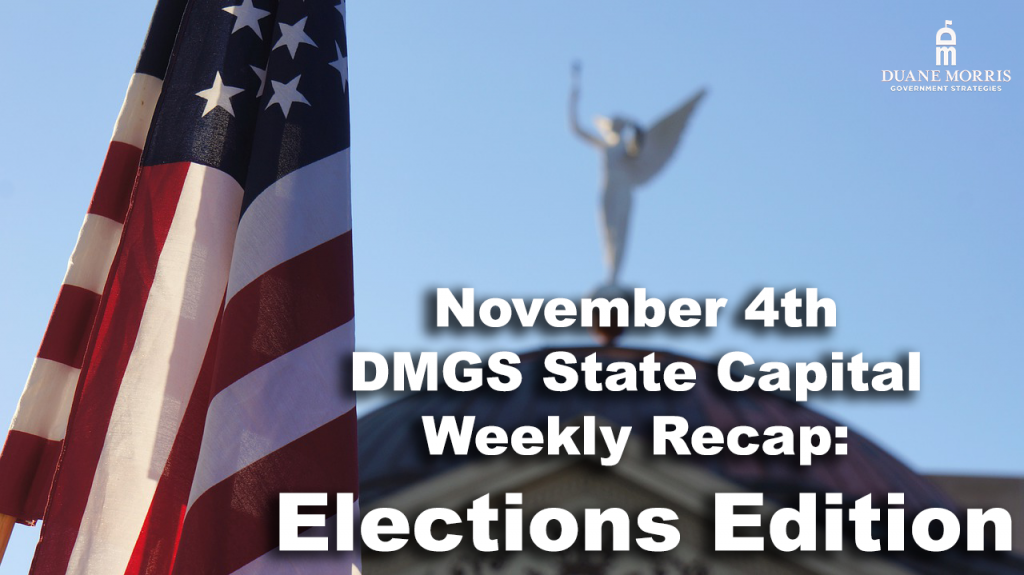 Elections around the country certainly dominated in the news this week, but perhaps no more than the elections in Virginia and New Jersey. Republicans swept all three statewide races (governor, lieutenant governor, and attorney general) in Virginia while also flipping control of the House of Delegates, ending the Democratic trifecta in Virginia. Meanwhile in New Jersey, incumbent Phil Murphy narrowly defeated GOP challenger Jack Ciattarelli and Republicans narrowed the Democratic majority in the legislature.
In non-election news, Georgia lawmakers began a special session this week, Arizona has social equity marijuana licenses available, and Tennessee's COVID special session ended. Learn more about these topics and others below in our State Capital Weekly Recap!
---
Arizona
Arizona has a new marijuana social equity program that will allow minorities, low-level marijuana offenders, and others to purchase one of 26 licenses (out of the total 169 retail licenses issued in AZ).
Read more here.
---
Georgia
Lawmakers in Georgia began a special session on Tuesday to address both legislative and congressional redistricting.
Read more here.
---
Michigan
Gov. Gretchen Whitmer late last week vetoed legislation to tighten Michigan's voter identification law, limit absentee ballot application mailings and bar private funding for election administration.
Read more here.
---
New Jersey
New Jersey Governor Phil Murphy narrowly won his re-election over Jack Ciattarelli. Additionally, the Garden State may have a new Senate President as Senator Steve Sweeney continues to trail his GOP challenger in his re-election bid for his senate seat.
Read more here.
---
New Hampshire
With numerous New England states already legalizing recreational marijuana, some lawmakers in New Hampshire have introduced legislation to do the same.
Read more here.
---
Ohio
Lawmakers in Ohio introduced a similar bill to the Texas-style abortion restriction legislation that would subject clinics, doctors and any others who facilitate abortions to large financial penalties tied to lawsuits citizens could bring against them.
Read more here.
---
Pennsylvania
Two vacancies in the State House of Representatives were filled on Tuesday, but additional vacancies were created with Rep. Ed Gainey (D-Allegheny) being elected as the new Mayor of Pittsburgh, Rep. Tarah Toohil (R-Luzerne) winning a spot on the Luzerne County Court of Common Pleas, and State Senator John Sabatina (D-Philadelphia) winning a judgeship for the Philadelphia First Judicial District.
Read more here.
---
Tennessee
Before Tennessee's special session ended last weekend, lawmakers approved restrictions on both mask mandates and vaccine mandates.
Read more here.
---
Virginia
Republicans swept Virginia's statewide races, led by Republican Glenn Youngkin besting Terry McAuliffe for Governor. Republican Winsome Sears will be the state's new Lieutenant Governor and current House Delegate Jason Miyares will be the new attorney general. The GOP also flipped control of the House of Delegates.
Read more here.
---
This Week's DMGS Posts
---
Capital and Capitol Happenings: Staff on the Move, Promotions, and More
Lillie Brady: new Senior Associate, Cornerstone Government Affairs
Jennifer Witten: new Senior Vice President of Government Relations and Policy, XFERALL
Virginia Gum Hamisevicz: new Vice President of Government Relations and International Programs, the Aluminum Association
Gordy Hulten: new Chief Operating Officer, Illinois Manufacturers' Association
Patrick Killen: new Senior State Government Affairs Representative (U.S. Central Region/New Mexico), Chevron
Eric Vining: new State Legislative Liaison, Texas Military Department
Gene Mulroy: new Commissioner Member, New Jersey State Athletic Control Board
---
Happy Birthdays This Week
J. Dylan Mooers: Senior Associate, Cornerstone Government Affairs
Samantha DeAlmeida: President, Associated Builders and Contractors of New Jersey
Megan Martin: Secretary of the Pennsylvania Senate
Cindy Bass: Philadelphia City Councilmember
Thomas Kutz: Commissioner, Lower Allen Township
Christine Bush: Chief of Staff, Pennsylvania State Senator Mario Scavello
Timothy Eller: Senior Vice President of Outreach and Government Relations, Commonwealth Charter Academy Cyber Charter School
Altmann Pannell: Director of Government Relations, Coca-Cola Consolidated, Inc.
Marvin Deon: Vice President for CA Policy, Common Sense Media
Amit Verman: Associate Director of Government Affairs, Johnson & Johnson
Matthew O'Donnell: Executive Director, Head of Government Affairs and Public Policy, Purdue Pharma
Email future suggestions to rjstevens@dmgs.com