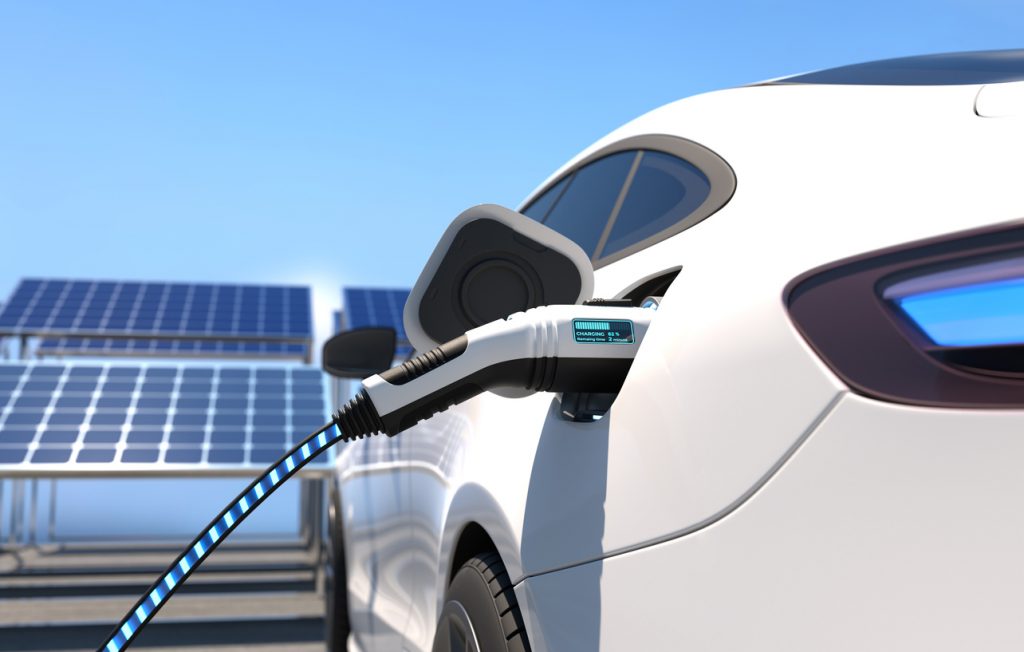 Electric vehicles (EVs) have grown in popularity as the United States attempts to reduce carbon emissions. From 2017 to 2021, the United States grew from 3,000 EV charging stations to 22,000 EV charging stations. President Biden's Bipartisan Infrastructure Deal included a provision that invests $5 billion, creating a national network of EV chargers over the next five years. As part of that effort, the U.S. Department of Transportation aims to expand Level 1, 2, and DC Fast Charging Stations (DCFC). Level 1 charging stations provide 120 Volts Alternating Current (VAC) up to 12 A can be supplied via an SAE J1722 injector. A level 2 charging station provides 240 VAC with currents ranging from 12 A to 80 A, supplied via an SAE J1722 connector. Individual states have also committed to implementing DCFC, which deliver electricity directly to an EV via direct current voltage.
---
Connecticut
Connecticut plans to continue EV growth within the coming years. Legislators introduced HB5117 which would require contracts that affect real estate to make way for the new creation of EV fueling stations. The bill calls for increased tenant access to EV charging stations within buildings and living areas. Legislators highlighted the increased importance of making this service readily available to citizens through the strict application turnaround requirements. Under the bill, when a tenant applies with their homeowner for an EV Charging station, the application would be reviewed like any other parking spot. The rejection would be written and sent back to the customer within 60 days; failure to do so would mean the application was processed successfully, and an EV charging station would be added. Once added, the tenant would have no responsibility to upkeep the charging station or maintain liability coverage. Any violator of this statute would be subject to a $1,000 civil penalty. After a few rounds of amending, HB5117 died in committee. Connecticut still stands to pivot a change to the growth of EV ownership under their State EV Infrastructure Plan published via the Connecticut Department of Transportation. The plan will provide $5 billion in funding for states to deploy direct-current fast-charging EV chargers on highway corridors over five years. Phase 1 of Connecticut's plan focuses on building ten areas with a minimum of four public direct-current fast chargers. Upon completion of the phase, each charger will hold 150kW per port along Connecticut's Interstate.
---
Maryland
Maryland has identified transportation as the single most significant greenhouse gas generator within the state, accounting for 36% of total greenhouse gas emissions. The state has set a long-term goal of raising its current 1% (52,966) EV ownership to 600,000 by 2030, reducing CO2 emissions by 1.61M metric tons. The state currently has 1,158 EV charging stations supplying 3,294 outlets and hopes to improve this volume through legislation. Delegate Marc Korman (D-MD) introduced HB365 on February 3, 2022. The bill aimed to protect the creation of fossil fuel energy systems as an additional construction cost. The legislation would establish a setback requirement for future approval of the construction of new EV charging stations. Anyone constructing an EV charging station would be required to obtain a setback certification from the local governing body. The setback would be granted to a station that remains at least 1,000 feet from an extensive list of other locations (other service locations, church, daycare, hospital). The legislation also aimed to increase charging station availability by declaring that any service site projected to sell 1 million gallons of gasoline per year shall install one EV charging station that provides level 2 charging for each gas pump operated at the service station. After being introduced, the legislation shortly died in committee.
---
New Jersey
New Jersey has worked hard to ensure its EV growth program is highly successful. Legislators introduced A3161 on March 7, 2022. The bill would institute a tax credit equaling 4% of the costs deemed appropriate for a taxpayer applying for development and gaining approval for construction in a transit village. This legislation is a carryover of past bills and currently awaits consideration by the Commerce and Economic Development Committee. Governor Murphy has also launched year three of the 'Charge up New Jersey' program, which encompasses an improved EV charging program and grants provided to offset the purchase balance of EV charging stations. The program also aims to reduce the costs associated with level 1 and 2 charging stations. The state has successfully passed SB2677, which redesigns requirements for parking projects which are mixed-use. The bill also calls for a $25 million increase in available tax credits under the authority of the Economic Development Authority. A mixed-use service station developer can apply for this credit to obtain funding for their project development. Rules and regulations are also set around labor equality, calling for a minimum of 120% of the set minimum wage.
---
Washington
Washington has increased its renewable energy access through EV charging stations to reduce the state's overall carbon footprint. SB5910 accelerates the availability of renewable energy in Washington. The bill established the Office of Renewable Energy to expand renewable energy accessibility. The office must draft a plan and recommendation to send to Governor Jay Inslee (D-WA) by December 1, 2023. The plan must encompass plans specifically around how to proceed with permits, state procurement, and pilot projects based on research and findings. This plan will influence how the state uses $800 million, which must be dedicated to increasing renewable energy access over five years. The fund will also sponsor four regional hubs aiding hydrogen fuel production. Each hub had a proposal submitted on May 15, 2022, and structures must be finished on May 15, 2023. Legislators also introduced HB1793 which supported building EV charging stations. It calls for the protection of applicants against additional fees tied to applying for a charging station. Any approving agency or construction team who violates these rulings can expect up to a $1,000 civil fine.
---