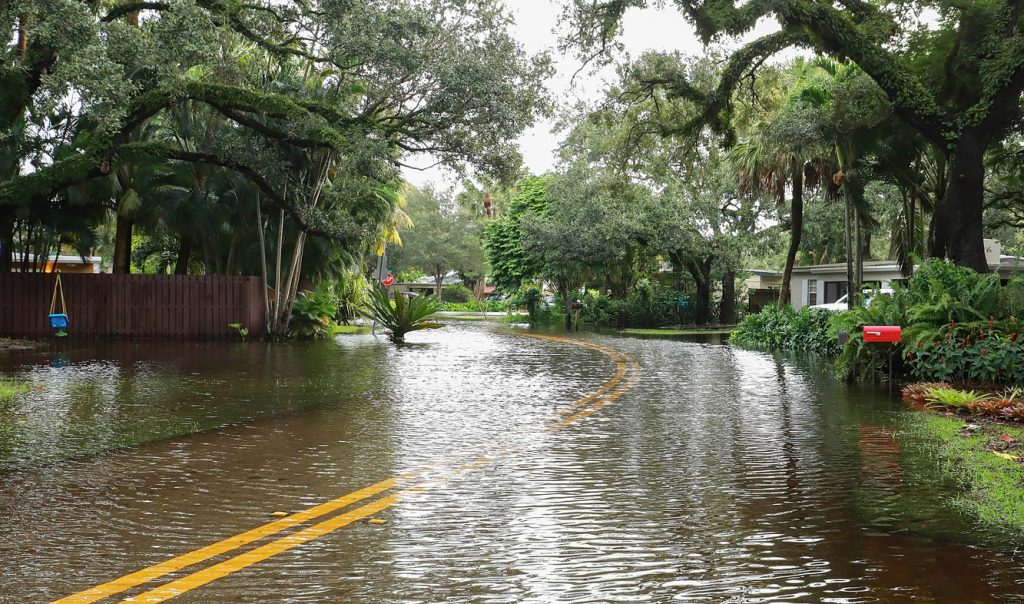 In August 2022, over 10 million Americans were on high alert for flooding after record-setting rainfall in states including Arizona, California, Mississippi, Missouri, New Mexico, and Texas. Flooding has been described as the "number one natural peril" in the United States and, between 1988 and 2017, accounted for an estimated $199B in damages. Now, in an age governed all the more by the mounting stresses of climate change, individuals and organizations such as Munich Re, Pew Charitable Trusts, and First Street Foundation (FSF) are calling for the provision of both private-public risk transfer insurance programs that can ease the financial burden of flood damages on American residents and the adoption of flood risk reduction policies that can harness and improve upon public infrastructure to alleviate flooding's physical effects.
The National Flood Insurance Program (NFIP) is the primary source of residential flood insurance for American property owners. However, only 5% of single-family homeowners in America are insured against floods due to the asymmetric dissemination of information regarding regional flood risk. FSF notes that the NFIP's assessment of properties facing a risk of flooding is underestimated by about 5.9 million, meaning that property owners excluded from the NFIP's count are likely unaware of the risk flooding poses to their property.
Using data from 2021, FSF estimated that 4.3 million properties faced substantial flood risk that could incur a financial loss of $20B a year. Over the next 30 years, flood risk is estimated to cause a private economic loss of $32.3B annually. Flooding disasters, which are only expected to increase in frequency and severity given the exacerbating effect of climate change on natural disasters, are particularly injurious to social and economic wellbeing insofar as they dampen economic productivity, disrupt service and value chains, damage public infrastructure, and heighten the risk of disease as well as food and water insecurity.
Risk reduction efforts, from updating building codes and reinforcing community infrastructure to utilizing "natural infrastructure" to mitigate flooding, offer more opportunities for environmental and economic advancement, and prove very cost-effective––for every $1 spent on hazard mitigation in the US, an estimated $6 in future disaster costs can be saved. Beyond these fiscal benefits, fostering flood resilience promises to increase social benefit for communities, secure physical property, and minimize land erosion. Reliance on forms of natural infrastructure like mangrove forests in coastal flood-prone regions can also raise ecological health by revitalizing native biodiversity and ecosystems.

Several states have recently responded to the demonstrated need for flood resilience and mitigation tactics through legislation to create statewide flood resilience strategies, collect flood risk data, and mitigate flood risk through infrastructural improvement.
---
Florida
In Florida, HB7053, Statewide Flooding and Sea Level Rise Resilience, was passed on May 4, 2022. The bill, effective July 1, 2022, establishes a Statewide Office of Resilience within the Executive Office of the Governor; provides for the appointment and specifies the duties of a Chief Resilience Officer; requires the Department of Environmental Protection, in conjunction with the Chief Resilience Officer, to submit a report on flood resilience and mitigation efforts to the Governor and Legislature; and requires the state's Department of Transportation to formulate a resilience action plan for the State Highway System that will be submitted to the Governor and Legislature. It also makes several revisions to the projects which the Department of Environmental Protection may fund within the Resilient Florida Grant Program, as well as to the vulnerability assessment requisites for noncoastal communities; extends the dates by which the Department of Environmental Protection must complete its statewide sea level rise and flood vulnerability data set and analysis and requires a ranking of projects in the Statewide Flood & Sea Level Rise Resilience Plan.
---
Virginia
In Virginia, HB516, passed on April 11, 2022, implements recommendations first enumerated in the Virginia Coastal Resilience Master Plan (dated December 2021). In addition to offering guidelines for developing a Virginia Flood Protection Master Plan for the Commonwealth and requiring regular five-year updates to the plan beginning December 31, 2022, the bill establishes the Virginia Coastal Resilience Technical Advisory Committee to assist with these updates and lays the groundwork for developing a community outreach and engagement plan that will ensure involvement from vulnerable and affected community residents. The bill also mandates that the Chief Resilience Officer report on the Commonwealth's flood resilience status every two years.
On May 27, 2022, Virginian lawmakers passed HB517, which further clarified the designation and responsibilities of the Chief Resilience Officer by moving the position from under the designation of the Secretary of Public Safety and Homeland Security to the Secretary of Natural and Historic Resources, and by adding provisions which expand the responsibilities of the Chief Resilience Officer in formulating and overseeing the implementation of a Virginia Flood Protection Master Plan and a Virginia Coastal Resilience Master Plan.
---
Tennessee
In Tennessee, SB2525, introduced on February 2, 2022, proposed establishing a Tennessee flood resilience and community preparedness task force. The bill would have charged the task force with identifying current and future flood risks to the state and its citizens, prioritizing eligible flood mitigation projects, coordinating state agencies to identify funding opportunities and efficiencies, and formulating policy reform. The bill made its way to the Senate Finance, Ways, and Means Committee, where it faced deferred action on April 26, 2022, and ultimately died in committee.
---