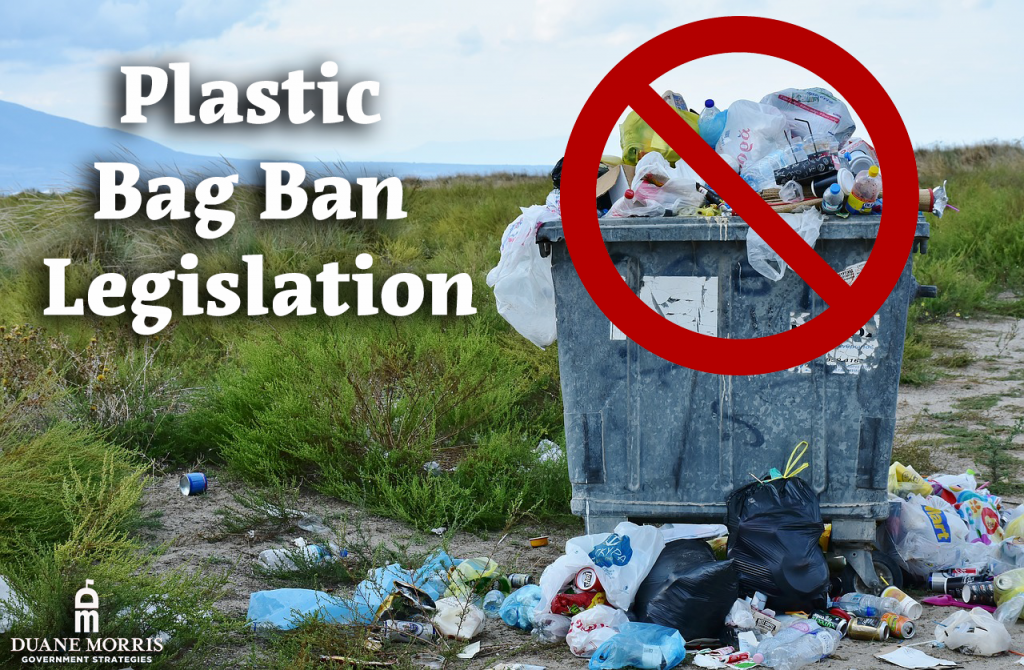 States and municipalities across the country are banning plastic bags in force. In most of the United States, single-use plastic bags cannot be economically recycled. Because of this, bag use prohibition can mitigate harmful environmental impacts on states and municipalities and relieve pressure on waste management systems. However, plastic bag ban opponents argue consumers might seek out "worse" alternatives that could potentially also have negative impacts on the environment. Over the last decade, states large and small have banned single-use plastic bags and implemented additional plastic prohibitions for certain manufacturers and industries, particularly via plastic bag ban legislation.
---
California
In 2014, the California State Legislature enacted SB 270, banning single-use plastic by large retail stores. The legislation prohibits certain large retailers from providing customers with single-use plastic bags unless the store attaches a $0.10 fee each time it uses a bag. Thicker plastic bags are still permitted because they are considered reusable.
In April 2020, plastic bags temporarily reappeared in the Golden State after Governor Newsom issued an executive order allowing the use of plastic bags for 60 days because of the ongoing COVID-19 pandemic. However, the 60-day period expired in June 2020.
---
New York
In 2019, New York enacted SB 1508, banning single-use plastic bags at large retailers and grocery stores. However, the ban exempts plastic bags used for deli counters, newspaper bags, trash bags, and pharmacy prescription bags. Moreover, individual cities and municipalities are permitted to adopt a $0.05 bag reduction fee for carry-out paper bags.
---
Vermont
Vermont banned single-use plastic bags in 2019. The Act prohibits stores and food service establishments from providing carry-out plastic bags at check-out. Additionally, Act 69 also banned single-use plastic straws and stirrers.
Nevertheless, certain types of plastic bag products are still permitted. Stores and food vendors may still use plastic bags for loose objects (such as fruits, vegetables, grains, and coffee), frozen foods, meat, fish, prescription medications, and dry cleaning.
---
New Jersey
In November 2020, Governor Murphy signed S864, prohibiting single-use plastic and paper bags statewide by all stores and foodservice vendors. The legislation will take effect in May 2022. It also bans disposable food containers, disposable cups, and containers made out of polystyrene foam.
However, the bill provides multiple exemptions for certain disposable items, including bags for meat, fish, poultry, and loose produce. Additionally, the ban excludes dry cleaning bags, newspaper bags, and prescription containers.
---
Massachusetts
In 2019, State Representative Lori Ehrlich and State Senator James Eldridge introduced two bills, H.771 and S.462, directed at eliminating plastic bags. Rep. Ehrlich's bill aims to ban single-use plastic bags and require the accessibility of reusable bags across the Commonwealth. Moreover, H.771 is the sixth attempt at a statewide plastic bag ban.
However, the bill is still pending in the Massachusetts State Assembly. In January 2019, the Assembly referred the bill to the Environment, Natural Resources, and Agriculture Committee. In January 2021, Ehrlich's bill was substituted for a new draft. As of March 2021, the Legislature has not taken further action.
---
Montana
In 2019, State Senator Sue Malek proposed two bills addressing plastic bag use in the state. SB 121 would enact a $0.04 fee for each grocery store bag used at check out. Moreover, SB 120 would require restaurants to provide plastic drinking straws only upon request. However, both bills died in standing committee and have not yet been reintroduced.
---
Hawaii
The Hawaii State Legislature has not yet enacted legislation banning single-use plastic bags. However, the most populous counties (Maui, Kauai, Hawaii, Honolulu, and Oahu) have instituted bans on non-biodegradable plastic bags and paper bags containing less than 40% recycled materials.
Additionally, the Hawaii State Senate passed SB 522 in 2019. The bill, if enacted, would ban all single-use plastic utensils and straws and prohibit the use of thicker plastic bags permitted under county ordinances.
---
DMGS Related Articles
---