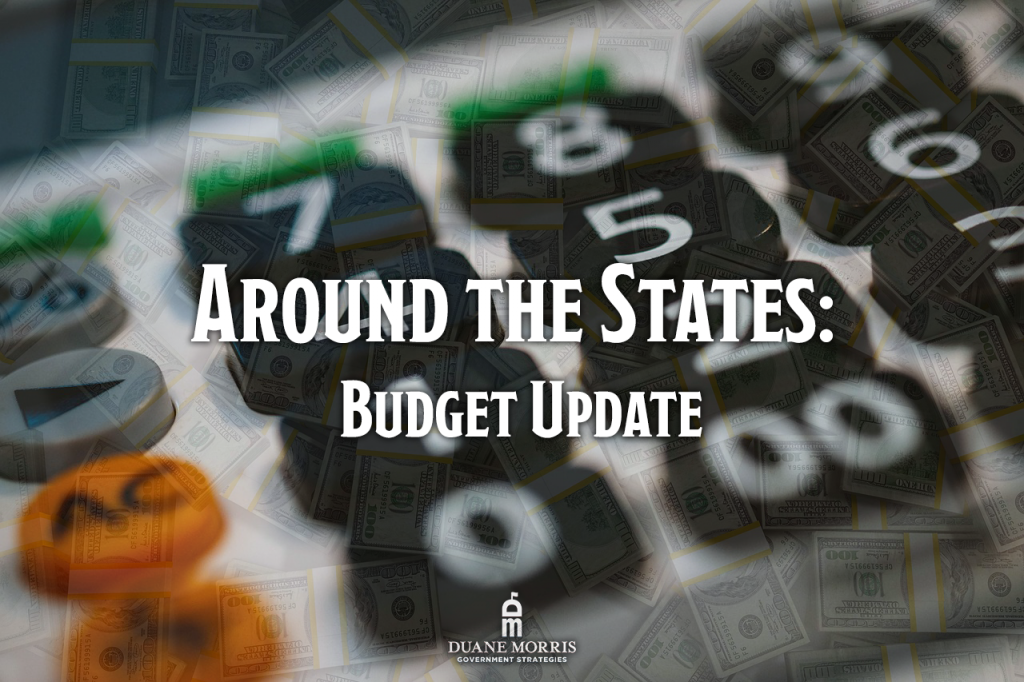 As a result of the COVID-19 pandemic, many workers became unemployed, businesses closed, and tax revenue declined.  To fight the pandemic, states had to increase their spending on public health and economic stimulus.  This drastic rise in spending to fight the economic and public health crisis combined with falling revenues caused many states to experience severe budget shortfalls.  As businesses reopen for 100% capacity and states begin to recover from the pandemic, many state legislatures need to address these previous budget shortfalls and continue to invest in their state's economy in their new budgets for fiscal year (FY) 2022.  As of July, 48 states enacted a budget for FY 2022, while Virginia and Wyoming passed biennial budgets during their 2020 legislative sessions.  This article will examine the state budgets passed by five different states and the investments each state is making to continue to deal with the pandemic, provide for childcare and rent relief, and help small businesses and schools reopen.
---
New York State's $212 Billion Budget
In April of 2021, New York Governor Andrew Cuomo signed the state's FY 2022 budget.  The budget will provide for a largest-in-the-nation $311 billion infrastructure plan, the most expansive in the state's history.  Additionally, the budget plans to make broadband more affordable by offering $15 broadband access to low-income families.  It also makes significant changes to police funding in the state.  According to the budget, it enhances public safety by "Authorizing the withholding of 50 percent of state and federal funds from jurisdictions that fail to produce a police reform plan."
Furthermore, the bill also makes the following changes and investments:
Puts $2.3 billion in federal childcare resources to expand the quality, affordability, and availability of childcare in New York, and enacts the employer child tax credit system
Provides $29 billion towards investments in public and private green energy
Creates a $2.4 billion rent relief program
Enacts patient-centered reforms to enhance the quality of nursing home care
Provides $1 billion in small business and arts assistance
Continues middle-class tax cuts and enacts middle-class property tax credits saving property owners over $2.2 billion this year
Enacts an 11%, or $29.5 billion increase in school aid
---
New Jersey's $46.4 Billion Record High Budget
At the end of June, New Jersey Governor Phil Murphy signed the state's budget for FY 2022.  The budget, which included much of the legislature's proposed add-ons, totals a record-high $46.4 billion in spending and increases year over year spending by about $6 billion from 2020.  Since Governor Murphy was elected in 2018, New Jersey's state budget has increased almost 30%.
According to the budget, the new contributions fund $7 billion for the annual deposit into the public-worker pension fund, a new record total. Total state funding for K-12 education has also risen significantly during Murphy's tenure, totaling $18 billion for FY 2022. The budget also includes an additional $580 million year-over-year increase in funding for direct formula aid to school districts. Furthermore, the latest state budget is devoting almost $300 million to a statewide tax rebate program that will provide $500 rebate checks to almost 750,000 New Jersey families that meet income and dependent qualifications.
To address problems from the pandemic, the budget lays out an additional $450 million plan to provide for healthcare readiness and deal with any future public health emergencies. According to the Office of the Governor, "The budget agreement includes some of the first allocations of the federal American Rescue Plan's State Fiscal Recovery Fund (SFRF) dollars." This includes creating the School and Small Business Energy Efficiency Stimulus Program, which provides $180 million to promote the sustainability of HVAC systems in schools and small businesses. SFRF funds also include money for a $100 million Child Care Revitalization Fund.
---
New Hampshire's $13.5 Billion Biennial Budget
Upon signing New Hampshire's $13.5 billion biennial budget for FY 2022 and 2023, Governor Chris Sununu declared, "Historic tax cuts, property tax relief, and Paid Family Medical Leave delivered all in one sweeping action is a win for every citizen and family in this state."  The budget includes $5.5 billion in General and Education Trust Funds and increases the state's Rainy-Day fund from $121 million to $158 million by 2023. 
Additionally, the state's new budget also includes sweeping school choice reform. With the creation of "Education Freedom Accounts," New Hampshire now allows parents to choose where their school tax dollars go, permitting them to use this money to pay for private tuition or costs associated with homeschooling.
Included in the budget was also a limitation on the governor's emergency powers. The new provision would make it so that the governor must convene a full session with the legislature 90 days into a state of emergency. In this session, lawmakers can vote to uphold or end the governor's state of emergency declaration.
---
Pennsylvania's $39.8 Billion Budget
Pennsylvania Governor Tom Wolf signed the state's new $39.8 billion budget into law on June 30, 2021, the first full-year budget approved by lawmakers since 2019.  Lawmakers also had $7.3 billion in federal funds to work with from President Joe Biden's American Rescue Plan.
The budget includes record funding for education in the commonwealth. More specifically, it includes $300 million for basic education, $30 million for early childhood education, and $50 million in funding for special education needs. The budget also provides an additional $100 million in education resources through the "Level Up Program" for Pennsylvania's 100 poorest school districts.
Regarding the additional $7.3 billion from the American Rescue Plan, only $1.1 billion was allocated through this year's budget, and the rest was put towards the state's Rainy-Day Fund. The budget directs the rest of the state's $2.52 billion budget surplus for future needs into the Rainy-Day Fund as well.
The $1.1 billion from the American Rescue Plan will go towards the following:
$377 million for pandemic response efforts
$282 million for long-term living programs
$279 million for infrastructure improvements
$50 million for higher education
$50 million for affordable housing
---
Wisconsin's $87.5 Billion Biennial Budget
Wisconsin Governor Tony Evers signed the state's 2021-2023 biennial budget on July 8, 2021.  The budget included the most significant tax cut in the state's history, a 10% tax cut for middle-class income earners and $1 billion in annual tax relief to those in the third income bracket.  Furthermore, the governor approved an additional $100 million in federal funding for public schools.  Wisconsin is also receiving $2.3 billion in COVID-19 relief funding from the federal government.
Also included in the budget was:
$465 million in new investments to roads and highways
$129 million for the expansion of broadband access
$104 million to hospitals that operate in low-income areas
$750,000 for crisis team training for law enforcement agencies
$19 million for mental health programs in schools
$72 million in property tax relief to technical colleges
$87.5 million for an increase in wages for employees in the state and the University of Wisconsin System
---