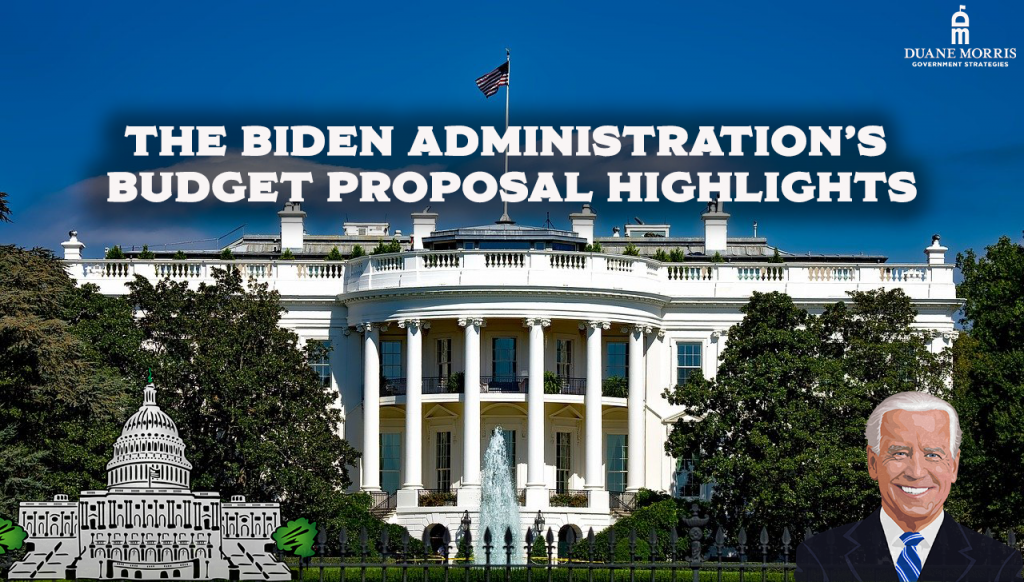 The Biden administration released the full version of its fiscal 2022 budget. The budget calls for $6 trillion in spending and a deficit of $1.8 trillion; deficits would exceed $1 trillion for a decade. It proposes detailed allocations for federal agencies following topline requests in April's "skinny" budget. The budget proposal also reflects similar administration proposals in the American Jobs Plan and American Families Plan.
---
Tax Changes Would Raise Net $2.4 Trillion Over Decade
Proposals from Biden's American Jobs Plan and American Families Plan include:
| | |
| --- | --- |
| Proposal | Revenue (billions) |
| Increasing the corporate tax rate to 28%, from 21% | $857.8 |
| Raising the global minimum tax to 21%, disallowing certain foreign income deductions, and limiting inversions | $533.5 |
| Replacing base erosion tax with rule disallowing deductions related to low-taxed entities | $390.1 |
| Raising the capital gains tax rate to 39.6% for households earning more than $1 million | $322.5 |
| Raising the top marginal income tax rate to 39.6%, from 37%, for individuals earning more than $452,700 and $509,300 for joint filers | $131.9 |
| Making permanent expansions to the earned income credit for childless workers and the child and dependent care credit under the 2021 COVID aid package (Public Law 117-2) | – $209.4 |
| Extending through 2025 expansions to the child tax credit under Public Law 117-2 | – $449.1 |
---
Below, DMGS outlines the five most significant proposed budgets:
Defense Department Would Receive $715 Billion
The total Department of Defense (DOD) budget would be $11.3 billion more than the fiscal 2021 enacted level, a 1.6% increase. The proposed budget funds war costs and overseas operations and would discontinue separate Overseas Contingency Operations (OCO) funding mechanism that has allowed the DOD to skirt spending limitations.
Biden's budget prioritizes China deterrence, Russia security threats, R&D, and climate resilience. The proposal names China as the United States' top geostrategic challenge and notes climate change as a growing security threat. The budget proposes to leverage Pacific Deterrence Initiative and NATO allies to deter China and Russia. It also focuses on hypersonic weapons and existing long-range strike capabilities and proposes "responsible investments" in the U.S. Navy fleet and a divesture of legacy programs and aircraft.
Notably, the budget proposes a modernization of nuclear forces and missile defense systems. The proposal includes $27.7 billion for nuclear modernization: new strike bomber, submarines, ground-based deterrent, and $20.4 billion for missile defense programs, such as sea-based interceptors, AEGIS & THAAD systems.
---
Health and Human Services Would Receive $133.7 Billion
The Biden budget would fund the Department of Health & Human Services (HHS) at $25.3 billion more than fiscal 2021, a 23.4% increase. $50.5 billion would be provided for the National Institutes of Health (NIH), a $9 billion increase, including $6.5 billion to create an Advanced Research Projects Agency for Health (ARPA-H). The Administration for Children and Families (ACF) would receive $30.6 billion, a $5.9 billion increase. The budget also includes: $8.5 billion for the Centers for Disease Control and Prevention (CDC), a $1.5 billion increase; $8.5 billion for the Indian Health Service (IHS), a $2.2 billion increase; $7.8 billion for the Health Resource and Services Administration (HRSA), a $616 million increase; and $3.6 billion for the Food and Drug Administration (FDA), a $322 million increase.
The budget also would make several policy changes, including removing the Hyde amendment language, doubling funding for gun research at CDC and NIH, supporting Medicare drug price negotiations, lowering Medicare age, and a public insurance option.
---
Veterans Affairs Department Would Receive $113.1 Billion
The Department of Veterans Affairs (VA) fiscal 2022 budget total would be $8.5 billion more than fiscal 2021, an 8.2% increase. Biden's plan includes $3.3 billion more for medical care in fiscal 2022, which would go toward Community Care. The Veterans Health Administration already received $94.2 billion from enacted fiscal 2022 advance appropriations. The plan would provide an additional $111.3 billion in advance appropriations for fiscal 2023.
President's budget also requested: $4.8 billion for VA's Office of Information Technology modernization efforts, $3.7 billion for the Veterans Benefits Administration, $2.7 billion to continue modernizing the VA's electronic health record system, and $2.2 billion for veterans' homelessness programs.
---
Education Department Would Receive $102.8 Billion
The Department of Education would receive a total of $29.8 billion more than fiscal 2021, a 40.8% increase. Biden proposes $36.5 billion in funding for Title I grants for schools with many low-income students, a $20 billion increase. The budget increase would fund new Equity Grants to address disparities between wealthier and under-resourced schools. The budget also includes: $27.5 billion for student financial assistance, a $3 billion increase; $17.2 billion for special education programs, a $3.1 billion increase; $6.5 billion for school improvement programs, a $1.1 billion increase, including $1 billion for new School-Based Health Professionals grant program; $3.3 billion for higher education, a $767.1 million increase; and $2.2 billion for career, technical, and adult education, a $153 million increase.
The budget also would increase the maximum Pell Grant by $400 and make DACA recipients eligible; the American Families Plan would provide an additional $1,475 increase.
---
HUD Would Receive $68.7 Billion
The Housing and Urban Development Department would be funded at $9 billion, or 15.2% more than the fiscal 2021 enacted level. The budget would provide $30.4 billion for tenant-based Housing Choice Vouchers, a $5.4 billion increase to aid 200,000 more households, prioritizing those experiencing homelessness and domestic violence. Biden's proposal also includes: $8.58 billion for the Public Housing Fund, a $769 million increase; $3.77 billion for the Community Development Block Grant program, a $295 million increase; $3.5 billion for Homeless Assistance Grants, a $500 million increase; and $1.85 billion for the HOME Investment Partnerships Program, a $500 million increase
The request also includes funds to retrofit properties covered by HUD programs to address energy efficiency and climate change and funding programs to prevent housing discrimination.
---
Next Steps
Congress has not completed the federal budget process on time since the 1990s. The president's budget request is due the first Monday in February, but there is no penalty for missing that deadline. That deadline is challenging for newly-elected presidents to meet. The Biden administration released its skinny budget on April 9 due to the difficulty in transitioning from the Trump addition, especially in the Office of Management and Budget (OMB). The Biden administration's full budget came May 28.
Congress has already begun holding hearings on President Biden's request. April 15 is the regular deadline for Congress to adopt a budget resolution that details the topline spending for the upcoming fiscal year; that resolution can often include reconciliation instructions. Again, though, there is no penalty for missing the deadline, which the House and Senate expect to be met only sometime this summer, in June and July. Once Congress passes a budget resolution, appropriations will markup spending measures—typically 12—that allocate funds for federal departments and agencies. The House plans for that process to begin in June, with floor markups to be held in July. The last critical deadline is September 30, which the end of the federal government's fiscal year. Spending bills (or a continuing resolution) must be passed by the time, or the government can run out of funding and 'shutdown.'
Notably, the fiscal year 2022 will be the first year without spending caps. The Budget Control Act caps had kept defense and domestic spending increases even and modest over the last decade. With the expiration of those caps, budget proposals have called for a 16% increase in overdue domestic spending.
The administration's largely flat defense levels could pose difficulties in the budget process. Progressive Democrats want further spending cuts, moderate democrats want to increase funding slightly, and Republicans support significant increases in defense spending. Republicans also oppose proposed flat defense funding and the Biden administration's proposed domestic funding levels.
---
Related Federal Links
---