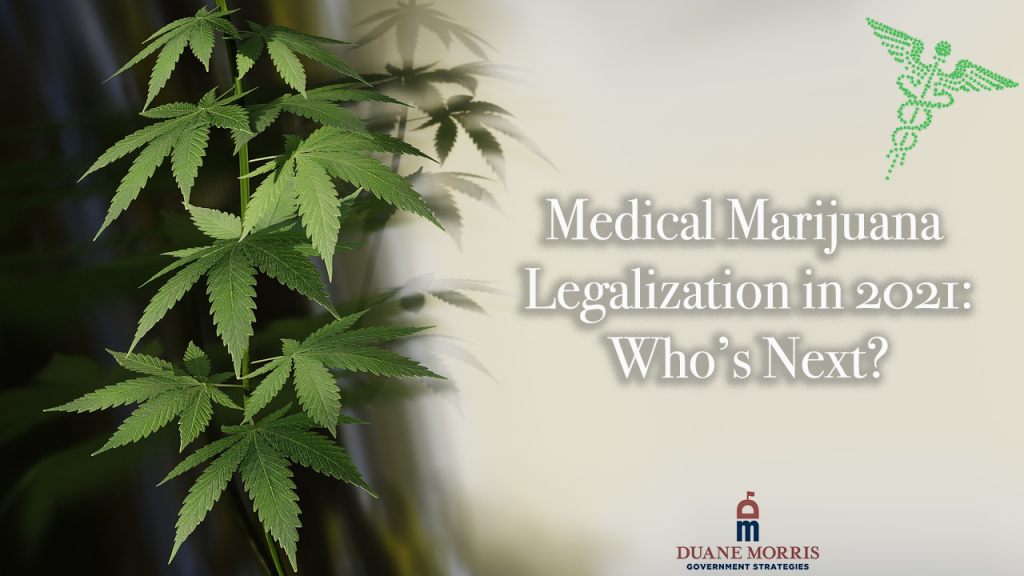 As we noted in November, Mississippi and South Dakota voters approved medical marijuana via ballot measure in their respective states in the 2020 Election. There are now dozens of states which regulate cannabis for medical use, with more potentially on the horizon. While some states have approved medical marijuana legalization via ballot measures, others must rely on the legislative process. In states where medical marijuana is already legal to use, some lawmakers hope to make various changes to medical marijuana, including DUI provisions and the ability to carry firearms while using medical marijuana.
States Covered In This Article:
---
Mississippi
Mississippi voters approved Initiative 65 in the 2020 Election. Per the ballot initiative, qualified patients with debilitating medical conditions as certified by Mississippi-licensed physicians will be able to use medical marijuana. Medical marijuana is only to be provided by licensed treatment centers, with the Mississippi State Department of Health (MSDH) creating regulations. MSDH must adopt final rules and regulations no later than July 1, 2021. MSDH will start issuing ID cards and treatment center licenses no later than August 15, 2021.
The State Board of Health met virtually in early February to discuss laying out the regulations for Mississippi's new medical marijuana program. At the meeting, State Health Officer Dr. Thomas Dobbs expressed confidence that the Board would develop regulations by the July 1 deadline. ID cards and licenses will be available by August 15. However, it is unlikely someone will receive medical marijuana by the August deadline, as it may take weeks to develop the medical marijuana.
Dr. Dobbs plans to travel to other states that have already legalized medical marijuana to learn about their programs. MSDH will also work with other agencies that deal with licensing.
Who will be able to get medical marijuana when it is available? Initiative 65 defined debilitating medical conditions as: cancer, epilepsy or other seizures, Parkinson's disease, Huntington's disease, muscular dystrophy, multiple sclerosis, cachexia, post-traumatic stress disorder, positive status for human immunodeficiency virus, acquired immune deficiency syndrome, chronic or debilitating pain, amyotrophic lateral sclerosis, glaucoma, agitation of dementias, Crohn's disease, ulcerative colitis, sickle-cell anemia, autism with aggressive or self-injurious behaviors, pain refractory to appropriate opioid management, spinal cord disease or severe injury, intractable nausea, severe muscle spasticity, or another medical condition as approved by a physician.
---
Kansas
In early February, Governor Laura Kelly announced legislation to expand Medicaid (Kancare) and establish a regulatory framework for medical marijuana legalization. Kelly noted the legislation is like last year's Medicaid Expansion bill but has removed the re-insurance program and the Medicaid Expansion Surcharge and, in their place, a proposed medical marijuana bill.
Kelly's plan would essentially legalize and tax medical marijuana to fund Kancare, providing healthcare to 165,000 Kansans.
In the legislature, SB 92 was introduced in late January related to medical marijuana legalization. The bill would create the Kansas Medical Cannabis Advisory Board consisting of 18 members. The Board would advise the Secretary of the Department of Health and Environment on the adoption of rules and regulations related to license applications, issuance and renewal of licenses, security issues, testing of medical cannabis and medical cannabis products, education and research of medical cannabis, electronic monitoring of medical cannabis from seed source to dispensing to a patient or caregiver, and policies and procedures related to the receipt, storage, packaging, labeling, handling, manufacturing, tracking, and dispensing of medical cannabis and medical cannabis products.
SB 92 also stipulates that a patient ID card and renewal fee cannot exceed $25. ID cards may not be issued to anyone under the age of 18 unless they submit written recommendations from two medical providers that they have a qualifying medical condition and their parent or legal guardian obtains a caregiver ID card. A similar bill was introduced in the state House as well.
Unlike Mississippi, the Kansas constitution does not allow ballot referendums, so lawmakers will have to act on both medical marijuana legalization and Medicaid expansion on their own.
---
Idaho
Idaho's legislature is facing two dueling measures related to medical marijuana legalization.
One bill recently discussed in a House Health & Welfare Committee meeting would strictly regulate medical marijuana, stipulating that only those over the age of 21 who have one of 16 medical conditions would qualify. Under the bill, qualifying medical conditions include cancer, AIDS, multiple sclerosis, certain terminal diseases, etc. Further, up to 28 pharmacy sites in Idaho would dispense medical cannabis, and patients would be limited in how much medical cannabis they could purchase per month. The bill would also regulate how much THC the medical cannabis could contain.
In early February, Idaho's Senate passed Senate Joint Resolution 101 by a 24-11 vote (needed two-thirds to pass). The resolution proposes an amendment to the state Constitution prohibiting the production, manufacture, transportation, sale, delivery, dispensing, distribution, possession, or use of certain psychoactive drugs, including marijuana. The resolution needs the approval of two-thirds of the House before being placed on the ballot in the 2022 election.
---
Pennsylvania
In 2016, Pennsylvania achieved medical marijuana legalization when Governor Tom Wolf signed the state's Medical Marijuana Program into law. While the program has existed for over four years, lawmakers seek to make various changes.
Introduced in early February, SB 167 would remove DUI penalties for legal, medical cannabis use where the use did not actually impair the operation of a motor vehicle. The bill's sponsor notes that Pennsylvania has a "zero tolerance" driving under the influence law, so those legally prescribed medical marijuana by a physician risk being arrested, prosecuted, and convicted if caught driving a vehicle. Specifically, the bill would require proof of actual impairment, similar to a Schedule II prescription drug, as the basis for a DUI conviction.
One bill in the introduction process aims to tackle a tax anomaly impacting medical marijuana businesses in the Keystone State. The Internal Revenue Code does not allow businesses to deduct expenses from their income for federal tax filings if their income is tied to either Schedule I or II substances, including medical cannabis. Such a rule impacts how medical marijuana businesses calculate their Pennsylvania Corporate Net Income tax because the state tax is based on the net income reported on federal tax filings. Therefore, legislation being introduced would allow licensed Pennsylvania medical marijuana businesses to deduct expenses from their taxable income for the Pennsylvania Corporate Net Income Tax.
Another bill would permit a school nurse to act as a secondary caregiver for a child, allowing them to administer medical marijuana. The bill would also waive the $50 caregiver fee for school nurses.
---
Virginia
Much attention is being paid to state lawmakers in Virginia, who are taking steps to legalize recreational marijuana. In the first week of February, lawmakers voted on marijuana legalization, paving the way for retail sales to begin in 2024. However, medical marijuana legalization already happened a few years ago.
Former Governor Terry McAuliffe signed HB 1445/SB 1235 into law in 2015, which decriminalized the use of cannabidiol oil and THC-A oil by patients with epilepsy. In 2020, lawmakers voted to replace the terms cannabidiol oil and THC-A oil with a more general "cannabis oil," allowing dispensaries to sell products with higher THC levels. Lawmakers further supported allowing the state's cannabis processing facilities to open up to five additional dispensaries to sell medical marijuana products.
---
Minnesota
While Minnesota lawmakers already tackled medical marijuana legalization, the state government still lists medical cannabis as a Schedule I drug. A bill in the introduction process would make medical cannabis a Schedule II drug.
The bill's sponsor argues such a change is necessary because, as someone registered in the state's medical cannabis program, he cannot renew his permit to carry a gun or legally use a firearm for hunting in the state. The bill would allow someone taking medical marijuana in Minnesota to renew their carry permit and hunt with a firearm.
---