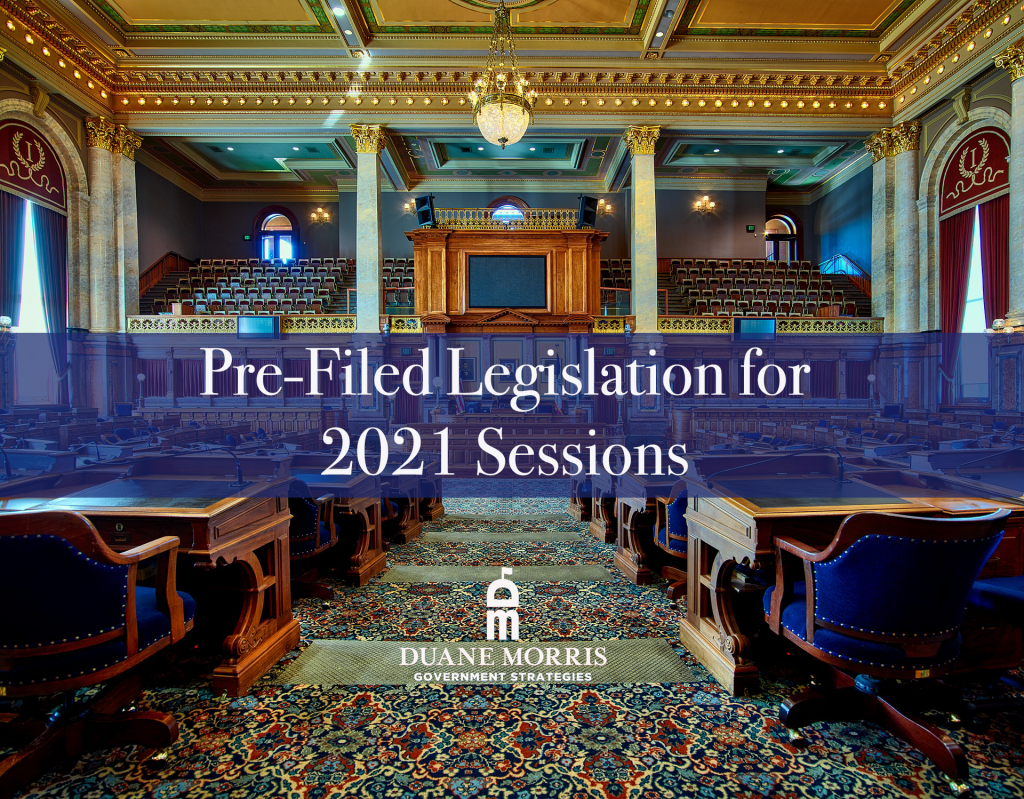 In 2021, every state legislature in the country will meet, with the vast majority beginning their sessions in January. While lawmakers might not meet until next month (or later), most states allow lawmakers to prepare pre-filed legislation. Only 13 state legislative bodies do not allow for the pre-filing of legislation.
Pre-filing legislation allows bills to be prepared before a regular session, increasing the legislative process's efficiency.
Pre-filing legislation also gives advocates a jump-start on advocacy and government affairs efforts. Learn more about advocating in the age of COVID-19 here, or how to interact with lawmakers in grant-writing efforts here.
---
Texas Pre-Filed Legislation: Criminal Justice Reform, Ending DST, and Expanding Medical Marijuana
Texas lawmakers started pre-filing legislation on Monday, November 9. 549 bills were pre-filed the first day. Bills pre-filed include:
---
Virginia: From Unmanned Aircraft Registration Requirements to Voter Registration Requirements & More Pre-Filed Legislation
Virginia lawmakers also pre-filed a myriad of legislation heading into the 2021 session. This includes:
---
Florida: Regulatory Reform, Repealing Confederate Holidays, & More Pre-Filed Legislation
Florida's 2021 legislative session may not begin until March 2, but lawmakers are already introducing legislation on various topics. In the Florida House, a member may not file more than seven bills for a regular session. Of the seven bills, lawmakers must approve at least two for filing with the Clerk no later than noon on January 29. Bills introduced thus far include:
---
Iowa: Music Therapy Legislation
One bill is currently listed under the Iowa legislature's "pre-filed" bills. The bill addresses music therapy. The bill defines "music therapy" as the clinical and evidence-based use of music interventions to accomplish individualized goals for people of all ages and ability levels within a therapeutic relationship by a music therapist.
The bill stipulates a person shall not profess to be a music therapist or board-certified music therapist or use any initials, words, letters, abbreviations, or insignia indicating or implying they are a music therapist unless they hold and maintain the music therapist board-certified credential granted by the certification board for music therapists or is designated as a registered music therapist, certified music therapist, or advanced certified music therapist and is in good standing on the national music therapy registry.
Anyone who recklessly, knowingly, or intentionally violates this bill is guilty of a simple misdemeanor, punishable by confinement for a maximum of 30 days or a fine of between $105 and $855.
---
Missouri Pre-Filed Legislation: From Allowing Sports Wagering to Penalties for Campaign Yard Sign Theft or Destruction
Missouri lawmakers are already pre-filing legislation as well before the session starting on January 6. Legislation pre-filed includes:
---
Pennsylvania Pre-Filed Cosponsor Memos: From Local Police Radar to Voter ID
Keystone State lawmakers began sending out co-sponsor memos to their colleagues for the 2021 session on December 1. Memos sent out include new bills, as well as bills from the last session.
---