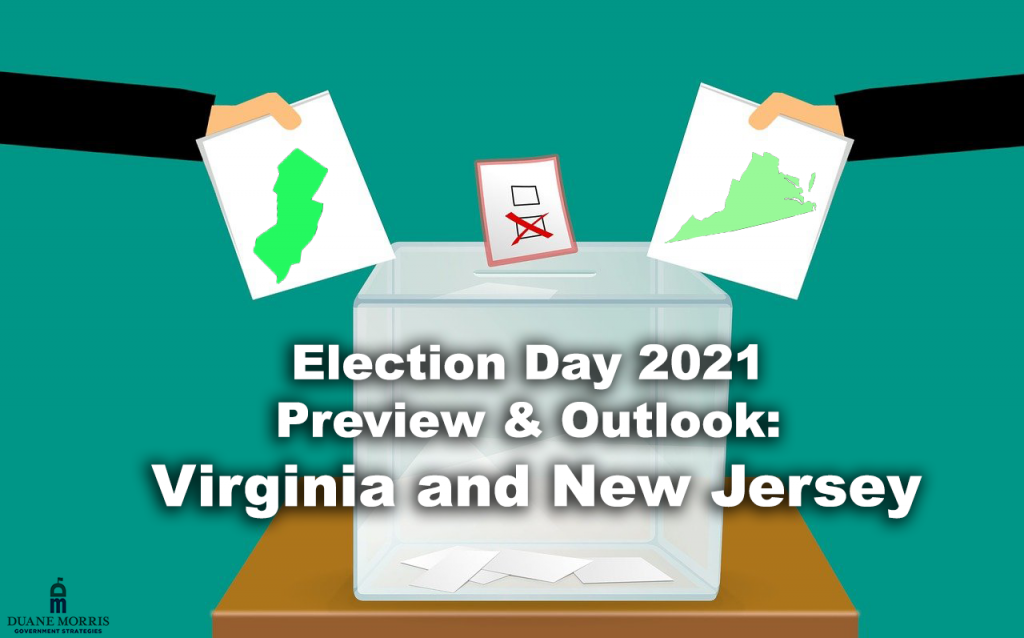 After several weeks of voting, tomorrow is the last day that polls are open for the 2021 elections across the country.  While this year is not a presidential election or even Congressional midterm election year, voters will decide many critical state and local races across the country.  Notably, voters in Virginia and New Jersey have gubernatorial elections.  Top issues for voters this year include COVID testing, masking requirements, critical race theory, among others.
Many within both parties view the two gubernatorial elections as precursors for what 2022 may bring.  With the RealClearPolitics (RCP) polling average for President Joe Biden's job approval at 51.8% disapproval (to 42.7% approval), Republicans are hopeful heading into Tuesday, especially in Virginia where Republican nominee Glenn Youngkin has taken a lead in the polls over former governor Terry McAuliffe in recent weeks.
---
Virginia 2021 Election Preview
Virginia governors are prohibited from serving consecutive terms, unlike many states across the nation, but may serve non-consecutive terms. Current Governor Ralph Northam (D) was not permitted to run for governor this year. Instead, Democrats nominated former governor Terry McAuliffe (previously served 2014–2018) in the primary, and Republicans nominated Glenn Youngkin.
McAuliffe is hoping to become only the third former governor to be elected in a non-consecutive term in Virginia since 1830.
While McAuliffe held a consistent polling lead throughout the year and into October, a FOX News poll from 10/24–10/27 showed Youngkin with an eight-point lead over McAuliffe.  Another poll from InsiderAdvantage from 10/27–10/30 showed Youngkin with a two-point lead over the former governor.  Overall, RCP has Youngkin at +1.6 points over McAuliffe.
President Biden won Virginia in the 2020 presidential election by over ten percentage points over former President Donald Trump, and Governor Northam won his 2017 election with 53.90% of the vote compared to 44.97% for Republican nominee Ed Gillespie.
During the June 2021 primary elections, Democrats held a 55-seat majority to Republicans' 45 seats in the House of Delegates.  All seats are up for grabs tomorrow, and this will be the first election in over 20 years that the Democrats will defend a majority in the House after they flipped control of the chamber two years ago.
Democrats hold a narrow edge in the upper chamber with 21 seats to Republicans' 19 seats.  State Senate elections were held in 2019 and will not be held again until 2023.
---
New Jersey 2021 Election Preview
Unlike Virginia, New Jersey governors are permitted to run for a second consecutive term. This year, Governor Phil Murphy is facing off against Republican nominee and former state assembly member Jack Ciattarelli.
RCP's polling average from 10/15–10/28 shows Governor Murphy with a +8.7-point margin over Ciattarelli.
Governor Murphy won his first election four years ago by besting former Republican lieutenant governor Kim Guadagno, 55.7% to 42.2%, and President Biden won the state over Trump by nearly 16 percentage points.
Moving to the state legislature, Democrats currently have veto-proof supermajorities in both legislative chambers.  In the Assembly, Democrats hold a 52-28 edge over Republicans and a 25-15 edge in the Senate. Democrats have maintained control of both legislative chambers since the early 2000s.
Three incumbent General Assembly members were defeated in the June primary election, but no incumbent senators lost in the June primary election.
---