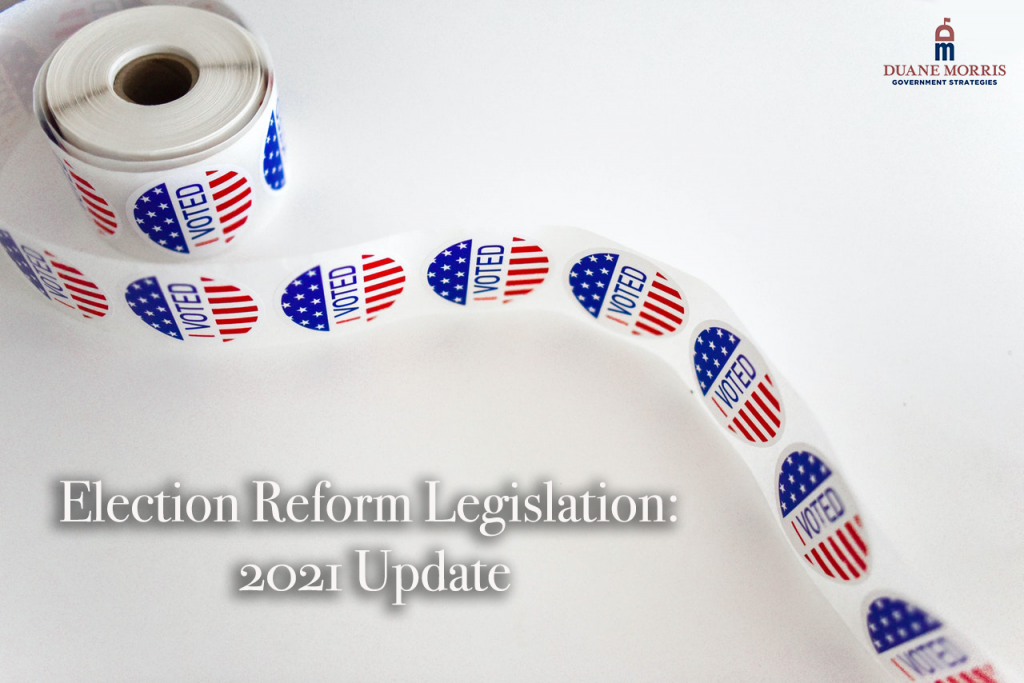 Because of the COVID-19 pandemic and subsequent safety protocols enforced, many states improved voters' ability to cast ballots in the 2020 election.  States rapidly expanded their mail-in voting eligibility, extended voter registration deadlines, and allowed voters to drop off mail-in ballots at secure "drop box" locations. As a result of the 2020 election and its aftermath, as well as circumstances surrounding the pandemic, some states are attempting to either pass various pieces of election reform legislation by making permanent improvements for voting accessibility, or putting in more voting-related restrictions.  Some state legislatures have passed bills that would continue universal mail-in voting and widespread drop box access, while others are limiting or scaling back such voting methods.
---
Florida Election Legislation
SB 90, which passed the Florida Senate 23-17 and the State House 77-40, was signed into law by Governor Ron DeSantis on May 6, 2021.  According to the bill, many changes would be made to the drop box system, placing more restrictions on who can drop off an individual's ballot, requiring that drop box locations be chosen at least 30 days before an election, and mandating that election officials supervise drop boxes while they are open.
Additionally, further restrictions are placed on who can hand voters items, either election-related material or food and water, while waiting in line at their polling place. The bill prohibits giving voters items within 150 feet of the ballot box. However, volunteers or staff present at the polling place can provide "nonpartisan assistance" to voters in the presence of an election supervisor.
The new law also allows each candidate to have one watcher present during canvassing board meetings, which can lead to overcrowding and slowing ballot tabulation.
Lastly, the bill changes the mail-in voting process in Florida, "limiting the duration of requests for vote-by-mail ballots to all elections through the end of the calendar year of the next regularly scheduled general election."
---
Texas Election Bill
In Texas, Republicans state lawmakers introduced SB 7 to limit early voting hours, curtail local voting options, and further tighten voting by mail, among several other provisions.
The bill would curtail mail-in voting by making it a felony for local officials to proactively send mail-in ballots or other early voting material to voters who did not request them. Furthermore, the bill would require that individuals voting by mail present an acceptable form of identification, either a driver's license or social security number.
SB 7 would also make several changes to the role of poll watchers at polling places on election day. For example, previous Texas law made it so that poll watchers could be "conveniently near" election workers and activity. Upon passage of the bill, poll watchers would be able to observe "near enough to see and hear" election activity and workers. Texas Republicans are also pushing broad new criminal penalties for election workers who are found to have impeded poll watchers.
SB 7 passed both the Texas State House and Senate in party-line votes and will be sent to Governor Greg Abbott's desk for approval.
---
Maryland Absentee Ballot Legislation
In Maryland, HB 1048 and SB 683 have passed both the State House and Senate.  Both bills would establish a permanent absentee ballot list, making it so that once voters are on the list, they will receive annual ballots by mail, the internet, or via fax.  Also, each bill would continue using drop box locations for mail-in ballots and include additional considerations for choosing drop box locations.
When choosing drop box locations for future elections, local boards of election must consider accessibility to "historically disenfranchised communities, including voters with disabilities, cultural groups, ethnic groups, and minority groups."
HB 745, another bill that passed both the Maryland State House and Senate, would increase the number of early voting centers statewide. More specifically, the bill would clarify the process by which local boards of election and governing bodies in each county obtain approval for one additional early voting site than is required by law. In establishing additional early voting sites, local boards of election must also consider the site's accessibility to historically disenfranchised voters, proximity to dense concentrations of voters, and its accessibility by public transportation.
---
Nevada Universal Mail-in Legislation
Like Maryland, Assembly Bill 321 in Nevada, which was approved by Governor Steve Sisolak in early June, would automatically send mail-in ballots to every registered voter in the state no later than 14 days before an election.  Additionally, the bill would revise previous Nevada law applying to the postmark date of mail-in ballots.  Previously, mail-in ballots needed to be postmarked on or before the election day and could be received up until the seventh day following the election.  Under the changes with this bill, ballots postmarked on or before election day now must be received by 5 p.m. on the fourth day following an election. Furthermore, A321 requires the county and city clerk to establish ballot drop boxes at every polling location.
On a different note, Assembly Bill 126, signed by Governor Sisolak on June 11, would move Nevada ahead of Iowa as the "first in the nation" primary state.  The bill would also change Nevada from a caucus to a presidential primary.
---
Georgia Election Legislation
Like Texas and Florida, Republican state lawmakers in Georgia recently introduced their own election reform legislation.  SB 202 would establish an identification requirement for voting by mail in Georgia.  For those who do not have a state-issued ID, voters would be required to submit a social security number, a US passport, a current utility bill, or a bank statement.
Additionally, the bill would make ballot drop boxes a permanent part of Georgia elections, but they will only be open during the early voting period. Each county is required to have at least one drop box, but may have more, "totaling the lesser of either one drop box for every 100,000 active registered voters in the county or the number of advance voting locations in the county."
Regarding early voting, SB 202 establishes an additional Saturday to the early voting period (now totaling two), and if necessary, gives counties the option for one or two extra Sundays of early voting.
SB 202 passed both chambers of the Georgia legislature and was signed into law by Governor Brian Kemp on March 25, 2021.
---