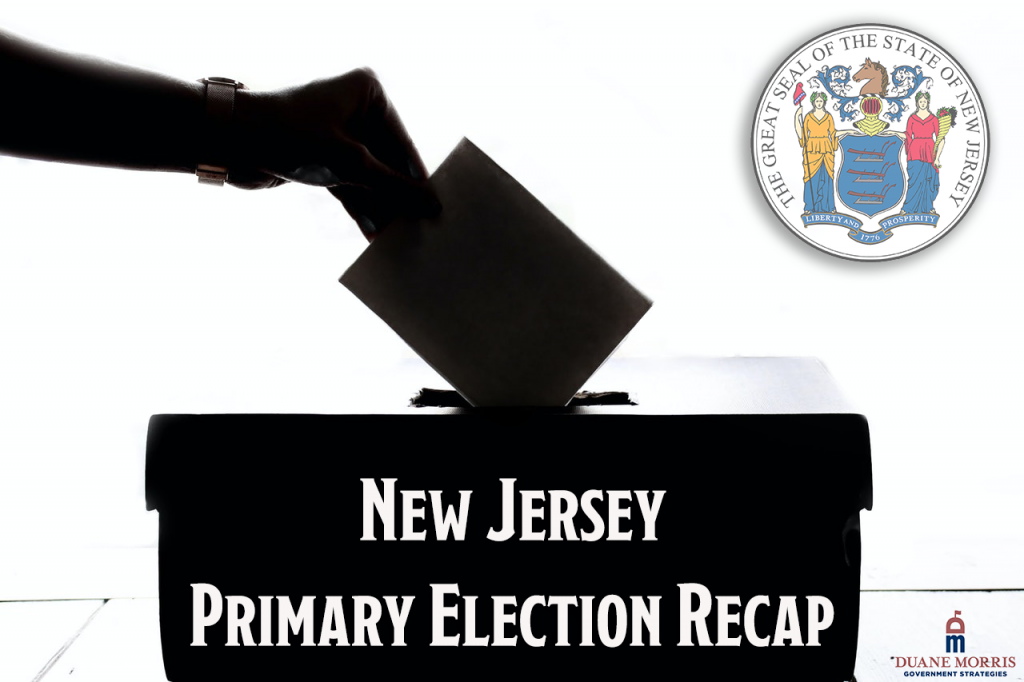 The New Jersey Primary Elections were held on June 8. New Jersey and Virginia are the only states to have gubernatorial races this year, as well as state legislative races. Presently, Democrats maintain a trifecta in New Jersey, controlling the governor's office, state Senate, and state Assembly. The state Senate currently has 25 Democrats and 15 Republicans while the Assembly has 52 Democrats and 28 Republicans.
---
Governor's Race: GOP Picks Ciatrarelli to Take on Murphy
Former state Assemblyman Jack Ciattarelli took first place in a four-way GOP primary and will face off against incumbent democratic Governor Phil Murphy in November. Ciattarelli garnered over 158,000 votes, or 49.4%, compared to 25.9% for pastor Philip Rizzo, 21.5% for engineer Hirsh Singh, and 3.2% for former Franklin Mayor Brian Levine. Both Rizzo and Singh ran as "pro-Trump" candidates and Singh casted Ciattarelli as "anti-Trump." Ciattarelli also carried every single county in the Garden State and outspent his three opponents by five times.
Ciattarelli also sought the GOP nomination for governor four years ago, coming in second place (30.99%) to former Republican Lieutenant Governor Kim Guadagno (46.70%) in a five-way primary race.
Murphy, who ran unopposed in the Democratic Primary, won his first term four years ago by besting Guadagno, 56% – 41.9%.
---
New Jersey Primary Election: Legislative Primary Races
The New Jersey state Senate and state Assembly are two of only three state legislative chambers, out of 99 across the country, holding elections this year. In the June 8 primary elections, the most watched legislative races were in the 37th district, particularly in the race to succeed retiring Democrat and Senate Majority Leader, Loretta Weinberg. Two incumbent Assembly members went head to head – Assemblyman Gordon Johnson and Assemblywoman Valerie Vainieri Huttle – for the Democratic nomination to succeed Weinberg. Johnson, who was endorsed by the Bergen County Democratic Committee, bested Vainieri Huttle, who was backed by the more progressive Real Bergen Democrats, by a 3-1 margin.
In the state Assembly, three incumbents were defeated in their primary elections: Republicans Serena DiMaso (Assembly District 13) and BettyLou DeCroce (Assembly District 26) and Democrat Nicholas Chiaravalloti (Assembly District 31).
---
November Outlook
A recent poll by Fairleigh Dickinson University, the first public poll of the 2021 New Jersey general election, shows Murphy leading Ciatterelli. The poll specifically has Murphy up 15 points, 49 to 33.
According to the FDU poll, Ciattarelli is an unknown quantity to most voters. 70% of voters in the poll said they don't know enough about him to have an opinion at all. 16% viewed Ciattarelli favorably, compared to 14% unfavorably.
As for Murphy, the same poll found the governor with 50% approving of the job he is doing, with 39% disapproving. Breaking down the 50% approval rating, 81% of Democrats approve the job Murphy's doing, compared to 11% of Republicans also approving.
Murphy hopes to break a streak for incumbent democratic governors in the Garden State: no Democrat has been re-elected since 1977. While there are more than one million Democrats compared to Republicans in New Jersey (2.5 million – 1.4 million), there are over 2.4 million unaffiliated voters.
---
Other Election Related Articles
---