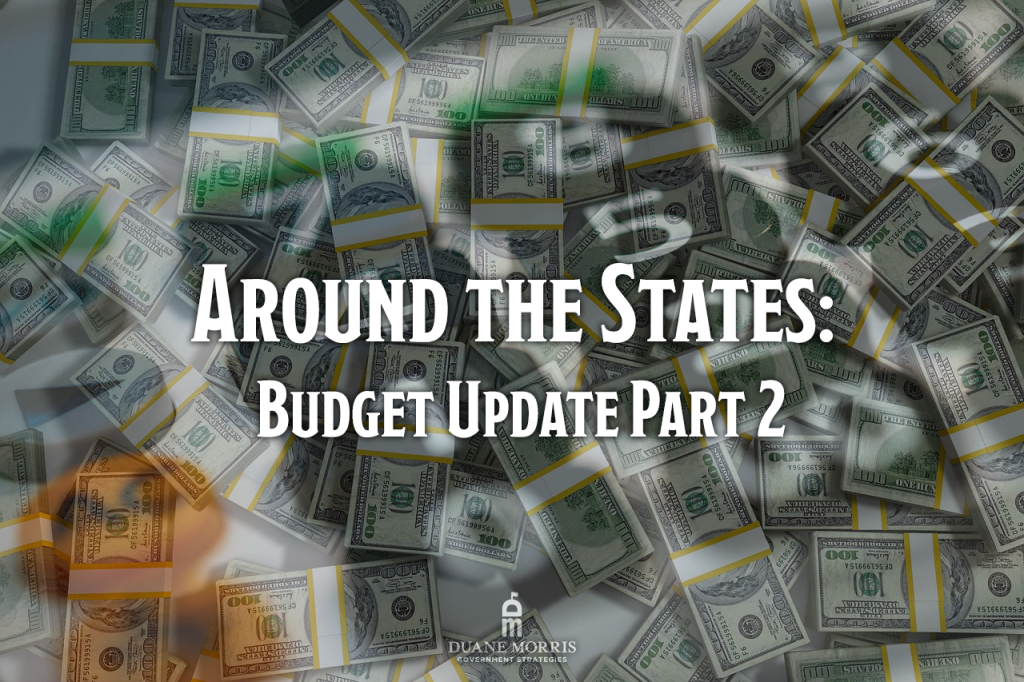 As discussed in our previous budget update, many states are passing record high spending in their FY 22 state budgets.  Due to the COVID-19 pandemic and the subsequent public health and economic crises, spending on education, healthcare resources, tax cuts, and spending federal stimulus dollars are major priorities.  Helping to ensure that businesses can reopen at 100% capacity in a safe and guided way is a huge concern for legislators as well.  At this point, almost every state in the country has enacted a budget for fiscal year 2022.  Virginia and Wyoming passed biennial budgets for fiscal years 2021-2022 during their 2020 legislative sessions. 
---
Massachusetts $47.6 Billion Budget
On July 16, 2021, Massachusetts Governor Charlie Baker signed the FY 2022 state budget into law.  According to the governor's office, the budget is designed to help the Commonwealth re-emerge stronger from the COVID-19 pandemic.  It fully funds the implementation of the Student Opportunity Act, adds approximately $1.2 billion to the Commonwealth's Stabilization Fund without adding new taxes, and supports small businesses by providing financial assistance and new job training programs.  Additionally, the state budget would fully utilize the $2.915 billion in federal American Rescue Plan Act funding for investments in housing, healthcare, infrastructure, and economic development.  To provide even more relief to small businesses and lower wage workers, the state budget also implements a two-month sales tax holiday.
Highlights of the state budget include:
$219.6 million increase in Chapter 70 funding (state aid to public elementary and secondary schools), bringing the total to $5.503 billion
$34.3 million in funding for charter school reimbursements
Excluding Chapter 70, invests nearly $900 million in the Department of Elementary and Secondary Education
Almost $200 million for the emergency assistance family shelter system
Over $800 million to the Department of Health
Over $600 million on senior care
$7 million for the Small Business Technical Assistance Grant Program for entrepreneurs and small businesses
---
Vermont $7.32 Billion Budget
In the beginning of June, Vermont Governor Phil Scott signed the state's FY 2022 budget into law.  Using nearly $600 million in additional funding from the federal American Rescue Plan Act, the legislature was able to put away $200 million in surplus state dollars and address long term priorities such as broadband access, affordable housing, and climate change measures. 
To deal with climate change, the state budget commits $20 million to weatherization efforts. Additionally, it also provides $20 million to expanding renewable energy in Vermont via the state's Clean Development Fund. With the help of federal funding from the American Rescue Plan Act, the state budget commits $115 million to clean water and sewer projects as well.
Furthermore, the state budget invests significantly in Vermont's healthcare system and education. The bill provides for $4.36 billion to overall human services, including over $750 million to healthcare access and state Medicaid funding, $284 million in mental health services, over $250 million to aging and disability services, and $125 million for the Department of Children and Families.
The state budget also provides $2.275 billion in general education funding. This includes $1.5 billion for yearly public education spending, $229 million in special education formula grants, $189 million for the state's teacher retirement system, and $7 million in essential early education grants.
---
Maryland $52.4 Billion Budget
In the beginning of April, the Maryland State Legislature approved HB 588, a $52.4 billion state budget for FY 2022 with broad support.  The budget was a significant increase from the original $49.35 billion budget proposed by Maryland Governor Larry Hogan.  The state legislature's budget passed the Maryland State House 128-8 and the State Senate unanimously 47-0.
With the help of $1.5 billion in federal stimulus dollars, Maryland was able to invest $1.3 billion for long term projects in this year's budget and save the rest of the funding for future uses. This allowed for $300 million to be invested in broadband access, $100 million for workforce training, and $600 million for reopening schools. Included in the school reopening plan is $80 million to improve the heating, air conditioning, and filtration systems of Maryland schools. The budget also leaves $2.1 billion in state savings accounts and funds the projected deficits over the next two years.
In February of 2021, Maryland passed a state level stimulus package titled the Recovery for the Economy, Livelihoods, Industries, Entrepreneurs, and Families (RELIEF) Act.  One of the most expansive state level stimulus programs, the RELIEF Act provided direct funding for low-income families, expanded the state's earned income tax credit, lowered taxes on unemployment income, and provided additional support to small businesses.  With the help of federal funding, the RELIEF Act was fully paid for under the new state budget.
---
Maine $8.5 Billion Biennial Budget
On July 1, 2021, Maine Governor Janet Mills signed the state's fiscal year 2022-2023 biennial budget.  According to the Governor's office, the state budget makes historic investments in Maine public schools, "keeping a promise from the Governor to meet the State's obligation to pay 55 percent of the cost of K-12 education for the first time in the state's history."  The state budget received strong support from both parties, passing the State House 123-23 and the State Senate 32-2.
Other highlights of the state budget include:
Supports senior living facilities: Provides funding to support nursing home facilities and nursing home caretakers to continue to fight the COVID-19 pandemic
Supports all direct care workers: Raises MaineCare wage rates for direct care workers to 125% of the minimum wage
Restores revenue sharing: Raises municipal revenue sharing from 3.75% to 4.5% in Fiscal Year 2022 and 5% in Fiscal Year 2023
Supports school capital improvement projects: Adds $45 million to the School Revolving Renovation Fund for health, safety, and capital investments
Grows Budget Stabilization Fund: Continues the trend of setting money aside for emergencies by adding $60 million to the state's rainy-day fund. This brings the total of Maine's Stabilization Fund to $328.2 million, a historic high
---
California $196 Billion Budget
In July of this year, California Governor Gavin Newsom and the California Legislature enacted a $196 billion budget for fiscal year 2022, the largest in the state's history.  This was bolstered by an estimated $85 billion budget surplus, including $26 billion in federal stimulus funds for assistance with the COVID-19 pandemic.  With the new state budget, California achieves the largest per-pupil expenditure on K-12 education in the state's history.
Additional highlights from the record budget include:
A second round Golden State Stimulus Payments. The budget provides $8.1 billion for Californians with incomes up to $75,000. The state will distribute payments of $500, $600, $1,000, or $1,100 depending on filing status
Invests $300 million in public health programs in 2022-23
Provides $1 billion annually to address homelessness in the state
Expands Medi-Cal coverage for income eligible-adults aged 50 and over, regardless of immigration status
Extends the state eviction moratorium to September 30. The budget also adjusts the emergency rental assistance program to cover 100% of back rent and prospective rent for eligible tenants
---