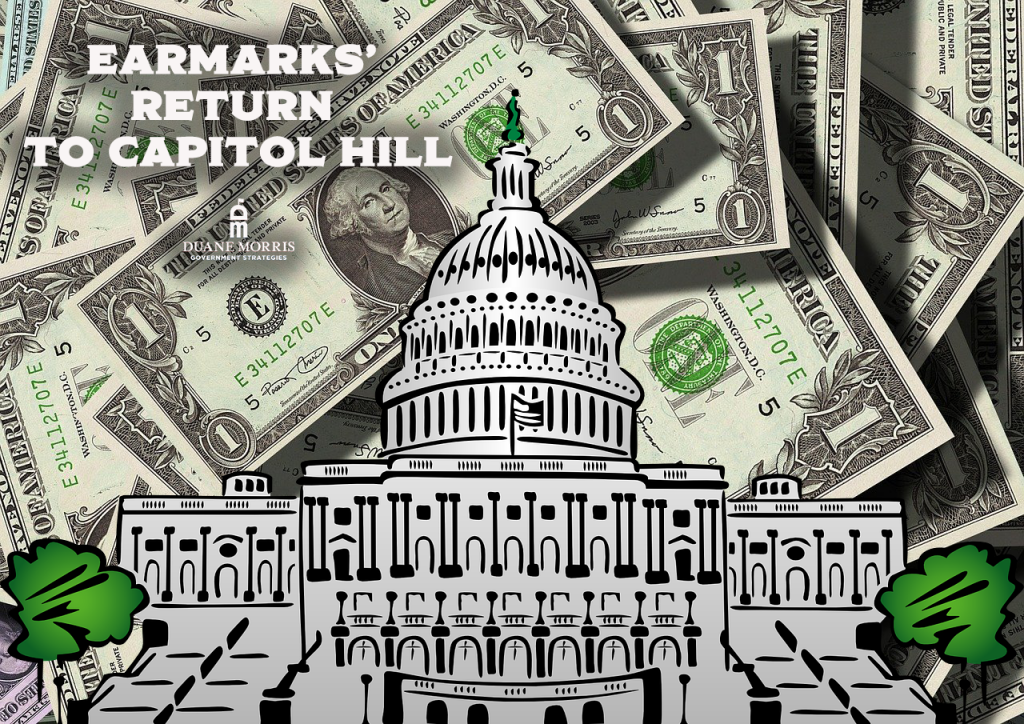 As DMGS noted previously, earmarks are making a return in the 117th Congress after a decade-long moratorium. Democrats in both chambers and House Republicans allowed their members to request earmarks, renamed "community project funding." Leaders of both parties required their members to limit earmarks, post requests online, and exclude for-profit companies.
Committees are now weighing earmark requests for both appropriations and infrastructure bills.
---
Members Use Earmarks to Direct Funds to Local Needs
Earmarks refer to language sought by individual lawmakers directing funds to specific projects or localities in their congressional districts or home states.
Projects funded by legislative earmarks may not otherwise qualify for funding through executive agency formulas or competitive agency awards.
Earmarks are found in bill texts, committee and conference reports, and joint explanatory statements.
The House and Senate rules define distinct types of earmarks:
| | |
| --- | --- |
| Earmark Type | Details |
| Congressionally directed spending | A provision or report language added at a lawmaker's request setting specific discretionary spending authority for a contract, loan, grant, or other expenditure provided to an entity or a specific state, locality, or congressional district |
| Limited tax benefit | A revenue-related provision providing a federal tax deduction, credit, exclusion, or preference to a limited number of beneficiaries with nonuniform eligibility criteria |
| Limited tariff benefit | A provision modifying the U.S. Harmonized Tariff Schedule to benefit ten or fewer entities |
---
Pork-Barrel Spending or Power of the Purse?
Critics say earmarks lead to waste and corruption. Some are concerned about legislators' ability to drop earmarks into bills with little or no notice. A case in point was the now-infamous Gravina Island Access Bridge in Alaska, dubbed the "bridge to nowhere," which received hundreds of millions of earmarked dollars from Republican Alaskan lawmakers in the 2000s before it was scrapped. Former Representative Randy "Duke" Cunningham (R-CA) was convicted – and later pardoned by Donald Trump – for taking bribes to steer funds to defense contractors, a form of earmarking.
Nevertheless, supporters say earmarks allow Congress to exercise its Article I power of the purse. Proponents argue that elected lawmakers are better informed and situated than agency bureaucrats at serving constituents. They argue that earmarks can help secure more bipartisan support from rank-and-file members, helping to address Congress's budgeting dysfunction and recalcitrance.
---
Earmark Scandals Led to Congressional Moratorium
Lawmakers in the 110th Congress codified requirements for earmarks to be disclosed. House and Senate rules require lawmakers submitting earmark requests to provide the name and address of earmark recipients and a certification that the member has no financial interest in projects. House rules also require earmarks to be included in a bill's report or printed in the Congressional Record. Senate rules require earmarks and requestors to be posted online at least 48 hours before a vote on a motion to proceed to legislation.
House Republicans banned earmarking in the 112th Congress after winning the House and Senate Democrats followed suit. Tea Party fiscal conservatives joined with anti-corruption progressives to support a ban. That moratorium was established through intra-party rules and committee protocols rather than the rules of either chamber.
---
Democrats Revived Earmarks, Imposed New Limits
Then, in early 2021, Congressional Democrats agreed to allow members to request earmarks. House Republicans also voted narrowly to permit members to make earmark requests. Senate Republicans have so far kept their nonbinding ban in place.
Both House and Senate Appropriations panels set new limits on earmarks and requests:
Total earmarks cannot exceed 1% of discretionary spending (about $14 billion based on fiscal 2021)
Earmarked funds cannot go to for-profit entities
Members had to post requests online, along with certification that they do not have a financial interest
House procedures also capped requests at 10 per member, expanded conflict-of-interest disclosures
House Transportation and Infrastructure Committee took requests for earmarks on highway and transit projects in surface transportation reauthorization. Members had to provide information such as project sponsors, nonfederal matching funds. Committee also said it expected each member to get no more than $20 million for the highway bill.
---
Initial Earmark Requests Posted Online
House members and committees posted earmark requests for appropriations and surface transportation legislation. Deadlines passed for House lawmakers to submit requests; Appropriations Committee said additional submissions might be posted following President Joe Biden's budget request.
House Appropriations Committee posted data showing more than 2,800 requests from 221 Democrats and 106 Republicans totaling close to $6 billion
House Transportation and Infrastructure Committee posted data showing more than 2,300 requests from 213 Democrats and 105 Republicans totaling close to $15 billion.
---
Lawmakers Still Divided on Earmarks
Earmarks could still prove controversial, even under stricter rules. There remain ongoing concerns that earmarks could flow to private consultants and contractors, despite a ban on for-profit entities.
More than 30 House and Senate Republicans signed a March letter opposing the return of earmarks. Some Republicans are also backing legislation (H.R. 1086, S. 501) to ban them permanently. At least one Democratic lawmaker, Rep. Katie Porter (Calif.), publicly opposed her party's plans.
Senate Environment and Public Works Chair Tom Carper (D-Del.) said his panel has not decided whether to allow earmarks for transportation projects. Ranking member Shelley Moore Capito (R-W.Va.) has opposed earmarks.
---
Earmarks in Highway-Transit Bill
House Democrats are pushing climate-focused legislation that would authorize $547 billion over five years for surface transportation, including major funding increases for passenger rail, public transit, and carbon reduction. The bill both aligns with many of President Joe Biden's infrastructure goals and follows in his footsteps by calling for substantial infrastructure spending increases. About three-quarters of House members submitted more than 2,300 project requests for a total of almost $14.9 billion for pet projects in the surface transportation bill. Legislative text that includes so-called member designated projects will be made public before the committee considers it, according to the panel.
---